U.S.A.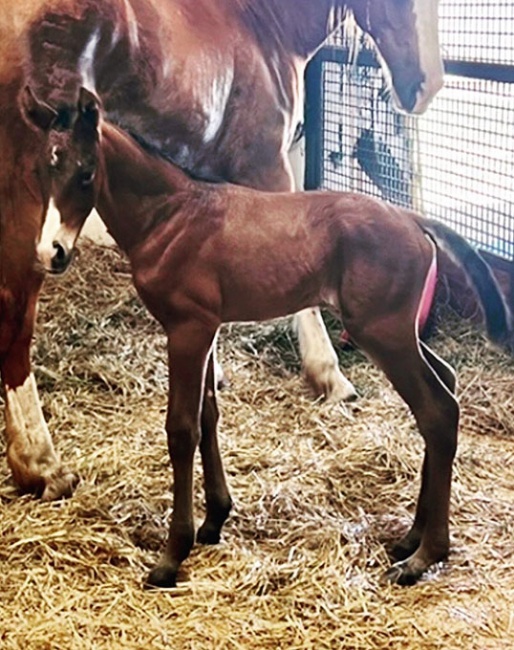 Charlotte Jorst, a U.S. short listed rider for the 2022 World Championships in Herning, has cloned her top horse Nintendo. Two foals were born on 9 May 2022 with the identical DNA of Nintendo.
"If I had a Penny for everyone who said "you should clone Nintendo" I would be rich," Jorst took to social media. "I now have cloned Nintendo and today the clone was born. Welcome to the world Nintendo Switch, you have Nintendo's nose."
Nintendo, the Original
Jorst's top Grand Prix horse Nintendo is a 19-year old KWPN stallion by Negro out of Rodieni R (by Monaco x Glendale). He is bred in The Netherlands by C. Rommens. 
Nintendo was originally called Waterloo. Owned by Gert-Jan van Olst, Nintendo was presented at the 2006 KWPN stallion licensing but sent home from the stallion performance Testing. In 2007 he was re-presented at the late-licensing but rejected again by the licensing committee. Instead Van Olst presented the 5-year old Nintendo at the licensing of the smaller NRPS society in 2008, where he got accepted. It was then that his name changed from Waterloo to Nintendo.
The stallion sold to Anna Kasprzak, but she never clicked with him. In 2012 the horse moved to the stables of Andreas Helgstrand to be sold. Helgstrand's assistant trainer Thomas Sigtenbjerggaard began competing Nintendo nationally in Denmark in November 2012, and did his first CDI's in 2013. They were the guinea pig at the 2013 European Dressage Championships in Herning.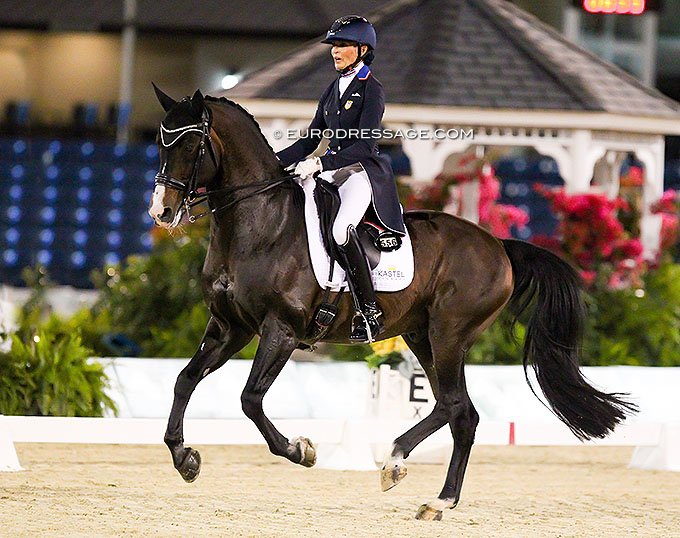 In November 2013 he sold to Danish born American Charlotte Jorst. They competed in the 2016 World Cup Final and became the 2018 U.S. Grand Prix champions. The pair has been short-listed for U.S. team selection several years, but this year at age 19, Nintendo seems to reach his peak condition.
Nintendo, the Clones
Jorst told Eurodressage that she commissioned not one, but two clones to be designed at Viagen Equine in Texas, U.S.A.
Both clones were born on the same day, 9 May 2022, and they are named "Nintendo Switch" and "Nintendo 64."
"Both will be coming to Reno, NV, in about 6 months. I'm just so excited," Jorst told Eurodressage. "As I get older it makes sense riding something safe that I know. I don't really want to learn something totally new when I'm 65."
Photo © Jorst - Astrid Appels
Related Links
Jorst's Nintendo Aging Like Red Wine, Fourth Victory at 2022 Global Dressage Festival
Yang and Jorst Claim Titles on Final Day of 2018 U.S. Dressage Championships
Americans Guenter Seidel and Charlotte Jorst Close Out 2016 World Cup Dressage Final
Anna Kasprzak's Nintendo Sold to the U.S.A
Rollkur Debate Flares Up Again in Denmark
Fifteen Stallions Approved for the NRPS Studbook