Danish Dressage News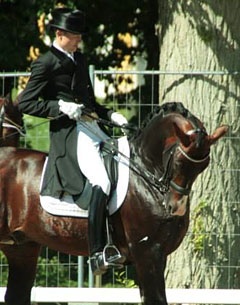 The debate about the controversial training method of the rollkur has flared up again in Denmark. A visitor of the 2013 Danish Dressage Championships took photos of several Danish riders warming up their horses in the hyperflexed position.
This visitor posted on Facebook several photos of Anna Kasprzak, Andreas Helgstrand and especially Thomas Sigtenbjerggaard rolling and flexing their horses in an extreme way. On some photos Danish team trainer Rudolf Zeilinger is seen on the sideline of the warm up ring supervising the riders.
Danish animal activist company Epona.tv, which strives for a better welfare and training of horses, immediately responded to the photos with an editorial accusing the organizers of the 2013 European Championships in Herning of censorship as they will prohibit videoing at the Championships except by a specified group of accredited media.
Epona sees this as an "effort to silence criticism of questionable training methods" especially since the Championships are sponsored by Ecco, a company owned by Anna Kasprzak's mom.
A few days after the upheaval started, the Danish Equestrian Federation released the following statement: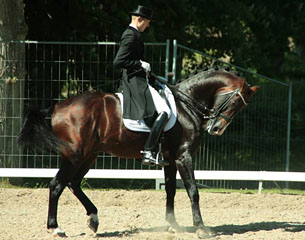 For the past few days, photos of riders and horses from the Danish Dressage Championships have been made public on social media and epona.tv. The photos have sparked much debate and criticism of especially Anna Kasprzak. The Danish Equestrian Federation does not deal with cases in the public sphere, but we have the following comments in connection with this debate:
The welfare of horses is always a priority for the Danish Equestrian Federation. To ensure that our competition horses are well and fit to compete, we always make sure that veterinarians and equine physical therapists monitor and conduct physical examinations before, during and after competitions.
We have full confidence that our riders do their utmost to ensure welfare of their horses. Should situations arise in which there is doubt that the rules have been violated, we will, of course, look into and handle the matter. This is not done in the public sphere, but is handled by the appropriate authorities.
Regarding the photos made public of Anna Kasprzak from the Danish Dressage Championships 2013, we have the following comments: We support Anna and her riding 100%. We have known Anna and her family for many years, and one thing is certain – horse welfare is and has always been a top priority for Anna and her family, and they are an example to follow. To pass judgment on Anna's riding based on a snapshot is unreasonable, as a still shot from a certain angle does not reflect the whole reality.

Statement from the national team veterinarian, Hans-Christian Matthiesen:
"I have followed the horses of the national team for 8 years, and I was present at the Danish Dressage Championships as the competition veterinarian. At the Danish Dressage Championships, we examined the horses before, during and after the competition. We saw that the horses were fit to compete, and we saw no evidence that the horses were slightly injured."
Photos © Veronica Starstone Merlin
Related Links
The Rollkur Debate Still Hot in Great Britain
FEI Workshop on Rollkur in Lausanne Leads to Redefinition
German Judges' Association Responds to FEI Rollkur Workshop
FEI Round Table Conference Resolves Rollkur Controversy
Rollkur Topic of Discussion at FEI General Assembly
Heavy Reactions to Rollkur Photos of Power and Paint
Stand Up to Roll Down