Australia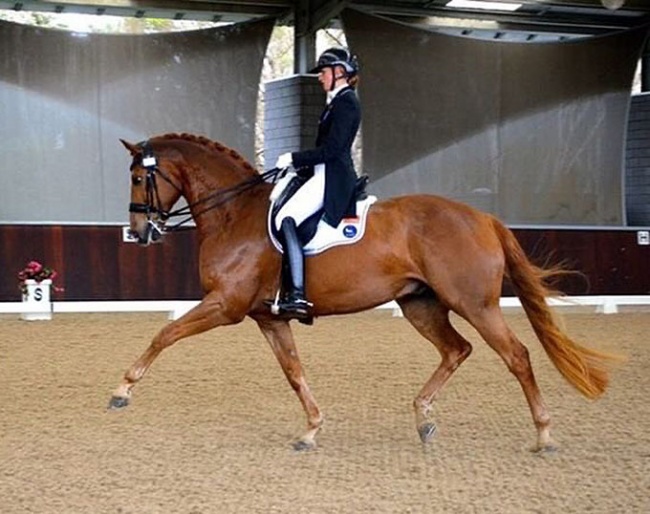 Australian FEI  rider Alicia Ryan has been hired as the principal rider at the Australian branch of Helgstrand Dressage, called "Helgstrand at Turnberry."
Bruce Dixon
Australian entrepreneur Bruce Dixon purchased Mary Hanna's Statene Park in Bellarine on the Bellarine Penninsula near Melbourne, Australia, and has revamped the property into a sales barn and breeding stud called "Turnberry"
In the summer of 2021 Dixon joined hands with Helgstrand to become the Australian leg of the global horse sales company and stallion station. 
Alicia Ryan
Ryan's pivotal horse in her riding career, so far, has been Bluefields Furstentanz, a now 14-year old Oldenburg gelding by Furstentraum x Salieri xx, which Alicia has been riding since the horse was five. They did their first and only CDI competition in 2017 at Young Riders' level at Boneo, where they were fourth and second with 63%. 
"He was a green PSG horse at this point, and I was a green PSG rider but we gave it a red hot go," Ryan told Eurodressage. Alicia continued to gain mileage at national level since then as a senior in the small tour. In 2019 the ride on Furstentanz was passed on to Tayla Desmet, when Alicia moved abroad to complete her Masters Degree in Scotland. 
"I hung up my boots and breeches for 12 months and moved to the UK. On my return, I was eager to get out competing again in 2020, with my sights set on the U25 classes at as many major CDI's as I could get to," she said, but then COVID came and there have been no internationals in Australia since January 2020. She is now preparing Furstentanz for his first Grand Prix start.
Ryan at Turnberry
The 25-year old Alicia Ryan has been put in charge of the training and preparing of the sales horses at Turnberry for the Australian market. 
"I will be training and preparing a team of elite dressage horses for sales into the Australian market," she said. "The position has given me the option to take a step back from my work as a podiatrist and focus on my riding and career in dressage. I'm looking forward to the arrival of the European horses in late January and working with such a progressive and supportive team."
Related Links
Helgstrand Turns Gaze Down Under, Partners with Bruce Dixon at Statene Park
Scores: 2017 CDI-W Boneo