New Zealand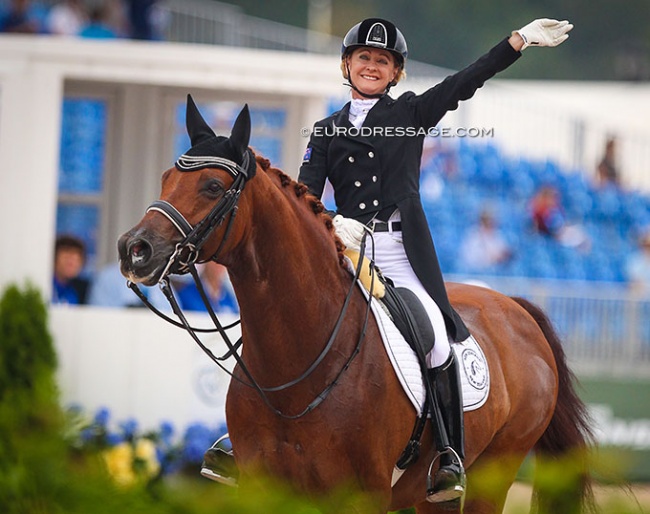 Julie Brougham, one of New Zealand's most distinguished Grand Prix dressage riders, has passed away. She was 67 years old.
A Beacon for New Zealand Dressage 
Born in 1954 in Palmerston North, Brougham began riding at the age of 4 and found her passion in dressage.  She made her name at national Grand Prix level aboard JK Supersonic.
In 2008 she travelled to Germany to find her next dressage partner after selling Supersonic. During a visit at Ton de Ridder's stable in Aachen, Germany, she discovered the unruly, recently gelded Rhinelander Vom Feinsten (by Fidermark x Weltmeyer) who became her career making and life changing horse. 
The pair made its break through in 2015 winning the NZL Horse of the Year show in Hastings with new record scores in the Special (69.94%) and Kur (76.02%).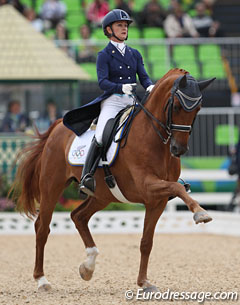 In 2016 they represented New Zealand as an individual at the Olympic Games in Rio de Janeiro. They produced the country's best Olympic dressage score to date (68.543%). Julie was New Zealand's oldest Olympic competitor at age 62 and third-ever New Zealander to compete in dressage at the Olympics.
After a period of injury, they won the 2018 New Zealand Grand Prix Championship and secured their ticket for the 2018 World Equestrian Games in Tryon, where placed 36th in the Grand Prix with 68.991%. It was their last international show. They finished 36th in the Grand Prix with 68.991%.
Brave Battle
in October 2018 Brougham was diagnosed with abdominal cancer. 
She underwent  six rounds of chemotherapy to fight the aggressive cancer. She was hospitalised with complications after the first round and had surgeries to remove her ovaries and fallopian tubes and part of her large bowel. A stoma was inserted, but the next operation to reverse the stoma failed, which led to more emergency surgery, and the stoma became permanent.
She recovered and returned to the arena with Vom Feinsten at national level in September 2019. On 1 May 2021, the pair rode its last show at Dressage by the Lake at Takapoto Estate, where they  won the Grand Prix with 71.812% and Freestyle with 74.706%. Vom Feinsten was retired from sport in a special ceremony at this show. 
Untimely Passing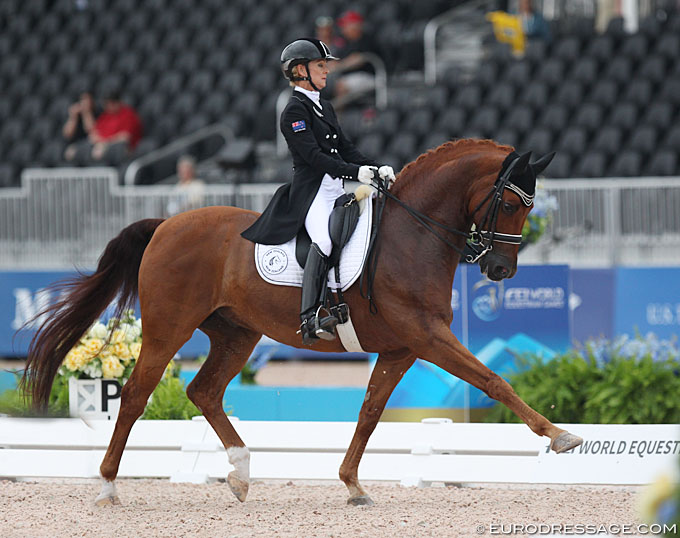 Dressage New Zealand reported the sad passing of Julie on 9 December 2021. 
"Julie has been many things to many people within our sport - a fellow athlete, a friend, a judge and an inspiration in everything she strived for and achieved," said Dressage New Zealand. "Her passion for all things dressage and the vast knowledge she generously shared with others will be a continuing legacy for riders who dream to follow and emulate the new standards she and Steiny set for New Zealand."
She leaves behind her husband David and children Nicholas and Katrina.
Photos © Astrid Appels
Related Links
Eurodressage Photo Database: Julie Brougham
Julie Brougham's Vom Feinsten Retired from Competition Sport
Julie Brougham Returns to the Arena After Battling Cancer
Brougham and Thompson Nominated as New Zealand Individuals for 2018 World Equestrian Games
Brougham on her Way to 2018 NZL Grand Prix Title, WEG Qualification Secure
Julie Brougham Wins 2018 New Zealand Grand Prix Championship
Brougham and Von Feinsten Do the Double at the Inaugural 2017 CDN Equitana Auckland
New Zealand's Julie Brougham on Board with IRT To Go All the Way To Rio
Dolley and Brougham Take First Steps Towards Securing 2016 New Zealand Dressage Champion's Title
Brougham Sets the Bar High at 2016 CDI Hastings
Julie Brougham and Vom Feinsten Win 2015 Horse of the Year Crown at CDI Hastings
New Zealand's Julie Brougham Puts in Stirling Effort at 2015 Australian Championships