Germany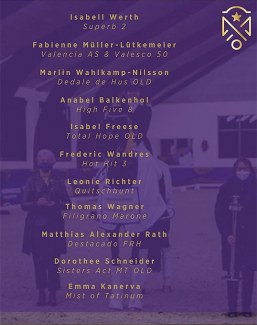 The German equestrian federation has announced the venues of the 2022 Louisdor Cup qualification circuit for 8 to 10-year old Developing Grand Prix horses. A new test will be ridden and one new venue has been added to the 2022 calendar. 
The changes were made by the dressage selection committee of the DOKR in agreement with the Liselott and Klaus Rheinberger Foundation which sponsors the circuit.
For 2022 five qualifiers have been scheduled: Hagen (20-24 April), Wiesbaden (3 - 6 June), Kronberg (14 - 17 July), Donzdorf (28 - 31 July), Ising (1 - 4 September - indoor) and the finals in Frankfurt (15 - 18 December). 
Gestut Birkhof in Donzdorf is the new venue and Gut Ising will be an indoor qualifier to prepare the horses for the Finals in Frankfurt which also take place in indoors. 
The young Grand Prix horses will also perform a new test. Originally the Inter II was the warm-up round and the Short Grand Prix the qualifier for the Finals, but the riders thought the demands, especially in piaffe, were too high on the horses in the short Grand Prix
A new test will be ridden, the "Louisdor Grand Prix" as qualifier for the finals and it will only have 8 to 10 piaffe steps instead of 12 to 15. A few changes in the canter tour will be made too. 
"We took the criticism of the riders and judges to heart. They said that the jump from Inter II to Short Grand Prix was too big for the young horses," Monica Theodorescu explained. "We fixed this special test which is more adapted to the young GP-horses."
The two best placed horses in each Louisdor GP test will qualify for the Finals. 
Related Links
Venues for 2021 Louisdor Cup Qualifiers Announced
Sandra Nuxoll and Bonheur de la Vie Reign Supreme in 2020 Louisdor Cup Finals
Senta Kirchhoff and L'Arbuste, Surprise Winners of 2019 Louisdor Cup Finals for Developing Grand Prix Horses
Blue Hors Veneziano Wins 2018 Louisdor Cup Finals for Developing Grand Prix Horses
TSF Dalera BB Wins 2017 Louisdor Cup Finals for Developing Grand Prix Horses
Sammy Davis Jr Wins the 2016 Louisdor Cup Finals for German Developing Grand Prix Horses
Rothenberger and Cosmo Win 2015 Louisdor Cup Finals' Warm Up Class at 2015 CDI Frankfurt
Brigitte Wittig and Balmoral W Win 2013 Louisdor Cup
Thomas Wagner and Very Keen Win 2012 Louisdor Cup Finals
Diva Royal Wins 2011 Tesch Inkasso Cup for Upcoming Grand Prix Horses
Werth's El Santo NRW Wins 2010 Medien Cup Finals
Dablino Wins  2009 Medien Cup Finals
Carabas Wins 2008 Medien Cup Finals
Floresco Wins 2007 HKM Upcoming Grand Prix Horse Finals