Great Britain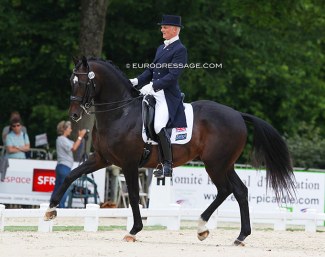 British Grand Prix rider Daniel Sherriff had to say goodbye to his international career starting horse, Bayford Hall Dallaglio. The 22-year old Westfalian suffered from laminitis and was euthanized.
Bayford Hall Dallaglio was a 1999 born Westfalian by Laurentianer out of Picabo (by Potsdam x Fernblick x Report). He was bred by Georg Schelhowe.
Olympic Reserves
Sherriff discovered Dallaglio as a four-year old and purchased the stallion from Lisa McApline.
With the help of David Hunt, Dan trained the stallion, who was nick-named Lawrence, to Grand Prix level. 
They made their international small tour debut in Hartpury in 2007 and their CDI Grand prix debut also in Hartpury in July 2010. They competed consistently in the big tour through 2015. In 2012 they aimed for Olympic team selection with starts in Drachten, Saumur, Compiegne, Pompadour and Vierzon, and according to Sherriff were named reserves.
Iran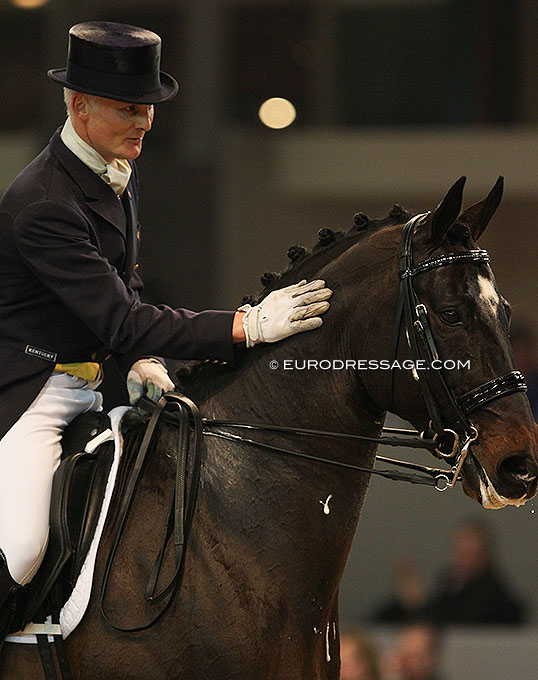 In the summer of 2015 British based Iranian rider Litta Soheila Sohi took over the ride on Dallaglio as her schoolmaster. 
The new duo showed in Hickstead, Perl, Le Mans, and Roosendaal in 2015 and had their final competition ride at Keysoe in April 2016 after which the 17-year old was retired from sport. 
PhD Brain
Recently Dallaglio was suffering from laminitis and it was decided in the best interest of the horse to put him to sleep.
"While his conformation was A-level his brain was PhD, he was an incredibly intelligent horse who was quick to learn, patient and very trusting," Sherriff told Horse & Hound. "He was king of the yard and commanded respect from his stable mates, eating was his favourite thing. You never saw him lying down, his head was always out of the stable window rain, snow or shine – checking that everything was in order. He was kind and gentle with his human servants and everybody adored him."
Photos © Astrid Appels
Related Links
Eurodressage Photo Database: Bayford Hall Dallaglio
Iran's Sole Grand Prix Rider Litta Soheila Sohi Hangs Up Her Tails
Photo Report: Hughes and Sherriff Make 2014 CDI Compiegne Big Tour British Affair
Scores: 2014 British Dressage Championships
Scores: 2012 British Dressage Championships
On the Road: "Magnifique Alors" at the 2012 CDI Compiegne
Scores: 2011 British Dressage Championships
Scores: 2010 CDI Hartpury