2012 Olympic Games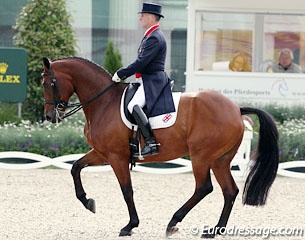 The British Olympic Association (BOA) has confirmed the four dressage athletes and their horses who will represent Great Britain at the 2012 London 2012 Olympic Games on 2 - 9 August 2012  The selected riders will compete at Greenwich Park this summer and are the hot favourites for team gold as well as individual medals.


The athletes selected to Team GB today to contest the team and individual competitions are: 
Laura Bechtolsheimer (27) from Ampney St Peter, Gloucestershire riding Mistral Hojris, owned by Dr Wilfried & Mrs Ursula Bechtolsheimer and rider
Charlotte Dujardin (25) from Newent, Gloucestershire riding Valegro, owned by Mr Carl Hester & Mrs Roly Luard
Carl Hester (44) from Newent, Gloucestershire riding Uthopia, owned by Mr Carl Hester and Mrs Sasha Stewart
The athlete selected to Team GB to contest the individual competition is:
Richard Davison (57) from Combridge, Staffordshire riding Artemis, owned by the Countess of Derby
So far a team reserve rider not been announced by the British Equestrian Federation.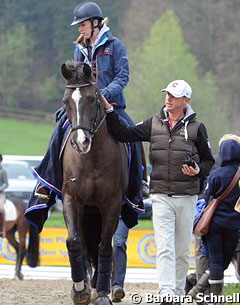 The dressage team selected today to compete for Team GB this summer contains a wealth of experience; London will be Carl Hester and Richard Davison's fourth Olympic Games, and Laura Bechtolsheimer's second after making her Olympic debut Beijing 2008. While London 2012 will be Charlotte Dujardin's Olympic debut, she has already made a substantial mark on the international dressage world during her short career to date, with her exciting horse Valegro.
Although Great Britain has never won an Olympic dressage medal, a recent improvement in form could buck the trend this summer. The British team won silver at the World Championships in 2010, with Laura Bechtolsheimer and her Olympic mount Mistral Hojris completing a hat-trick of silver medals in the team, individual and freestyle competitions. Laura Bechtolsheimer, Charlotte Dujardin and Carl Hester were all part of the quartet that won a historic gold medal at the 2011 European Championships, where Hester scooped two individual silver medals and Bechtolsheimer took home a bronze.
All four riders boast records to their names – Dujardin recently broke the world and British record in the Grand Prix Special test at Hagen in May, scoring 88.022%, where Bechtolsheimer also bettered her own British Grand Prix Freestyle record, scoring an impressive 87.60%. Hester now holds the British record in the Grand Prix test of 83.30%.
European medallist Richard Davison is also no stranger to success and has returned to international competition in fighting form in the last couple of years with Artemis, with whom he has scored a number of international wins and placings. The combination finished fifth in the 2012  World Cup Finals.

Team GB Chef de Mission Andy Hunt said:
"It gives me great pleasure to announce these dressage athletes as selected to Team GB for London 2012. They represent an experienced and very strong team, and have a superb opportunity to win Great Britain's first ever Olympic dressage medal. All of the riders have experience of winning medals at international competition level, and the progress the dressage team have made recently has been impressive, with the highlight being an historic gold medal at the 2011 European Championships. The home advantage and fantastic support the riders will receive from the British public will give them all a lift, and hopefully spur them on to memorable performances at the iconic Greenwich Park venue this summer."
Team GB Equestrian Team Leader Will Connell said:

"It's great to have it confirmed that we head to London with three of the 2011 European team Gold medallists and with Richard Davison as our individual rider. This is as exciting a squad as we have ever taken to an Olympic Games. I'm sure the riders will be knuckling down over the next few weeks to ensure they deliver our best performances as there will be other nations with their eyes on the dressage medals."
Laura Bechtolsheimer said: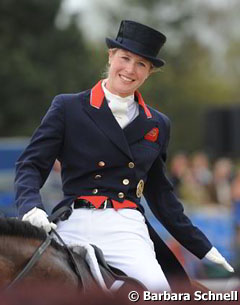 "I am really pleased, although it was not a great surprise as I feel we have been on good form. It was nice to have it confirmed and official. We can now start planning as a team which is exciting. The three of us in the team event have confidence in each other and we work well together as a team. Although dressage is an individual sport, it is great to know we can be a positive support to one another at the Games. It will be so different to Beijing 2008. It is good to have been through the experience before, but I feel a completely different athlete this time, and Alf and I are much more confident and established and have had continued success since then. This time, we will really be able to knuckle down and get on with the job."
Richard Davison said:
"To ride in the Olympics is the greatest honour a rider can ever have and to do it in front of the home crowd in London will be a once-in-a-lifetime privilege. But I'm really happy for Artemis' owners, sponsors, home team and supporters who have believed in this horse since the beginning and deserve this moment. It'll be just like the old days and be great to back in the team again. I do feel sorry for Laura and Charlotte though, as between Carl and I we'll raise the average age of the team considerably! If Charlotte's nickname for Carl is granddad, I'm bound to be christened great granddad!"
Charlotte Dujardin said:
"I'm just ecstatic to make the team – it's a great honour to represent my country and such a huge achievement. It will be my first Olympics and I'm over excited – I just can't wait! It's amazing to have Carl in the team. We're the home team, so to be together is great, and we're stronger together. It will be so amazing to have the home support – I just hope I don't let anyone down. I'll just go and try to do my best and if I do perform to my best, the results will come."
Carl Hester said:

"Obviously it's something that is a dream come true and it is a real 'dream team'. I think the fact that we went to the Championships last year with such a strong team meant that we got to work together to deliver that result, and we will try and go for a repeat success at London 2012."
Photos © Astrid Appels - Barbara Schnell
Related Link
Eurodressage On the Scene at the 2012 Olympic Games