Friesian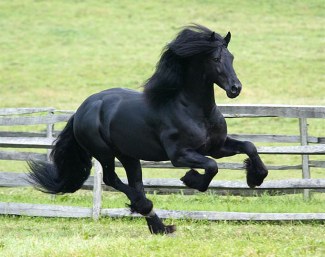 Iron Spring Farm lost one of its treasured stallions earlier this month, the Friesian stallion Teade 392, Sport.
The gorgeous black stallion epitomized everything special about Friesians, from his glossy, jet black coat to his incredible character. What really set Teade apart was his deep intelligence and wisdom. Along with his pretty face, this charisma attracted admirers wherever he went throughout his 23 years. 
"Teade was one of the kindest horses I've ever known," said Mary Alice Malone, Teade's owner and rider. "He was incredibly gentle and a real charmer. He loved an audience, whether it was a large group at a keuring, or a family with small children on a farm tour. He'd turn on the magic and pose for their photos like a rock star." 
His fun and willing attitude made him quite the ham at demonstrating the fundamentals of clicker training, the positive reinforcement training technique long used at Iron Spring Farm.
Teade was a quick learner in all areas of his life. He excelled in dressage and earned USDF Performance Certificates from Training to Third Level. He was the GAIG/USDF Region 1 Reserve Champion Second Level AA in 2006 and finished in fourth place at the CBLM Fourth Level Championships in 2007. His success in dressage earned him the prestigious Sport predicate from the KFPS.
Teade was also recognized as a sire of wonderful Friesian show horses. He was one of ISF's most popular breeding stallions and often had the most bookings. 2020 was his last year for breeding and at age 22 he was fully booked. 
Teade passed on his thick hair, shiny coat and cheerful disposition to his sons and daughters. Teade was a breeders' favorite, with many owners choosing him as a match for their mares on multiple years. To date, his offspring have won 38 World Championships, 29 Reserve World Championships and 54 Top 8 placings at the IFSHA World Championships. He's also the sire of the Approved stallion Sipke 450, Sport AA, along with Model and Crown mares, Star and Sport offspring.
A few of Teade's recent dressage winners include Thor, the 2020 GAIG/USDF Region 7 Second Level JR/YR Champion, who's now winning Third Level. Teade's son Titus is competing in Prix St. Georges. Athena CHF was the USDF All Breeds Awards First Level Freestyle AA Champion in 2020. Teade's newest foal crop looks equally promising. 
Teade has been a familiar face around the barn since he was imported as a four-year-old in 2002. For nineteen years at Iron Spring Farm he was a living, breathing example of the Friesian breed standard, as well as a friend and companion to those who knew him best. He is deeply missed. 
You can watch his Day in the Life video from October 2020 here.
Related Links
Stallion at Stud: Tjalbert 460
Stallion at Stud: Meinse 439
Iron Spring Farm Stallions Sire 21 GAIG/USDF Regional Champions and Reserve Champions