Spain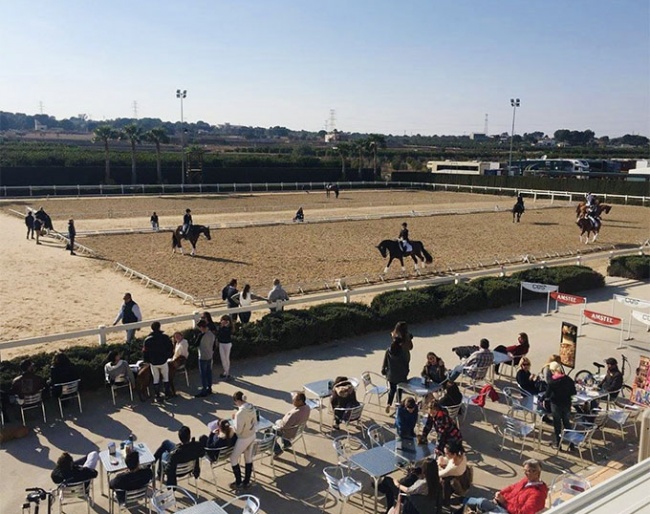 The organising committee at the CES Valencia has announced that it has cancelled the two CDI's in April and that a new venue to host the 2021 European Children, Junior and Young Riders Championships is being sought.
Valencia was supposed to host the 2021 European Youth Championships on 5 - 11 July 2021.
EHV-1 Outbreak
The disastrous EHV-1 outbreak of 2021 started in the week-long winter show jumping tour held annually in Valencia, and spread across Europe. It forced the FEI to put a lockdown on animal movement by stopping all competitions until 11 April. 
The Valencia show organizers are still doing damage control and have communicated very little about the progress being made on the show grounds for future scheduled events. 
Today, CES Valencia announced that its two CDI's on 15 - 18 April and 22 - 25 April have been cancelled.
"Due to the EHV-1 outbreak that appeared at the CES Valencia at the end of February and the uncertainty about the authorization of the return to competition of the CES Valencia facilities, we are forced to cancel the two CDI's scheduled for the end of the month in Valencia," said the organizer.
New Location for 2021 European Youth Championships
Also the future of the 2021 European Youth Championships is highly uncertain, although they suggested a new venue (in Spain) is being sought. 
"Despite the efforts CES Valencia is making to ensure that the facilities are ready to restart the competition, we still have no certainty from the health authorities when the facilities will be authorized to host competitions," the organizer added. "This is why we are studying a change of venue."
Very little details about a change in venue for the Europeans are being disclosed at the moment. 
In 2016 the neighbouring equestrian center in Oliva Nova (40 minutes from Valencia) hosted the European Children, Junior and Young Riders Championships. At the time Oliva Nova came to the rescue for Madrid who was the original host of the show but couldn't pull it off.
Related Links
Aggressive Strain of EHV-1 in Valencia: "Most Serious EHV-1 Outbreak in Europe for Decades"
Valencia Allocated the 2021 European Children, Junior and Young Riders Championships