KWPN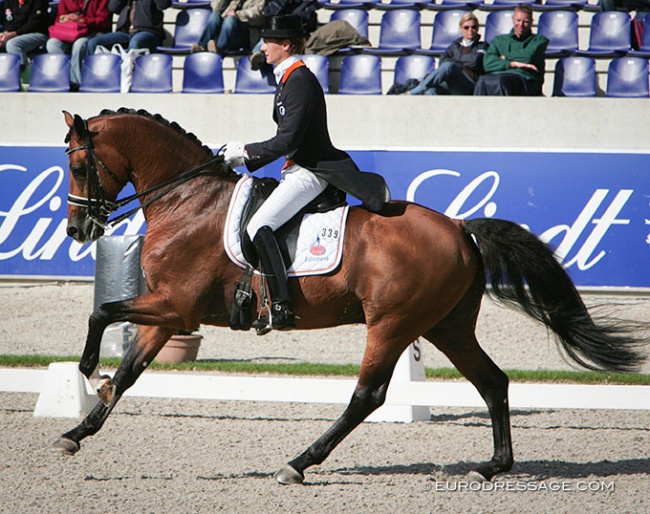 The KWPN licensed stallion Lingh, who was Edward Gal's career starting Grand Prix horse, has passed away on 23 October 2020.
He was 27 years old and spent his retirement at the Casper family's stallion station Birkhof in Donzdorf, Germany. 
"I was expecting Thomas Casper's phone call this fall and today it happened," Lingh's owner Karin Reid Offield told Eurodressage. On social media she shared that, "I am so sad to tell you we allowed Lingh to go for the green green fields without the constraint of a stable, yesterday at 1:43 EST."
Edward Gal and Lingh
Lingh was born in 1993 and bred by R. Brinkman and H. Dalling in The Netherlands.  He was by Flemmingh out of Gazelle (by Columbus x Uppercut xx). 
Originally owned by Theo van Sadelhoff, Lingh was trained from novice to Grand Prix by Edward Gal. The bright bay became Gal's first Dutch team horse. 
Gal competed Lingh in the 1997 Pavo Cup Semi-Finals as a 4-year old (finishing 19th) and rode him at the 1999 World Championships for Young Dressage horses in the 6-year old division finishing 9th overall. In 2002 they became Dutch Small Tour Champions.
Missed Olympics, Sale Pending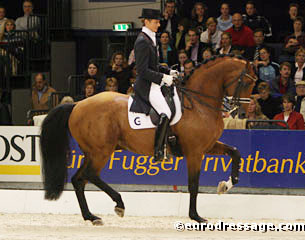 Edward Gal and Lingh were first nominated on the Dutch dressage team for the 2003 European Dressage Championships in Hickstead, where the Dutch team finished fourth and individually they were 28th in the Grand Prix, not making it into the Special.
However, Gal and Lingh rose to stardom during the 2003-2004 World Cup indoor season and won the 2004 Dutch Grand Prix Championships. They were nominated on the Dutch team for the 2004 Olympic Games. However, in August, just days before traveling to Athens,  the horse injured himself  and had to be replaced by Imke Schellekens-Bartels with Lancet. 
Already in March 2004 Lingh's 80-year old owner decided to sell Lingh, but this did not happen for two more years. In 2005 Van Sadelhoff agreed with Dutch team trainer Sjef Janssen and the the Dutch Equestrian Federation to keep Lingh for Gal to ride until the 2005 European Championships. 
Championship Successes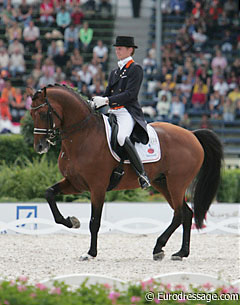 At the 2005 World Cup Finals, the pair impressed by winning the Grand Prix, beating Anky van Grunsven on Salinero, but ended up second in the Kur. At the 2005 European Championships in Hagen they won team silver and finished fourth overall. Lingh did not sell after the 2005 Euros and Gal got to ride another year on him.
In 2006 they were amongst the favourites for the World Cup Finals' title, but were only sixth in the Grand Prix and fourth in the Freestyle. The below par performance was attributed to a small injury sustained at the show.
The horse returned to fitness quickly and  won team silver at the World Equestrian Games in Aachen and were 11th in the Special and 12th in the Kur to Music. 
Sold to the U.S.A.
In November 2006 Van Sadelhoff sold Lingh to American Karin Reid Offield of Breknridge Farm.
The stallion moved to Florida and coached by Robert Dover, Karin and Lingh competed two seasons on the international show circuit. 
They made their show debut at the CDI-W Wellington in March 2007 and rode at Saugerties, Devon, Oldenburg and Maastricht that year.
In 2008 they added two more CDI's to their tally, the CDI-W Palm Beach and Loxahatchee.  Lingh and Offield had travelled to Anky van Grunsven's yard in The Netherlands for training but the stallion sustained an injury right before the 2008 CDIO Rotterdam. The CDI-W Loxahatchee show in February 2008 ended up being the stallion's last international in his career. 
Breeding Stallion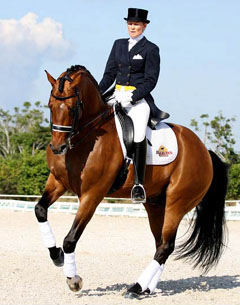 Lingh got licensed with the KWPN society as a breeding stallion in 2004 based on his performance as an international dressage horse. He was approved for all major European studbooks.
After his sport career he was retired to stud duty.  He was marketed in the U.S.A. by Hassler Dressage, briefly stood at stud in Sweden managed by Karl Henrik-Heimdahl at Flyinge State Stud, and in 2011 he moved to his forever home, Gestut Birkhof in Germany until his death. 
In 2008, Offield won a lawsuit against former owner Theo van Sadelhoff who refused to hand over several hundred straws of Lingh's frozen semen. The Arnheim Court House ruled that Van Sadelhoff has to return a specific number of straws of frozen semen to Offield and account for the number of breedings he commissioned with this frozen semen in 2007.
He was retired from stud duty in 2015 at age 22 and has produced approximately 500 foals and offspring worldwide.
His most famous being the international Grand Prix horse Bubblingh (Richard Davison) and Dutch youth team horse Vlingh (Jeanine Nekeman). He sired the 2009 KWPN reserve licensing champion Beau (by Lingh x Ferro), who sold to horse dealer Johan Ifversen and Jens Erik Markussen in Sweden for 195,000 euro and ended up being competed by  Pernilla André Hokfelt as youngster. Beau disappeared from the scene after 2012. The Swedish bred Lingho (by Lingh x Bocelli) is an internationally competed eventing horse under Swedish Moa Nordfjall. 
Further offspring standing out in sport are Biolita DN (by Lingh x Voltaire - Alexandre Dilliere), Benneton (by Lingh x Ferro - Virginia Lundin), Blingh VDL (by Lingh x Ahorn - Madeleine Porter), Clingh (by Lingh x Little Rock - Joseph Sandven), Flingh's Dream (by Lingh x Idocus - Roberta Carleton), and Linghs Sinclair (by Lingh x Lord Sinclair - Ashley Keller).
Owning a World Famous Horse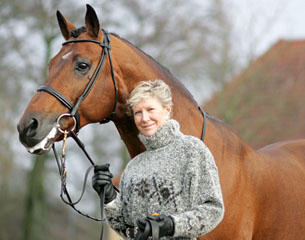 Following Lingh's death, Karin Reid Offield stated, "Death is unexpected. Lingh, thank you for all the wonderful rides and the time spent around the world with you! Owning a horse that is on the world's stage is wonderful. Their lives become yours and all the friends that love Lingh become your friends - so to all that knew Lingh over the years as an iconic competition horse with Edward Gal, with me in the USA and in Europe and as a breeding stallion across the world."
Edward Gal also released a short statement on the demise of his first Dutch team Championship horse.  "Lingh was a very special horse," said Gal. "I owe him so much! So many great memories I have of him. Thankful he came into my live! Thankful that Karin Reid Offield gave him a wonderful home."
Photos © Astrid Appels - private
Related Links
Eurodressage Photo Database: Gal and Lingh / Offield and Lingh
Lucky Lingh Retired from Breeding, Stays in Germany
Hannah Allescher Wins Ride on Lingh
Gutes Geling(h)en: Win a Ride on KWPN Licensed Grand Prix Stallion Lingh
Lingh's Future at Gestut Birkhof in Germany
Offield's European Summer Short-Circuited Due to Injured Lingh
Lingh Sold to the United States
Edward Gal's Lingh Injured
Edward Gal and Lingh Win Opening Grand Prix in 2005 World Cup Finals
Lingh has Fever, Participation at the 2005 European Championships Uncertain
Lingh Secured For Gal Until 2005 European Championships
Gestion Lingh to be Sold
Drama in the Dutch Camp - Gestion Lingh Withdrawn