Prinsjesdag Foal Auction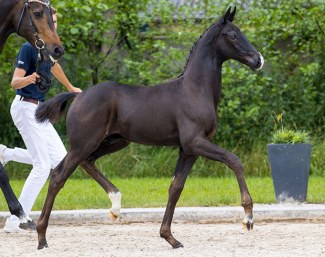 The jumper bred colt Chic Philyra V.V.Z (by Cornet Obolensky) became the price highlight of the 2020 Foal Auction Prinsjesdag on 15 September 2020. 
Held on a beautiful late summer day, the Prinsjesdag auction was a hybrid event, with a live auction in Ermelo, but bidding could also be done online. For the dressage foals the majority sold live at the event.
Bidders from all over the world showed there interest in the Prinsjesdag foals and eventually the foals were sold to clients from the Netherlands, Belgium, Ireland, Australia, Poland, Sweden, Great Britain, Hungary, the United States and Austria.
The top seller Chic Philyra VVZ sold fro 40,000 euro to Poland.  The second highest price was paid for another jumping foal, colt Umano de W&S (by Chacco Blue). He sold for 30,000 euro to Dutch investors. 
For 24,000 euro, the dressage colt Poleposition Texel (by Toto Jr. x Negro) became the most expensive dressage foal. From the same broodfarm, filly Princess Lady Texel (by Daily Diamond x Ferro) sold for 22,000 euro. Both foals stay in the Netherlands.
Pariswood Tarpania (by Desperado x Romancier) sold for 12,000 euro, Pride (by Kjento x Uphill) for 11,000 euro, Party Girl (by Just Wimphof x Uphill) for 10,000 euro.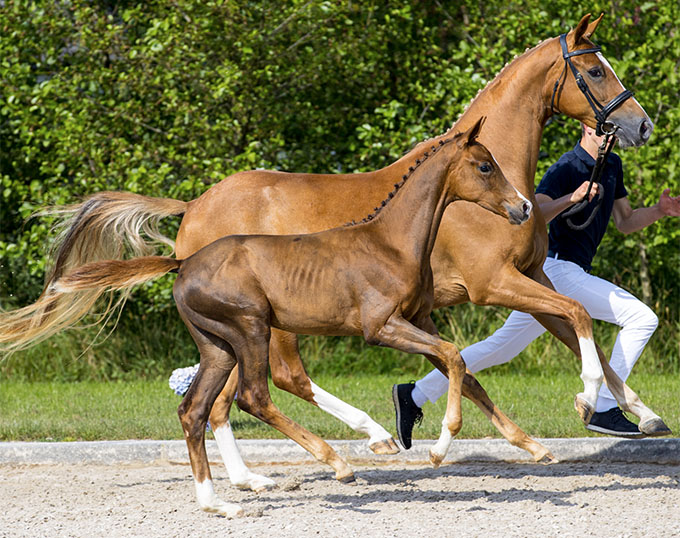 Power-Sina L (by Toto Jr x Goodtimes) fetched 10,000 euro, colt Paradiso (by Livius x Desperado) and Pepper W (by Le Formidable x Ampere) both sold for 9,000 euro.
Patron du Coeur (by Totilas x Stedinger) and Prins (by Just Wimphof x Johnson) both found a new owner for 8,000 euro, while Pinot Noir (by Painted Black x Negro) sold for 6,500 euro
Quality of Darena WD Z (Quabri de l'Isle x Celano) of Stal Dekker was auctioned to benefit the research into the treatment of melanoma cancer and was purchased by horse dealer Egbert Schep for 12,000 euro. 6,000 euros of this will be donated to the research of Prof. Dr. Van den Eertwegh.
The average price for the jumper foals was 11,650 euro, while the dressage foals sold on average for nearly 10,000 euro.
Related Links
Auction Order of Go 2020 Foal Auction Prinsjesdag Revealed, Register now to Bid Online
One Week to go until 2020 Foal Auction Prinsjesdag
Brilliant Collection for Live Auction of 2020 Foal Auction Prinsjesdag
Peer Gynt, Dressage Price Highlight of the 2020 Prinsjesdag Online Foal Auction 1
Pyria SC, Best Seller of 2020 Prinsjesdag Online Foal Auction 2