2020 Bundeschampionate Qualifier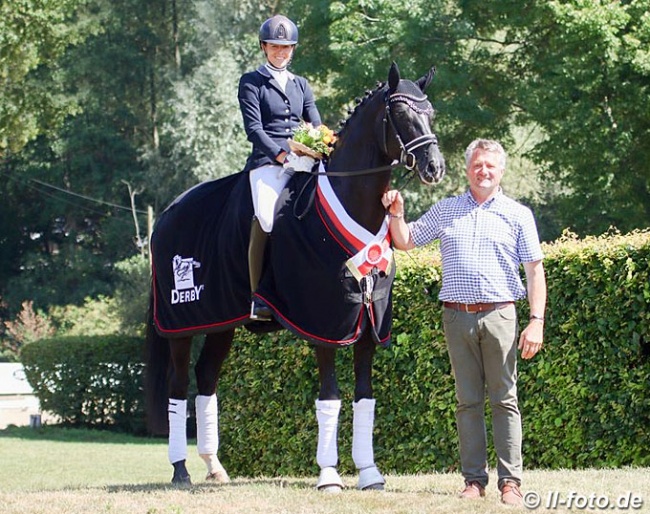 The 5-year olds Fashion in Black and Scarlett O'Hara and the 6-year old Valverde became the winners of the Westfalian Young Horse Championship classes, which also counted as Bundeschampionate qualifier in Munster, Germany, on 29-30 July 2020. 
Double Winners in 5-year old Class
With 30 participants in the 5-year old division, the class was split into two groups. The class was judged by Harry Lorenz, Michael Settertobulte and Klaus Storbeck.
Winner of group 1 was Johanna Klippert on Wilhelm Holkenbrink's Westfalian stallion Fashion in Black (by For Romance x Lauries Crusador xx). The pair scored a total of 8.5 points and got 8 for walk, 8.5 for trot, 9 for canter, and 8.5 for submission and general impression. The fairly compact Fashion in Black competed in the CDI Hagen two weeks ago, where he showed three good basic gaits, but a tendency to go wide behind in the trot extensions. Wibke Hartmann-Stommel was second aboard Dunja Stuhldreier's Westfalian mare Dark Diamond HM (by Dante Weltino x Londonderry). The mare got 8 for walk, canter, submission, and 8.5 for trot and general impression to average 8.2 points. 
In the second group Kira Wegmann steered Winfried Albers' Westfalian mare Scarlett O'Hara (by Scuderia x Laurentianer) to victory on an 8.4 point score. The chestnut mare got 8 for walk and canter, 9 for trot and 8.5 for submission and general impression. Two horses tied in second place in group 2 with 8.1: Nadine Plaster and Eimar Fischer's Westfalian mare Shiva (by Sir Heinrich x Furst Grandios) and Laura Strobel on Walter Droege's Westfalian gelding Dalmer's Damon (by Damon Hill x Florestan). Shiva got 8.5 for trot and 8 for walk, canter, submission and general impression. Dalmer's Damon received 8.5 for walk and canter, 8 for trot, 7.5 for submission and 8 for general impression. 
Hattrick for Valverde, Return of For Gold
Seventeen combinations competed in the 6-year old dressage horse test on Wednesday 29 July 2020 and Eva Möller and the Westfalian stallion Valverde (by Vitalis x Ampere) won the class. Owned by Cathrine Rasmussen and Andreas Helgstrand, the bright bay Valverde scored a winning 8.7 mark and claimed his third, consecutive Westfalian Young Horse Champion's title. Judges Wolfgang Egbers, Peter Mannheims and Heinrich Plaas-Beisemann rewarded Valverde with 9 for walk, trot and canter, 7.5 for submission and 9 for general impression. The sympathetic bay stallion excelled especially with his exceptional walk and his balanced canter, although the changes could have been a bit straighter in the body. In trot, the horse is very expressive but needs to open more in the throat latch and could show more self carriage and bending in the corners and voltes. 
The Westfalian Championships were the come back show for two World Young Horse Championship finalists: Valverde and also For Gold OLD. While Valverde also competed at the 2019 Bundeschampionate and won them, the show in Munster was For Gold's first competition in 11 months. Stefanie Wolf and her own and Johann Hinnemann's Oldenburg stallion For Gold OLD (by Franziskus x Zack) were second with 8.4. The dark bay scored 8 for walk, 9.5 for trot, 8.5 for canter, 7.5 for submission and 8.5 for general impression. Marcus Hermes and Heike Kind's Oldenburg mare Von Herzen (by Van Vivaldi x De Niro) were third  with 8.3 points. 
Photos © LL-foto.de
Results - 2020 Bundeschampionate Qualifier - Münster
5-year olds
Group 1
1. Johanna Klippert -  Fashion in Black NRW (by For Romance I / Lauries Crusador xx) - 8.5
2 Wibke HartmannStommel - Dark Diamond HM (by Dante Weltino / Londonderry) - 8.2
3 Thomas Schulze -  Forever Valentine (by Franziskus / Laurentio) - 8
4 Claudia Rüscher - Brooklyn (by Baccardi / Waterford) - 7.7
5 Herwart SchulteVarendorff -  Diavolezza (by Dimaggio / Münchhausen) - 7.5
5 Christina Stricker -  Miller L (by Millennium / Rosentau) - 7.5
5 Jan­Niklas Mürmann - Fräulein von Nymphenburg (by First Ampere / Don Gregory) - 7.5
Group 2
1 Kira Wegmann - Scarlett O'Hara (by Scuderia / Laurentianer) - 8.4
2 Nadine Plaster - Shiva (by Sir Heinrich / Fürst Grandios) - 8.1
2 Laura Strobel - Dalmer's Damon (by Damon Hill / Florestan) - 8.1
4 Victor Alfonso Pomares -  Ecuador di Fonte Abeti (by Negro   / Sir Donnerhall) - 7.6
4 Wiebke Hälker -  Emotion (by Estobar NRW / Rohdiamant) - 7.6
13 Susanne Münch -  Vulkano (by Van Vivaldi / Sir Donnerhall) - 7.4
13 Zina Facklam - Famous Nymphenburg (by First Ampere / Stedinger) - 7.4
13 Lars Schulze Sutthoff - Einstein (by Escolar / Di Versace) - 7.4
16 Andrea Timpe - En Vogue (by Estobar NRW / Fürst Piccolo) - 7.3
16 Florine Kienbaum -  Farrell Junior (by Farrell / Lord Loxley) - 7.3
18 Tanja Fischer - Bayala HR (by Barroso / Self made) - 7.2
18 Stefanie Serowy - Alcudia WL (by All at once / Fürst Heinrich) - 7.2
18 Achim Ostermeyer - Glanzlicht (by Governor / Cavan) - 7.2
21 Christina Stricker -  Ebonita (by Escolar / Rockford) - 7.1
21 Claire­Louise Averkorn - Charming Sezana (by Sezuan / Fürst Heinrich) - 7.1
23 Leonie Richter - Ferromir (by Feedback / Laureus) - 7
23 Nora Walendzik - Fürstin Maizauber (by Fürstenball / Weltmeyer) - 7
23 Claudia Rüscher -  Glückskind FB (by Goldberg / Damon Hill) - 7
23 Jonas Wittenbrink - Gatsby (by Goldberg / Florenciano) - 7
27 Marco FernandezSanchez -  Buenos Dias Bailador (by Buckingham / Sandro Hit) - 6.7
27 Pedro Luiz Almeida Pavao - Sultan (by Sarotti Mocca­Sahne / Weltmeyer) - 6.7
27 Eva Niklova -  Goldika (by Goldberg / Lissaro) - 6.7
30 Pedro Luiz Almeida Pavao - Fernandez (by For Romance I / Rutilus) - 6.1
Christian Alexander Kömpf - Emilia Galotti (by Escolar x  Fidertanz) - RET
6-year olds
1. Eva Möller - Valverde (by Vitalis / Ampere) - 8.7
2 Stefanie Wolf - For Gold OLD (by Franziskus / Zack) - 8.4
3 Marcus Hermes - Von Herzen (by Van Vivaldi / De Niro) - 8.3
4 Kevin Thomas -  Meridian (by Millennium / De Chirico) - 8.2
5 Laura Strobel - Dave Brubeck (by Desiderio / Sandro Hit ) -  8.1
6 Janina Ewers -  Etro (by Escolar / Lanciano) - 8
6 Kira Wulferding- Flaconi (by Foundation / Breitling W) - 8
8 Benno Fredebeul -  Donnalucata (by Dressage Royal / Fürst Romancier) - 7.8
8 Timo Kolbe -  Lucky Diamond (by Like a Diamond NRW / Fürst Piccolo) -  7
10 Stella Charlott Roth - Livaldi (by Livaldon / Dancier) - 7.7
11 Andrea Timpe  - Donaumond (by Herbstkönig / Koenigsmarck) - 7.6
12 Lars Schulze Sutthoff - Barrico JK (by Bretton Woods / Florenciano) - 7.5
12 Lefke Bennemann - Escada (by Escolar / Florenciano) - 7.5
14 Sina Aringer -  Gänseblümchen B (by Grey Flanell / Estobar) -  7.4
15 Cellina Bulitta -  Sirius (by Sir Heinrich / Medici ) - 7.2
16 Christin Böhner -  Fibonacci (by Fürstenball / De Niro) -  6.9
17 Anna­Lena Niehues -  Simply Smilla (by Scuderia / Lauries Crusador xx) -  6.6
Related Link
Eurodressage Coverage of the 2020 Bundeschampionate