Germany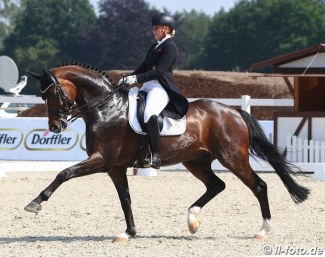 Following the federal government's decision to put the Warendorf area in lockdown to the massive corona outbreak in the nearby Tonnies meat producing factory, the German Equestrian Federation relocated the first German U25 team qualifier from Warendorf to Kronberg. 
The 2020 German Piaff Forderpreis show circuit was supposed to kick off on 27 - 28 June 2020 at the DOKR headquarters in Warendorf. The first show also served as first out of two German team selection trials for the 2020 European Under 25 Championships in Budapest in August. 
On Tuesday the German government put the Warendorf area in lockdown and today the German FN received permission from Ann-Kathrin Linsenhoff to host the qualifier at her Gestut Schafhof in Kronberg (near Frankfurt).
"To avoid unnecessary complications (due to the new lockdown) we decided to move the tests to Schafhof," said Markus Scharmann of the German FN.
Competing in Kronverg and vying for a team spot for the 2020 European Youth Championships are:
Anna-Christina Abbelen - Henny Hennessy
Jil-Marielle Becks - Damon's Delorange
Kristin Biermann - Queensland
Evelyn Eger -  Whitley
Hannah Erbe - Carlos
Paulina Holzknecht - Ein Traum
Rebecca Horstmann - Friend of mine
Jessica Krieg - Sergio Leone
Leonie Laier - Seven Heaven
Ann-Kathrin Lindner - Flatley and Sunfire
Lune Karolin Müller -  Seal
Raphael Netz -  Lacoste
Joana Peterka - Davidoff ter Kwincke
Cathrina Timora Rasch-Günther (- Didgeridoo
Sophie Reef - Charming Lady
Semmieke Rothenberger -  Dissertation FRH
Alexa Westendarp - Der Prinzand Hicksteadt
Photo © LL-foto
Related Links
Warendorf in Lockdown - First Piaff Forderpreis / EYC Selection Trial Uncertain
German Team Selection System for 2020 European Youth Championships Announced