Rhinelander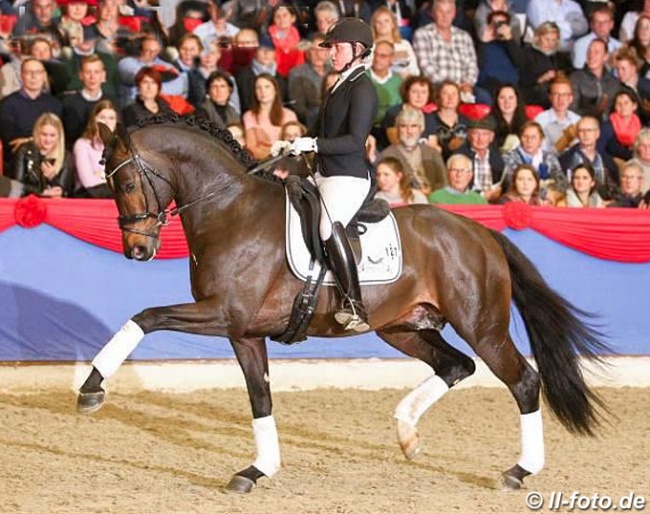 The American owned rising 5-year old Rhinelander breeding stallion Escamillo will not be standing at stud in 2020. The owner has decided to move the horse away from stallion station Tobias Schult and his training at Isabell Werth's to refocus him on sport with Helen Langehanenberg.
Owned by Kimberly Davies-Slous, Escamillo is a Rhinelander bred stallion by Escolar out of Casilla (by Rohdiamant – De Niro). He is bred by Carolin Langhorst at Gestüt Tenterhof.
Career Start
Escamillo became a premium stallion at the 2017 Hanoverian Stallion Licensing. He did his 14-day suitability test in Neustadt Dosse in April 2018 and scored 9.08 for dressage and 7.38 for show jumping. He did his sport test in February 2019 and got 8.38 for dressage.
The bay, who attracted quite an interest from breeders in his first year at stud, was stationed at Tobias Schult's yard. 
The youngster was never shown in sport. He was presented at stallion shows by Timo Kolbe.
Trained at Werth's
In November at the 2019 Oldenburg Stallion Licensing in Vechta, Escamillo appeared under saddle of Austrian Lisa Wernitznig. 
Wernitznig works as an assistant trainer at Isabell Werth's yard in Rheinberg. Werth and stallion station Schult have been collaborating for the training of the colts.
Eurodressage interviewed owner Davies in November about the stallion's training at Isabell Werth's yard and Kimberly replied: "I hope to develop his talent properly with the best training and care and keep him happy and healthy."
Now with Helen Langehanenberg
Today, 16 January 2020, Tobias Schult announced that Escamillo will not be standing at stud in 2020.
"We had planned for the stallion, after his basic training with us here in Hünxe, to achieve his sport goals for this year at Stable Werth as well as offer the 5-year old at stud," Tobias Schult explained. "Kimberly Davies has now decided not to offer Escamillo at stud for the breeders in 2020."
Davies has also moved the horse away from Werth's yard and into training with Helen Langehanenberg near Münster, Germany. 
"Schult had a super successful two-year contract to stand Escamillo there," Davies told Eurodressage. "We decided to let him focus on sport and training development for this year rather than try to keep up an intensive breeding schedule as well."
Photos © LL-foto
Related Links
Gaitano and Jovian, High Scorers at the 2019 Munster Stallion Sport Test
A Critical Eye on the 2017 Hanoverian Stallion Licensing