2019 CDI-W London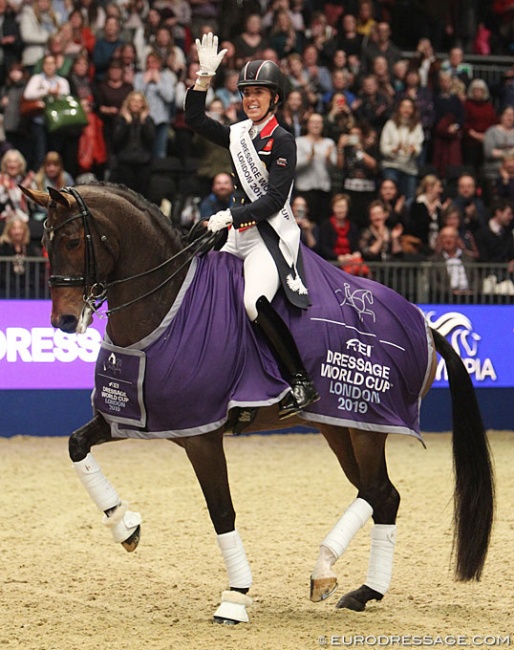 Charlotte Dujardin took charge of the British whitewash at the World Cup qualifier hosted at the Olympia Horse Show in London on Tuesday 17 December 2019. 
In a field of 15 riders of which 7 riders represented Great Britain and a further 4 actually live in Britain, it was an east feat for the host nation riders to swamp the podium at the sixth leg of the FEI Dressage World Cup™ 2019/2020 Western European League.
Dujardin Aims for Vegas
With Emma Blundell's 10-year-old Hanoverian mare Mount St John Freestyle (by Fidermark x Donnerhall), the reigning Olympic champion rode to a Frozen medley that was much liked by the judges. The ground jury, consisting of Francis Verbeek van Rooy (NED), Isabelle Judet (FRA), Andrew Gardner (GBR), Katrina Wuest (GER), and Stephen Clarke (GBR), unanimously placed Dujardin first with 87.520%. 
Freestyle was a bit impressed by the arena and although she was certainly not spooky the tension was visible in the bridle contact and trembling lip. Nonetheless, Dujardin carefully steered her horse through the choreography, highlighting her control over the gaits of her over-achieving and eager to please mare. While the pirouettes lacked collection and were too big, the tempi changes were fantastic: straight, uphill and ground covering. The mare has tremendous shoulder freedom which shows in the trot extensions and half passes and she stays highly engaged in the passage. In some piaffes she was hesitant today. The walk was clear in rhythm.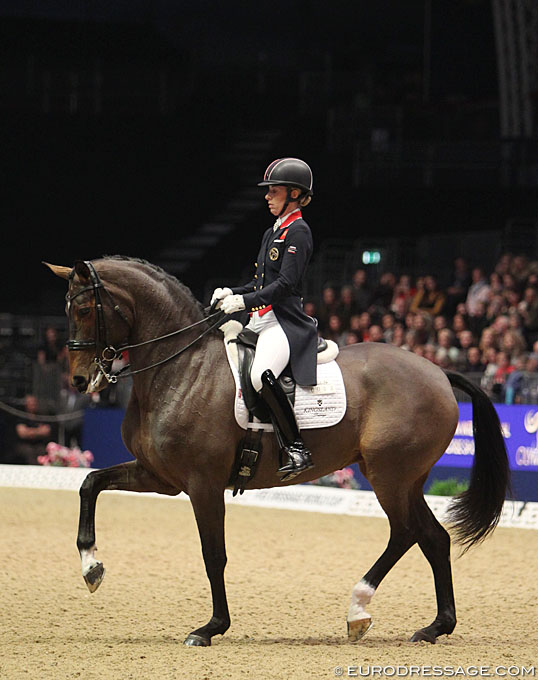 This was Charlotte's fourth win in a Dressage World Cup qualifier at Olympia, her first with the Fidermark mare. Speaking after her victory Charlotte said: "This was her third ever freestyle. The crowd felt even closer than last night and it was quite a difficult floorplan. She really tried and listened to me; I couldn't ask for more. I've had my highs and lows this year [referring to disqualification in the Grand Prix at the European Championships] and it is great to end the year with such a positive ride."
Charlotte has confirmed that the 2020 World Cup Finals in Las Vegas are her goal and will ride the qualifier in Amsterdam (in January) next. 
"I'll see if I need more points," she replied to the question if she was going to do four World Cup qualifiers, with two down (Lyon and London). "I need to get her in the arena a but more and give her experience," she added, thinking that the strategy of doing one show per month is a good one for the mare. "If there is one thing I learnt it is patience. With Valegro I could keep asking for more and he gave me more. We had an easier start at our career. With Freestyle there are now expectations. With her I have to take my time and give her confidence."
When asked about her music based on the modern Disney classic Frozen, Charlotte replied: "I'm a child. I always go for a theme. With Valegro I had How to Train a Dragon. Freestyle is dancy, floaty, ballerina like, so I chose Frozen."
Hester and Delicato on Song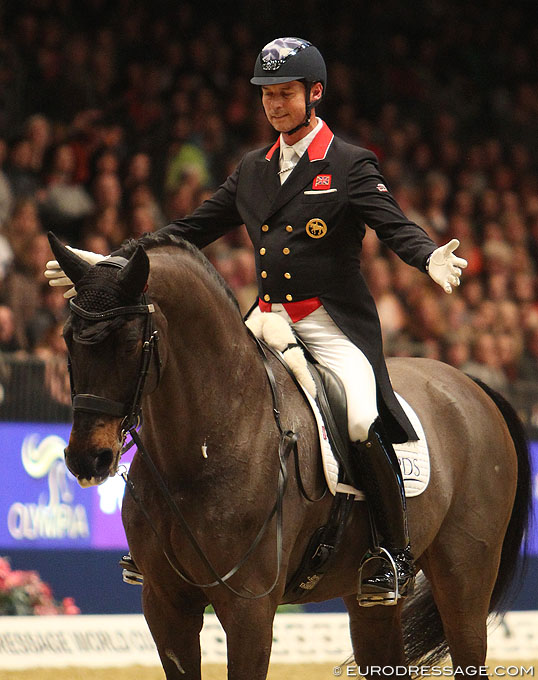 While Carl's short Grand Prix on Monday was riddled with mistakes, today the grand master was on song with the 11-year old British Hanoverian Hawtins Delicato. The pair scored an 84.470% for second place. Two judges had him second, three ranked him third. 
Pulling Uthopia's 2012 London Olympics music out of the drawer as Delicato's new freestyle is not quite ready yet, Hester showed some great riding. The halt was good, the passage and trot half passes carefully ridden, the trot extensions well balanced. The passage floated, but some of the piaffes stayed a bit small. The extended walk had massive overtrack but there could have been more of a V in the rhythm. The collected walk was much better today. The one tempi changes were slightly short and stiff, but straight. Also in the pirouettes there could have been more bending, but the extended canter had good energy. Hester looked sharp and focused in the saddle without overasking his sensitive gelding. 
At the press conference Hester, who was disappointed with his performance yesterday, said: "What a difference a day makes. I have a big smile today. His last Freestyle was at the European Championships this summer, where he had a meltdown. What a way to finish the season."
Rising Star Lottie Fry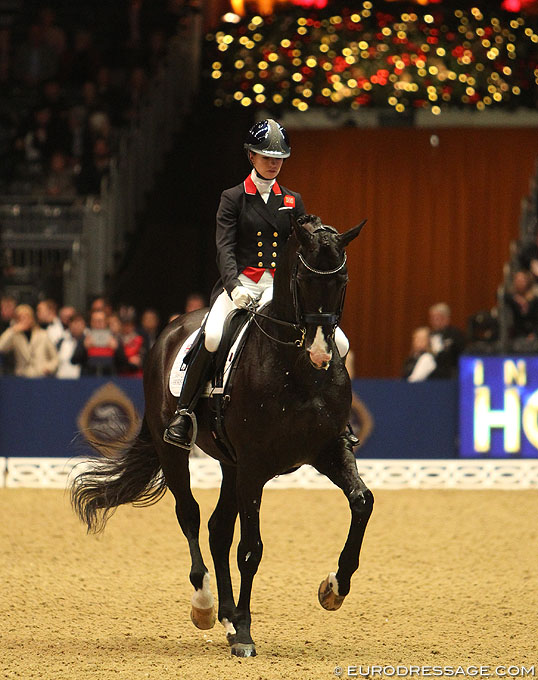 The youngest rider of the show, 23-year old Lottie Fry, scored a double third at her first ever Olympia. Aboard Van Olst Horses' 10-year old KWPN stallion Everdale (by Lord Leatherdale x Negro), she rode to brand new dance music featuring Rihanna's Shine Bright Like a Diamond and Charming Horses' Higher Love. She only got her music one week ago and had barely practiced it.
The powerful black stallion was very tense in the electric atmosphere of the sell-out exhibition centre and the contact was strong throughout. Nevertheless the petite Fry was unfazed and got the absolute most out of the situation, riding great trot extensions and half passes. The highlight were the one and two tempi changes. In piaffe and passage the stallion gets croup high but he finds the rhythm. The extended walk had much overtrack but was quick and tense. The pair scored 82.620%, ranking second with one judge and fourth with the others. This put them in third place. 
Fry, who is the 2018 European Under 25 Champion, was still pinching herself after yesterday's third place: "I don't think it's sunk in yet and it won't sink in for quite a while" said Lottie, "we trained hard in the lead up to Olympia and everything fell into place. I dare to dream that next year will be an exciting year."
Wandres Breaks Britain's Dominance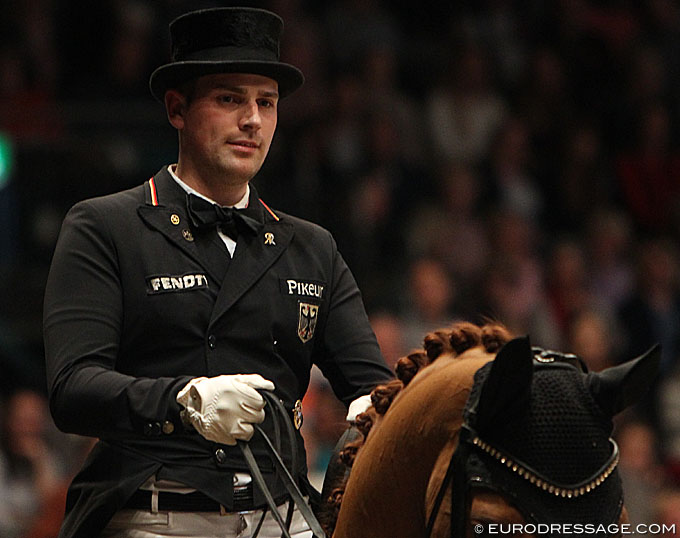 Fourth place went to last year's Olympia winners, Germany's Frederic Wandres and Hof Kasselmann's 12-year old Hanoverian gelding Duke of Britain (by Dimaggio x Rubinstein), who have now moved up to second in the Western European League standings with five more legs of the qualifying series left to go. The pair scored 82.550%.
As last pair to go, Wandres rocked the house with literally a high energy test and music. The sympathetic chestnut excelled in the canter work with superb half passes and uphill tempi changes. Also in the piaffe he produces a lovely silhouette but the passage was sometimes uneven and in the trot half passes he lost the rhythm. Wandres scored extra points with his high degree of technical difficulty, finishing the ride on a well ridden piaffe fan, followed by one handed passage. 
Lara Butler Impresses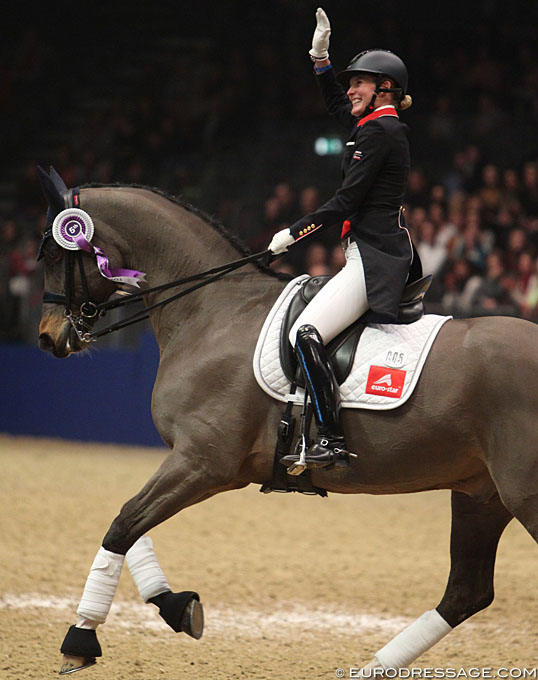 Probably the biggest surprise of the show was routinier Lara Butler on the Bechtolsheimers' 17-year old Hanoverian Rubin al Asad (by Rubin Royal x Wanderbusch II). Already in the short Grand Prix the combination excelled with their harmonious riding, and Butler repeated that in the freestyle.
Riding to snazzy Dire Straits' music that well matched the movements of her horse, Butler had her horse nice and steady in the contact and was super consistent. The passage and trot half passes were well ridden to the music, there was good relaxation in walk and the tempi changes on the curved lines were straight and uphill. In passage Rubin al Asad could engage more from behind and it is a pity that the piaffe is his weak spot, as he gets wide behind and in front, otherwise there would be no limits to their pair. They scored 81.540% for fifth place, but one judge had them second, one third and three fifth. 
Text and Photos © Astrid Appels  - NO REPRODUCTION ALLOWED
If you are interested in photos for your social media, send us an email
Related Links
Scores: 2019 CDI-W London
London Calling: Olympia Nicest Indoor Show On the Planet?!
Minderhoud and Dream Boy Withdraw for 2019 CDI-W London
Britain's Best Gathers for 2019 CDI-W London Olympia Horse Show
Round Two of Short Grand Prix Pilot Project at 2019 CDI-W London
Eurodressage Coverage of the 2019-2020 World Cup Season