KWPN Online Foal Auction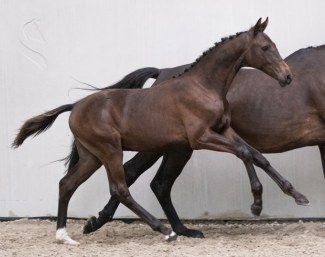 The dressage foals in the collection of the fifth and last KWPN Online Foal Auction are genetically seen, put together very well. The biddings are opened since 10.00 am today and will close coming Monday evening.
Such as the dam of the KWPN-approved keur-stallion and Grand Prix horse Olivi, whom is the grand dam of the dressage foal Obi-Wan Kenobi F (by Deparon U.S.). This mare performed on Small Tour level herself. The dam of Obi-Wan Kenobi F is a half-sister to the Small Tour horse Cicero-Utopia (by Westpoint). Olivia's Justice (by Bretton Woods) has the Grand Prix horse Reine B (by Rubinstein) of Lotje Schoots as grand dam. She gave, among others, the Prix st. Georges horse Brennus B (by Diamond Hit). From this dam line the Inter I horses Urchin B (by Jazz) and Inca (by Sarcos xx) and the Small Tour horse Tsarina B also descend. Besides this the great-grand dam of this filly is a half-sister to the international Grand Prix horse C (by Pion).
Mares performed in sport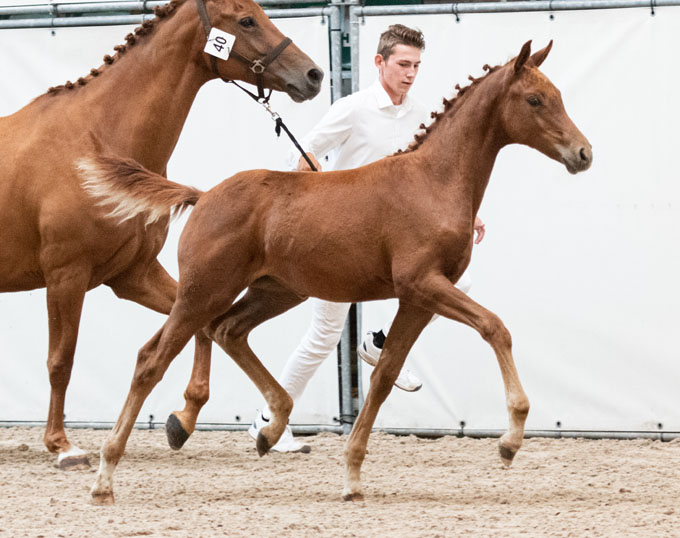 From multiple dressage foals their mothers performed in the sports themselves. Such as Z2-mare Uferlia (by Krack C) who gave One Men by High Five U.S. She is a half-sister to the Grand Prix horse Don Juan (by Vivaldi) and the international Grand Prix horse Odessa (by Farrington). The dam of GLOCK's Toto Jr.-son Orlando also performed on Z2-level, just like his grand dam. The international Grand Prix horse U-Caro (by Welt Hit II) and the KWPN-approved Impression come from this dam line. Also the dam of Orval GHP (by Fürst Jazz) is classified on Z2-level, just like the dam of Just Wimphof-daughter Oberlina.
International dressage horses
Just Wimphof-son Ozzy is a half-brother to the ZZ-Zwaar horse Charmeur (by Special D) and to the Z2 horse Hailey (by Kimberley). Rousseau-son On Top Of It SSS is also part of the collection. His grand dam is classified on ZZ-Licht level and already gave the international Grand Prix horse Thunderhall (by Donnerhall).
Collection online
This is just a selection out of the full collection of the fifth KWPN Online Foal Auction. View the whole collection including photos and videos on the auction website, pick your favorite and register as a bidder for free, to make sure you can participate in the biddings right away on Friday.
During the photo and video days, all of these foals were inspected by a vet and assessed by a KWPN-inspector.
Information on these reviews can be requested by Rianka Hazeleger through salespromotion@kwpn.nl or by phone: +31 341 255 511.