KWPN Foal Auctions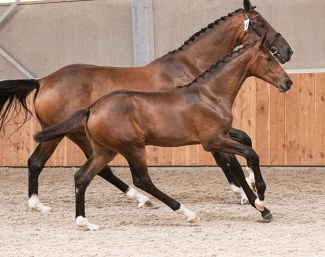 The bay filly Ona Lyndi B (by Revolution x Spielberg) became the top seller of the fourth edition of the 2019 KWPN Online Foal Auction which concluded on 23 September 2019. 
Ona Lyndi B sold for 10,000 euro to a Dutch client. 
The colt Ophion HL (by Totilas x Ferro) was the second most expensive foal of the online auction and stays in The Netherlands for 7,000 euro. 
The third highest price for a dressage foal in this auction was 4,750 euro. The colt Olaf (by Daily Diamond x Olivi) remains in Holland for that price.
French customers paid 4,250 euro for the chestnut colt Odin (by Toto Jr x Jazz) and 4,000 euro for the colt Orpheus (by Just Wimphof x Florencio) and colt Ozou (by Just Wimhof x Jazz). 
The best selling jumper foal was Oke (by Quabri d'Isle). A Polish customer paid 6,000 euro for him. 
The average price for a foal at this online auction was 3,900 euro. Fourteen foals sold abroad and 2/3 of the collection found new owners. 
Related Link
KWPN Online Foal Auction: Bid now on Promising Dressage Foals