2019 British Dressage Championships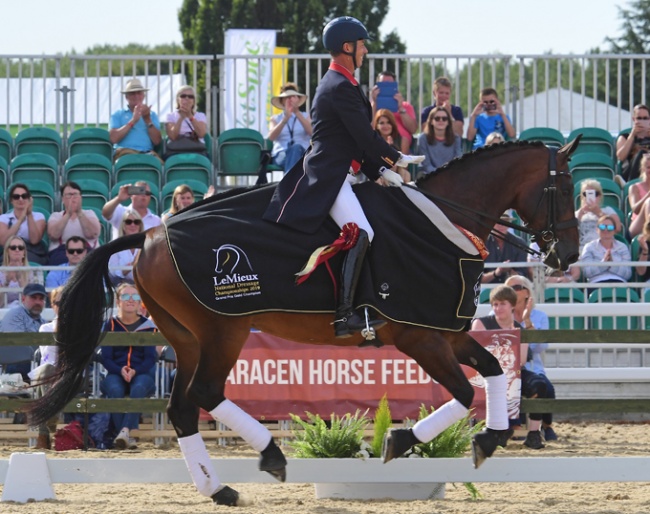 Carl Hester secured his 10th British National Grand Prix Champion's title in his career at the 2019 British Dressage Championships at Stoneleigh Park on Sunday 15 September 2019 
The Grand Prix Freestyle, the jewel in the 2019 British Dressage Championships crown, drew a knowledgeable crowd to Stoneleigh Park on Sunday afternoon. Ten combinations came forward and the competition was strong but it was the maestro himself, Carl Hester, who secured the class and his tenth National Champion title.
Carl and Nip Tuck rode their awesomely technical freestyle that they performed in Rio to earn the winning score of 78.47%, ahead of Laura Butler and Kristjan (75.55%) and Louise Bell with Into the Blue (73.60%).
At the half way mark, Maria Eilberg and the stunning grey Royal Concert had the lead with their brilliant Rod Stewart compilation which earned them 73.20%. Louise Bell and Into The Blue delighted with a fun, expressive performance to the sound of 'Sweet Home Alabama' and The Greatest Showman', the roan gelding and his rider showing off an extensive piaffe-passage tour. Josh Vietti's Despacito set the canter off well, and there was great interpretation of music. A secure, super test with the horse showing a good ability to collect earExtended canter into piaffe earned them 73.60%. 
Next in, Laura Tomlinson and Duval's Capri Sonne Jr, showed much ability riding to their familiar reggae routine, which many will associate with former ride Andretti H, was tinged with some tension with 'Cas' not quite settled in mouth. When it all comes together however, it's going to be spectacular as he has so much ability. 69.67% was their score today.
Lara Butler and Kristjan entered next to Amazing Grace in passage. Featuring Thin Lizzy's 'Whisky in the Jar' and 'Scotland the Brave', their test had bags of energy. A misunderstanding into half pass left, was costly, the extended canter impressed and the one-time changes very confident. Ultimately second place was theirs with 75.55%.
The penultimate pair, Carl Hester and Nip Tuck, entered in passage to a good square halt, straight into piaffe-passage tour, then turning piaffe, to their familiar Rio music. Straight into canter pirouette, Carl is so confident with this horse and the two time changes on a curve and the 23 one-time changes on a curve were so secure. The canter pirouettes were both high quality, there was one moment when something in grandstand caught the attention of 'Barney', but his mind was soon back on the job. The extended trot was cautious but beautifully balanced, and overall the test beautifully presented for a great reception from crowd and a score of 78.47% from the judging panel.
Last to go Sadie Smith and Keystone Dynamite showed a lot of energy and talent with some super highlights. There score was 72.85% despite some miscommunications, so what a promising combination for the future with more experience under their belts.
After the prize-giving, Carl told us, "That first centreline has some impact! He did 23 one time changes without an error and then I had one small blip on the straight but that was it. He knows that test so well and gives all he has, he's just so obedient. It's nice now that he enjoys it rather than being terrified, but then again at 15, he should really! It's a really difficult programme and he makes it look easy.
"It's nice to get my tenth National Champion title with him. He deserves it for what he's given to British dressage – he's represented Britain at European, World and Olympic level and always been so solid – he was due this win. 
Barney currently lives at Rob Barker's yard and he'll train with Carl to work towards a Grand Prix debut. "I'll keep schooling him twice a week to keep him sharp and Rob can learn from him which will only help his riding and his skills for his own horses. If I hadn't had a 'leg up' like this when I was younger, I'd never be where I am today so it's important. Barney still has a lot to give and I don't think he'll ever retire!"
Photo © Kevin Sparrow
Results - 2019 British Dressage Championships
Grand Prix Kur to Music
1. Carl Hester - Nip Tuck -  78.475 %
2. Lara Butler - Kristjan - 75.55 %
3. Louise Bell - Into the Blue -  73.6 %
4. Maria Eilberg - Royal Concert  - 73.2 %
5. Sadie Smith - Keystone Dynamite -  72.85 %
6. Emile Faurie - Quentano - 72.625 %
7. Nicola Buchanan - Half Moon Dark Magic - 71.975 %
8. Laura Tomlinson - Capri Sonne Jr - 69.675 %
9. Ryan Todd - Charlex Eskebjerg - 69.025 %
10. Dan Greenwood - Chevalier-O -  68.9 % 
Related Links
Hughes Pips Dujardin for Inter I Title at 2019 British Dressage Championships
There's No Beating Dujardin at the 2019 British Dressage Championships
Previous Winners
Lara Butler Wins the 2018 British Grand Prix Championship
Hayley Watson-Greaves is the 2017 British Grand Prix Champion
Carl Hester Wins 2016 British Grand Prix Championships
Charlotte Dujardin Wins 2015 British Grand Prix Championships
Michael Eilberg Wins 2014 British Grand Prix Championships
Carl Hester Brings Tally to 66 at 2013 British Dressage Championships
Carl Hester Wins 2012 British Grand Prix Championships
Bechtolsheimer, Woodlander Farouche and Carinsio Dominate Final Day of 2011 British Championships
Laura Bechtolsheimer Wins 2010 British Grand Prix Championships
Carl Hester and Liebling II Grab 2009 British Grand Prix Champions' Title
Maria Eilberg, 2008 British Dressage Champion
Spencer Wilton and Dolendo, 2007 British Dressage Champions
Sandy Phillips and Lara, 2006 British Grand Prix Dressage Champions
Laura Bechtolsheimer and Douglas Dorsey Win 2005 British Grand Prix Championships
Hester and Escapado Win 2004 British Grand Prix Championship
Richard Davison, 2003 British Dressage Champion with Ballaseyr Royale
Nicky Barrett Claims Her First Grand Prix Champion's Title at 2002 British Dressage Championships