FEI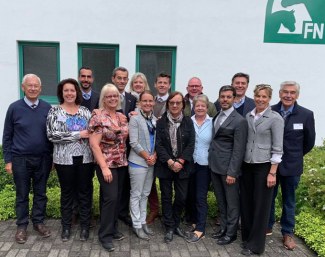 Thirteen international dressage judges passed the FEI judging exam held in Warendorf, Germany, on Monday 9 September 2019, to become an FEI young horse judge. 
The FEI judging course and exam were carried out by 5* judges Dieter Schüle and Ghislain Fouarge. 
The course and exam were held over three days during the 2019 Bundeschampionate - the German Young Horse Championships at the DOKR/FN headquarters in Warendorf. 
The course started on Saturday 7 September 2019 with a theoretical session and videos on the principles of judging young horses, followed by the group watching the 6-year old Dressage Horse Finals. All judges wore a headset and each of them had to comment on one horse through the microphone and was assessed on their commentary. On Sunday 8 September a similar format was followed with the 5-year old Dressage Horse Finals.
On Monday 9 September the German FN had invited eight horses for judging. All candidates had to judge the 8 horses, followed by a discussion of their notes in the afternoon and an oral exam. 
Thirteen judges passed the FEI young horse judging course and are now eligible to judge the CDI-YH classes. They are:
Knut Danzberg (GER)
Susan Hobson (NZL)
Sandra Hotz (USA)
Helen Hughes-Keen (NZL)
Kari McClain (USA)
Frederico Pinteus (POR)
Debbie Rodriguez (USA)
Kerrie Swan-Bates (AUS)
Alban Tissot (FRA)
Janine van Twist (NED)
Ilja Vietor (SVK)
Hans Voser (SUI)
Omar Zayrik (MEX)
Related Links
Thirteen Judges Pass Exam and Are Promoted to 3* and 4* Level
Ten Judges Promoted to FEI 3* and 4* Level at 2017 CDI-W Moscow
Maxima Park Boosts Russia's Strength as a Dressage Nation with FEI Judges Course
Five Judges Promoted to 4* Level at 2016 CDI-W Salzburg
Eleven CDI judges Seeking Promotion Through FEI Judges Exam at 2012 CDI-W Stuttgart