2019 Bundeschampionate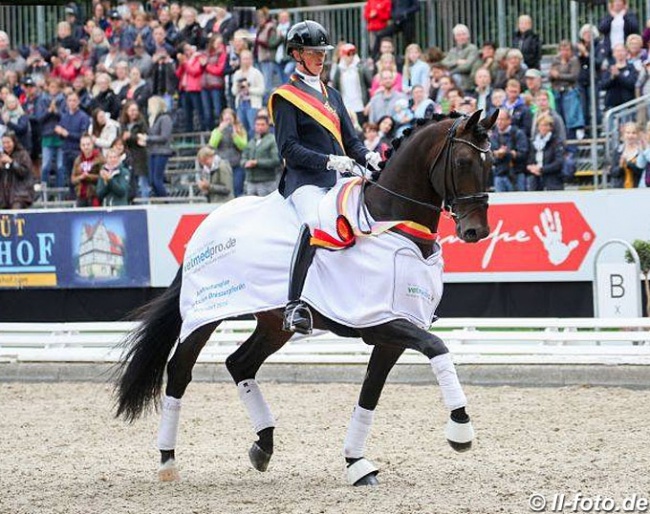 Dutch rider Robin van Lierop and the Oldenburg licensed stallion Zum Glück OLD became the winners of the King's Class - the 6-year old Dressage Horse Finals - at the 2019 Bundeschampionate in Warendorf, Germany, on 7 September 2019. 
The Bundeschampionate are the annual German Young Horse Championships for ponies and horses in dressage, show jumping, eventing and driving. The event starts on Thursday and runs through Sunday with the big finals taking place on the last two days of the show. 
The top of the bill, the 6-year old Dressage Horse final, was won by a Dutch rider on a German bred horse. Robin van Lierop steered Oldenburg stallion Zum Glück (by Zonik x Florestan) to a convincing victory with a 9.30 total. Judges Elke Ebert, Horst Eulich and Katja Westendarp rewarded the dark bay stallion with a 9.5 for walk, 9 for trot, 10 for canter, 8.5 for submission and 9.5 for general impression. 
Zum Glück is bred by Ullrich Kasselmann and was reared at Gestut Osthoff. Trained by the team at Hof Kasselmann, the stallion sold at the 2017 PSI auction as price highlight for 850,000 euro to Dutch pharmaceutical entrepreneurs Saskia and Jacques Lemmens. Van Lierop took over the training and ride on the stallion and competed him at the 2018 and 2019 World Young Horse Championships. This year he finished 9th in the Finals in Ermelo after ranking third in the preliminary test. However, the pair hit the jackpot at the 2019 Bundeschampionate and won the German title and gold medal as only duo to score a total above 9.0.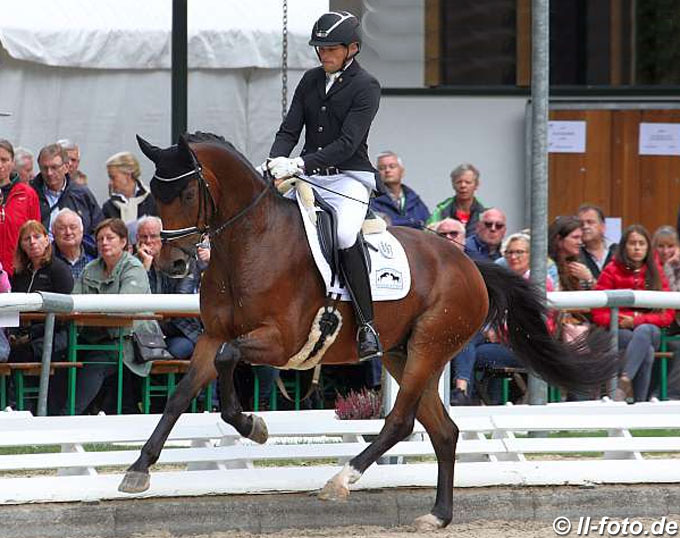 Van Lierop described the prize giving ceremony as "the moment when you realize that your dream has come true" and referred to it as "a milestone" in his professional career. He said that winning in Warendorf is "so bizarre, it's so cool. I don't seem to realize it yet."
In an interview with De Hoefslag, Van Lierop described his situation of a Dutch rider winning a German Championship on a German horse. "At the World Championships, Zum Gluck stood with the Dutch horses. If I see how nice Holland makes a team, I make a deep bow for that. In Germany it's a lot more individualistic. Both countries have their charm and I'm in the luxury position that I feel well in both countries."
The silver medal went to Lars Schulze Sutthoff aboard his father Bernard's home bred Wesfalian gelding Rock Revolution (by Rock Forever x Davignon). The 25-year old rider and his bright bay gelding scored 8.5 for walk and trot, and 9 for canter, submission and general impression to finish on a total of 8.8 for a second place.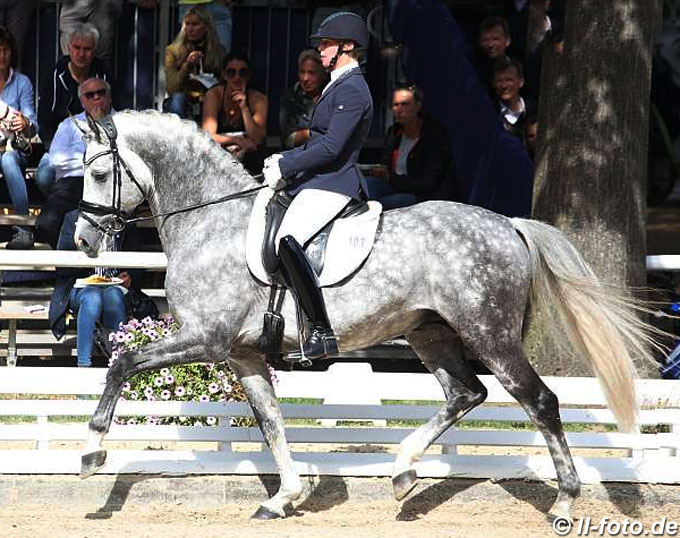 Melanie Tewes and Sissy Max-Theurer's show jumping bred Holsteiner stallion Caracciola MT (by Chin Champ x Calido) scored the bronze medal. The cute grey stallion totaled 8.6 for third place after receiving 8.5 for walk, trot and canter, 9 for submission and 8.5 for general impression. 
Photos © LL-foto
Related Links
Scores: 2019 Bundeschampionate
Robin van Lierop and Zum Glück Show Form in 6-YO Qualifier at 2019 Bundeschampionate
Zum Gluck, Price Highlight of the 2017 PSI Auction