The Netherlands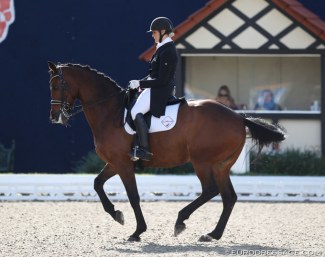 The FEI has given the 2019 CDI Exloo on 24 - 27 October 2019 the status of final Tokyo Olympic dressage team qualifier for Group F.
It will be the last opportunity for a team to qualify for the Olympic Games in Tokyo, Japan, which take place 25 - 29 July 2020.
Group F includes the FEI Regional Group III (Iran); Group VII (Algeria, Bahrain, Egypt, Iraq, Jordan, Kuwait, Libya, Lebanon, Morocco, Oman, Palestine, Qatar, Saudi Arabia, Sudan, Syria, Tunisia, UAE, and Yemen); Group VIII (Pakistan); and Group IX (Angola, Botswana, Congo, Ethiopia, Kenya, Madagascar, Malawi, Mauritius, Namibia, Senegal, South Africa, Swaziland, Zambia, and Zimbabwe).
In practice, for dressage, this means that riders from South Africa, Palestine, Iran, and Morocco can be competing in Exloo as the other countries have no international Grand Prix riders in Europe. 
South Africa is the only country with a potential team of three (Tanya Seymour, Laurienne Dittman, Gretha Ferreira, Nicole Smith). 
Palestine has only two riders competing at Grand Prix level: Russian born Diane al Shaer who has been actively showing Unazalee de Massa this show season, and German born Christian Zimmermann (né Brühe), who showed only at one CDI in 2019, in Ebreichsdorf last April, but he is entered for the CDI Waregem next week.
For Morocco only one Grand Prix rider has been competing internationally this year, the Portuguese based Ismael Jilaou. He competed What a Feeling this spring at the CDI's in Sevilla, Cascais, Abrantes, Alter do Chao and Lipica. The latter show in May was his last start this year. 
Iran has only one Grand Prix rider, the British based Litta Soheila Sohi. She has shown Air FK at the CDI's in Sevilla and Cascais and withdrew her horse from Saumur this spring.
Fourteen countries have already qualified a team for the 2020 Tokyo Games: Germany, USA, Great Britain, Sweden, Netherlands, Spain, Russia, Canada, Brazil, Australia, Denmark, Ireland, Portugal and host nation Japan.
Photo © Astrid Appels
Related Links
Christian Zimmermann's Road to Rio Leads Through Wellington
Nicole Smith Wins the 2017 South African Grand Prix Championship
Tanya Seymour Nominated as South African Individual for 2016 Olympic Games
Six Nations Make Olympic and Paralympic Debuts at Rio 2016 Equestrian Events
Elahe Ramezani to Represent Iran at 2017 World Young Horse Championships
Japan Pips South Africa by the Narrowest of Margins at Olympic Team Quaifier at 2015 CDI Perl