Ireland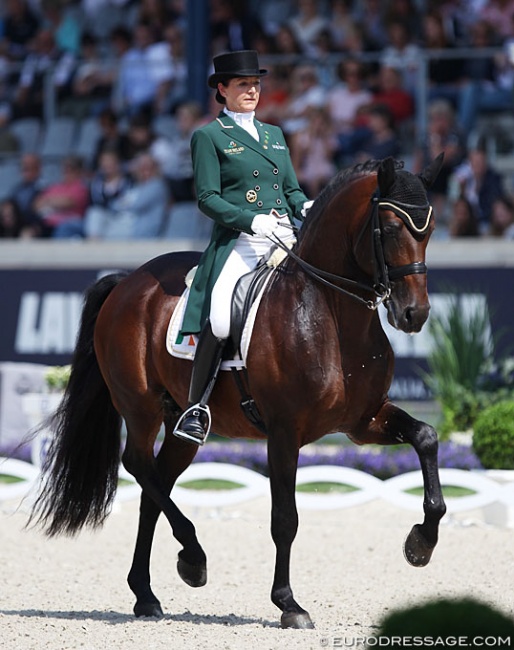 The Irish team has been named for the 2019 European Dressage Championships at Rotterdam in The Netherlands, where the "Girls In Green" will be aiming to make history and become the first ever Irish Dressage team to qualify for an Olympic Games.
The Irish Dressage team for the Rotterdam includes
Kate Dwyer with Snowdon Faberge – owned by Kate Dwyer
Heike Holstein with Sambuca – owned by Heike Holstein
Anna Merveldt with Esporim – owned by Giovanna Mazza
Judy Reynolds with Vancouver K – owned by Joe and Kathleen Reynolds
Ireland has in the past been represented by individual riders at Olympic level but has never before qualified a full Dressage team.
Boosted by impressive recent results in the prestigious Aachen Nations Cup in Germany along with excellent individual performances at international level, Ireland will head to the Europeans hoping to take one of the remaining three Olympic team places on offer.
Five European nations – Germany, Britain, Sweden, Netherlands and Spain have already qualified for Tokyo 2020 following their performances at the 2018 World Equestrian Games. Along with Ireland, the list of teams battling for the three remaining Olympic Dressage team places includes among others – Denmark, Portugal, Belgium, France, Finland, Austria and Switzerland.
Speaking after the team announcement, Horse Sport Ireland Chairman Joe Reynolds said:
'It's a great day for equestrian sport in Ireland that we can announce a third discipline to compete at the Europeans [along with teams in Show Jumping and Eventing]. Dressage has long been a minority sport in Ireland and while three of the team members have represented Ireland as individuals in previous Olympic Games we now have a credible team that since Aachen is recognized as a serious group that can compete with the best in the World . Kate, Anna, Heike and Judy are exceptional riders, they are well mounted and I have no doubt they will acquit themselves well in Rotterdam and with luck may achieve an Olympic qualification. I would like to acknowledge the work of the Horse Sport Ireland Dressage High Performance Committee and the selectors."
Photo © Astrid Appels
Related Link
Eurodressage Coverage of the 2019 European Dressage Championships