2019 CDIO-PJYR Hagen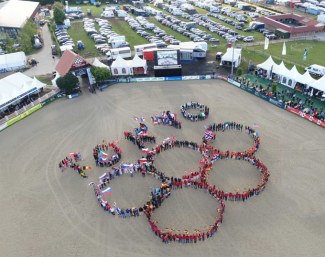 Almost 1000 horses, 600 riders and 27 nations meet in Hagen a.T.W. at Future Champions! Such an event must be celebrated, because Wednesday evening is traditionally the parade of the nations at Future Champions.
Every nation will march with their flags, painted faces, team clothing and of course a lot of good humor! Then the national anthems are played; it's every international athlete's dream to stand in a full stadium and hear and sing their own national anthem. Here in Hagen these dreams come true.
After the greeting this year, the riders line up in the middle of the jumping stadium and spelled out TOKYO 2020 as a greeting to the upcoming Olympic Games in Tokyo and the test formats that will be held this year at Future Champions. FEI President Ingmar De Vos was especially pleased about the opening ceremony and thanked organizer Ulli Kasselmann for his hospitality, his initiative, and his commitment to youth sports.
The German dressage riders left a strong impression at Future Champions 2019 on Wednesday and secured places one through five in the CDI Young Riders Tour. Linda Erbe and DSP Fierro won with a score of 74.80% ahead of Nadine Krause and Dancer with 73.77%. Alexa Westendarp and gelding Belmore finished third with an overall score of 72.40%.
On Thursday, Future Champions will award the first Nations Prizes and test the first Olympic format.
Admission to Future Champions is free!
We have a solution for everyone who can't be there LIVE! In cooperation with ClipMyHorse.TV all competitions on the jumping ring and all competitions in the dressage stadium will be broadcast LIVE and free of charge. 
Instagram - @hofkasselmann
Facebook - Horses & Dreams / P.S.I. Events
YouTube - Horses and Dreams#had2019 #horsesanddreams
Related Links
Scores: 2019 CDIO-PJYR Hagen
Future Champions / 2019 CDIO-PJYR Hagen Attracts Talent from All over the World