2019 Bundeschampionate Qualifier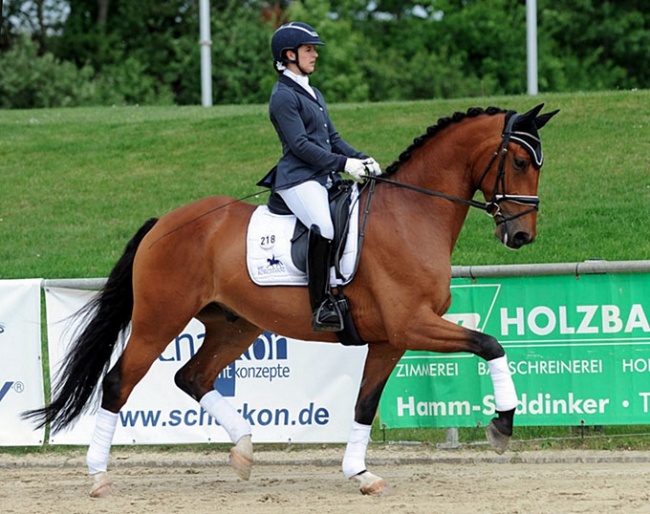 The 5-year old Braveaux and the 6-year old S Rockyna became the winners of the Bundeschampionate qualification classes held at the regional show in Hamm-Rhynern on 1 June 2019. 
A big group of nineteen 5-year olds competed for a ticket to Warendorf, but only one horse achieved the minimum qualification score, the winner of the class. Portuguese Ana Teresa Pires and the bay gelding Braveaux (by Bordeaux x Florestan). Pires, who has worked for Gestut Lewitz and Hof Kasselmann and who now rides for the breeder of her horse Stephan Borgmann, scored 8.0. Braveaux sold to Wellington based Asa Björklund via the 2018 Borgmann Yard auction. Alexa Engel steered the Hanoverian stallion Baron Bolligru E (by Bordeaux x Londonderry) to a second place with 7.5. The chestnut stallion is bred by her late father Peter Engel, who passed away unexpectedly two weeks ago.
Sabrina Gessmann and Claudia Schulz' Westfalian mare S Rockyna (by Sir Donnerhall x Feuerschein) won the much smaller division for 6 year olds. Just nine pairs competed in the M-level dressage horse test and S Rockyna won it with 8.4. Gessmann also finished second on Helmut Esiner's Trakehner stallion Fellini (by Berlusconi x Grafenstolz) with 8.3.
Photo © Thoms Lehmann
Results - 2019 Bundeschampionate Qualifier - Hamm-Rhynern
5-year olds
1. Ana Teresa Pires - Braveaux (by Bordeaux  / Florestan) - 8.00
2 Alexa Engel -  Baron Bolligru E (by Bordeaux  / Londonderry) - 7.50
3 Sabrina Geßmann -  Golden Gatsby (by Ganymedes / Wolkentanz II) - 7.40
4 Heike PlaasBeisemann -  Dance Magic (by Dancier / White Magic) - 7.30
5 Laura Strobel - Dave Brubeck (by Desiderio / Sandro Hit) - 7.20
6 Lydia Camp - Donnerknispel MLP (by Daley Thompson / Donnerhall) - 7.00
6 Florine Kienbaum -  Allerfeinst (by All at once / Laureus) - 7.00
6 Christine Nolden -  Bond Girl (by Bretton Woods / For Compliment) - , 7.00
9 Annika Korte -  Geniale (by Grey Flanell / Sir Donnerhall ) - 6.90
9 Jessica Süss - Barcelona (by Beltano / Sir Savoy) - 6.90
9 Friederike Kampmeyer - Dana del Ray (by Don Index / Contendrov6.90
9 Manuel Dominguez Bernal -  Franziskaner (by Franziskus / Samarantv6.90
13 Hannah Wießner - Sieshof's Fürstenrock (by Fürstenball / Rockwel) - 6.80
13 Ann­Christin Wienkamp - Velvet (by Van Vivaldi / Fidermark) - 6.80
13 Marion Wiebusch -  Escurio (by Escolar / De Kooning) - 6.80
16 Laura­Sophia Ahland - Bretton's Firegirl GD (by Bretton Woods / Fürst Heinrich) - 6.70
17 Anne KrügerDegener - Fürst Festival (by Fürstenball / Fürst Nymphenburg) - 6.50
Dania Mattaliano -  Gänseblümchen B (by Grey Flanell / Estobar) - RET
Lydia Camp -  Kacyro (by Saint Cyr / Freudenfest) - RET
6-year olds
1 1 Sabrina Geßmann - S Rockyna (by Sir Donnerhall I / Feuerschein) - 8.40
2 Sabrina Geßmann -  Fellini (by Berlusconi / Grafenstolz) - 8.30
3 Silke Ottenjann -  For Deluxe (by Franziskus / Show Star) - 8.00
4 Patricia von Merveldt - High Heels (by Damon Hill / Roadster) - 7.70
4 Bianca Nowag - Lemonie HE (by Lemony's Nicket / Wittinger ) - 7.70
6 Katharina Hemmer - Fürst Fernando (by Fürstenball / Rosario) - 7.50
7 Jil­Marielle Becks - Daily Diamond (by Daley Thompson / Don Davidoff) - 7.30
7 Jessica Süss - Frohnaldo (by Foundation / San Amour) - 7.30
9 Klara Kästner -  Rosa Painted Sky (by Rocky Lee / Fidermark) - 6.50
Related Link
Eurodressage Coverage of the 2019 Bundeschampionate