2019 CDIO Compiègne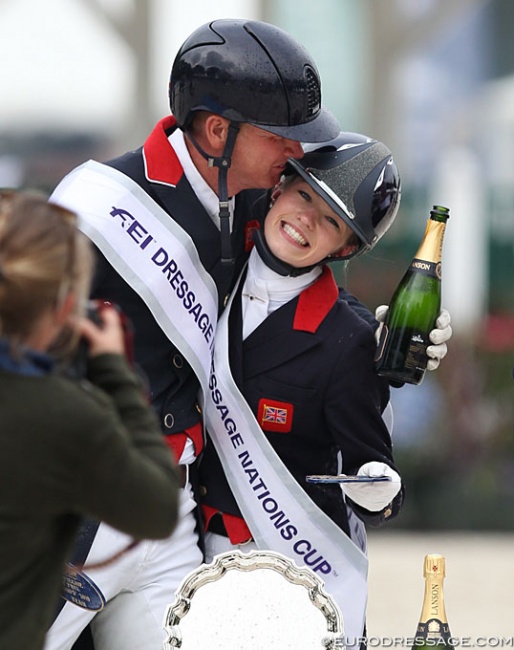 Britain's riders were in dominant form at the 2019 Compiegne CDIO Nations Cup in northern France on 17 - 19 May 2019. The feature class was the first European leg of the 2019 FEI Nations Cup TM Series and the winners were determined by collecting points over three rounds: the Grand Prix, Special and Kur.
The British Equestrian Federation selected a very strong team in Carl Hester (Hawtins Delicato), Gareth Hughes (Briolinca), Richard Davison (Bubblingh) and senior team debutante Charlotte Fry (Dark Legend).
Brits Take Early Lead in the Grand Prix
Newbie Charlotte was first to go in the Grand Prix with her 2018 Euroean U25 Freestyle Champion Dark Legend and they had a great warm up but the horse was unsettled by the entry gate just before the start of the test and the duo found it tough to recover enough to get the high marks. But 'Lottie' kept her cool and stuck to the task at hand to get the team underway with a solid score of 67.08%.
From the expectation of youth to the experience of years, Richard Davison followed with his homebred Bubblingh who had a great show at Windsor just days ago. The Lingh gelding is becoming more and more relaxed on the international stage and a 72.67% was a useful addition to the team.
Gareth Hughes and Briolinca had a great show at Compiegne last year and the mare clearly loves the venue and showed a bit of unwanted piaffe in her first halt, just to show her delight at being in the arena. She soon settled well and showed her extraordinary talent in the piaffe and passage plus some lovely changes to score 74.96%, a new international PB for this test.
Then it was the turn of Carl Hester and Hawtins Delicato in their first international outing together since the World Equestrian Games. As with Gareth and Briolinca, it was a slightly edgy start with the Diamond Hit British-bred gelding clearly in a cheeky mood and not fully focused on his rider. The test still oozed brilliance and that bit of Hester magic to post 76.34%.
Hughes' Briolinca Comes of Age with 77% Earning GP Special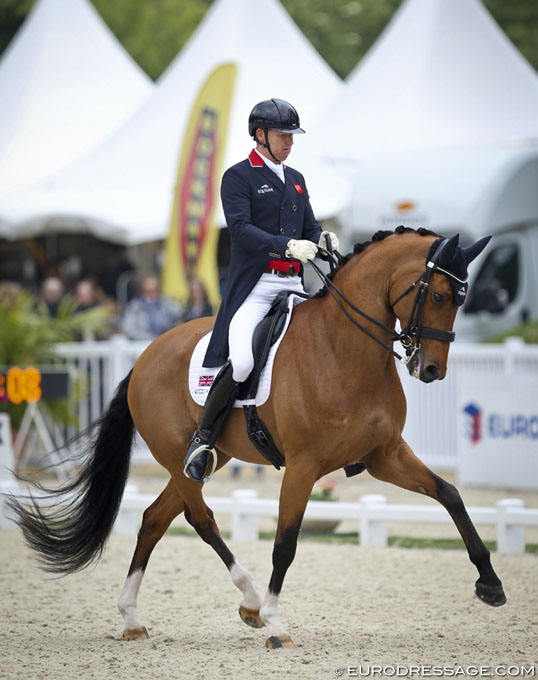 Gareth and Carl were nominated to contest the Special while Richard and Lottie were in the Freestyle mix.
Carl was drawn third last to go and again, 'Del' was on his toes and niggling mistakes kept the score to a more than respectable 75.31% but still huge mark towards the team total.
Gareth followed immediately and Briolinca clearly had got her focused ears on and their test was a pleasure to watch. Focus, harmony, athleticism, expression, partnership; the test had it all and the judges agreed in awarding 77.17%, as second international PB of the weekend and eventual victory of the class. It was also a great score towards the team tally.
"Wow is the only way we can describe this weekend," said an ecstatic Hughes. "It seems a long time ago that Rebecca rang home from Holland saying she'd found a 3-year old mare that we just had to buy.. It's been a journey of many ups and downs but we are overjoyed that Briolinca finally had the chance to shine and deliver what we always believed she was capable of. She scored 77%+ to win the Grand Prix Special and help bring home the Gold Medal for Team GBR in the Compiegne 5*CDIO Nations Cup. So happy to have shared this very special moment with Briolinca's co-owner and long term friend and business partner of over 20 years Julia Hornig."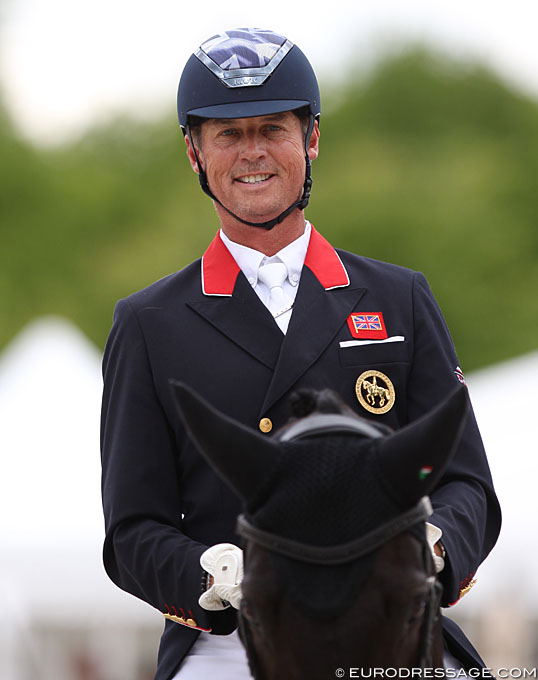 Lottie and Dark Legend were back on point in the Freestyle and 72.01% all but sealed the Nations Cup victory even before Richard and 'Bubbles' set foot in the arena. Richard certainly raised the roof with his characteristic 'gangsta' routine to 75.67% to cement gold in the team competition and sixth spot for himself overall. Lottie was just two places behind in eighth.
Team GBR finished on 24 points, three clear of Sweden and a development team from the USA were third on 51.
Text by British Dressage, edited by Eurodressage - Photos ©  Astrid Appels - NO REPRODUCTION ALLOWED
Eurodressage took photos of pretty much all riders in Compiègne. If you are interested in our photos for your social media, contact us for permission and our conditions for republication
Related Links
Scores: 2019 CDIO Compiegne
Kittel and Well Done win 5* Grand Prix at 2019 CDIO Compiègne
Wahlkamp-Nilsson and Eddieni Win 3* Grand Prix at 2019 CDIO Compiègne
Team GB Wins Nations Cup Leg at 2019 CDIO Compiègne