Westfalian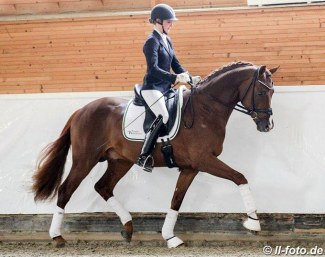 Viva Gold became the high scorer of the 14-day stallion suitability test which took place in Schlieckau, Germany, on 2 - 15 May 2019. 
Twenty-eight stallions, born in 2015 and 2016, participated in the testing. 
Five stallions scored on overall of 8..0 or higher. However, six stallions did not meet the minimum criterium (7.50) to keep their licensed status for breeding.
The top scorer was Gestut Westfalenhof's chestnut Viva Gold (by Vivaldi x For Romance x Don Schufro) who finished on a total of 8.3 points. The stallion earned 9.5 for character, 7.5 for trot, 10 for walk and canter, 9 for rideability, 6.5 for jumping in freedom and 8.75 under the test rider. His dressage score was 9.09 and his jumping score 7.38.
Viva Gold is a great grandson of Weihegold and was bred by Christine Arns-Krogman. In 2016 Dutch Eugene Reesink purchased the colt for 140,000 euro for Dutch investor Jan Pieter Dalsem. The stallion was privately licensed at home by the Oldenburg licensed committee instead of at the public main or saddle licensing. Gestut Westfalenhof initially leased the stallion but in the spring bought the horse.
The second highest overall mark was 8.10, earned by two stallions: Moritzburg state stud's Sir Senor M (by Sir Heinrich). got 9 for character, 8.5 for trot, 9 for walk and canter, 8.5 for rideabiity, 7 for show jumping and 8 under the test rider. His jumper score was 7.48 and his dressage score was 8.68 points.  Frontman GS (by Foundation) got 9 for character, 8.5 for trot and canter, 8 for walk and rideability, 7.5 for jumping and 8 from the test rider. His jumper score was 7.75 and his dressage score 8.3.
The jumper Quarante (by Quiran) finished on a total of 8.03 points, while Westfalian dressage stallion Bon Vivaldi (by Benicio x Vivaldi) got 8.0 in total.
Dressage colts Lollipop Dance (by Uthopia - score 6.63), Barton VDL (by Bordeaux - 7.08) and Ghislain (by Governor - 7.35) failed the testing. Two Trakehners scraped by , passing by the skin of their teeth: His Choice (by Millennium) with 7.58 and Kattenau (by Honoré du Soir) with 7.58 points.
Photo © LL-foto
Related Links
Weihegold's Grandson Viva Gold, Top Seller of the 2016 Summer Mixed Sales
Damaschino, Top Scorer in 2019 Schlieckau Stallion Suitability Test
Belico Royal, Top Scorer at 2019 Adelheidsdorf Stallion Suitability Test
Woodlander Wicked Game, Top Scorer of the 2019 Munich Stallion Suitability Test