KWPN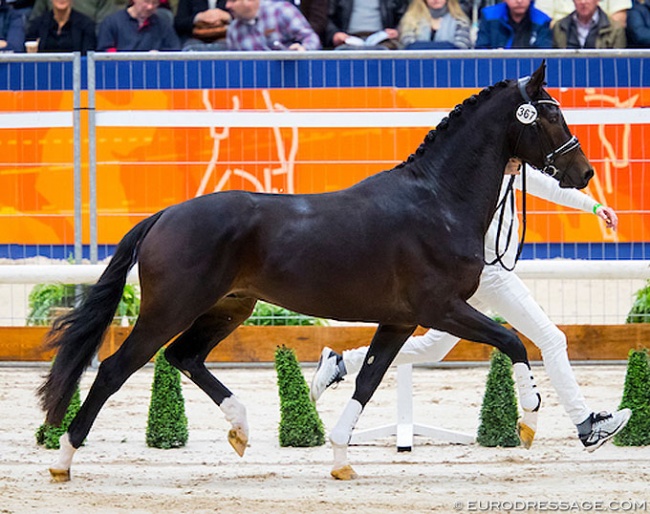 Eleven colts have begun the 2019 KWPN Spring Stallion Performance Testing in Ermelo, The Netherlands; on 15 April 2019. The testing takes 50 days. 
All colts were presented under saddle by their own rider today in Ermelo, after which there was a clinical vet check. Fourteen 3-year olds were shown, 10 of them passed. Seven 4-year olds were presented and only one passed. 
"The spring testing for 3-year olds is almost three weeks shorter than before, which is why there are certain demands about the trainability and quality shown under saddlen" said a KWPN press representative. "Definitely for the 4-year old stallions, for whom the bar is higher, fewer of them than expected started the performance testing today."
Two riders fell off their horses today, one from the 3-year old premium stallion and one from the 4-year old, King van het Haarbosch (by Spielberg). The rider of the latter had to be taken to the hospital. These two stallions received permission to be re-presented next week to get permission to participate in the testing. Premium stallion Louis ter Kwincke (by Easy Game) will return next week as he was not fit
The eleven colts out of 22 that were entered are allowed to begin the testing. They are:
Livius-Utopia (Bordeaux x Vivaldi)
Legend (Desperado x Ehrentusch)
Leandro (Don Romantic x Krack C)
Luxor (Ebony x Charmeur)
NN (For Romance x Don Schufro)
Lloyd (Governor x Charmeur)
Livingstone (Grand Galaxy Win x Uphill)
Lest of Lantana (Sir Donnerhall x Hemmingway)
NN (Totilas x De Niro)
Ladignac (Zonik x Apache)
Kaiser Weltino (Dante Weltino x Vivaldi), aka Kensington
Photo © Digishots
Related Link
Le Formidable, Champion of the 2019 KWPN Stallion Licensing