2019 CDI Seville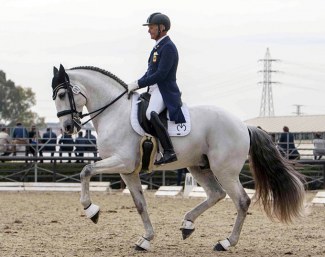 Juan Antonio Jimenez wielded the axe of power in the big and small tour aboard Euclides MOR and Grison at the 2019 CDI Seville, which took place on 15 - 17 February 2019. 
Much More Than Just Results
"Competing is so much more than good results for me today," said Juan Antonio Jiménez Cobo after winning all the tests of this year's CDI3* in Seville, Spain, a couple of weeks ago.
Jiménez Cobo looks back on a lifetime dedicated to horses: as a Spanish Olympic rider, coach, national dressage trainer of Peru and above all a truly passionate horse lover and teacher. In May, he will turn 60 years old, an event which he will celebrate with all his friends and family.
In Seville we asked what he is looking for whenhe is competing. "For me, the communication and the confidence you have built day by day are the most important things and the basis for proper and healthy preparation. Your horse must listen to you and freely work with and for you, so real beauty and art come into your performance."
Euclides MOR, the grey Lusitano stallion owned by Las Morerias, and Juan Antonio Jiménez Cobo are among the combinations pre-selected by the Spanish National Federation (RFHE). They have already participated in the first clinic with national trainer Rudolf Zeilinger, which took place late January 2019.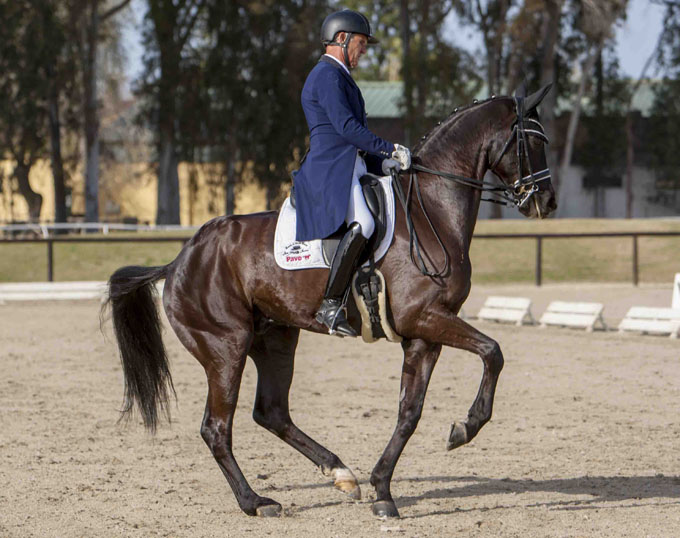 They won the Grand Prix with an average of 69.348%, and in the Grand Prix Special they climbed up to 70.149%, among 14 combinations.
"What matters to me is his willingness in the competition arena and the impression we give the judges. In the Grand Prix not everything went perfectly, we failed in the one tempi changes but that was my fault," said Jimenez. 
"I love this Lusitano; he is very special to me. He has that extra spark of class that you want to preserve at Grand Prix level and therefore you need patience, tranquillity, and confidence at all times throughout the preparation. If there is no trust you can't teach them in harmony, and without harmony, injuries appear".
Rising Star Grison
Grison is a 10-year-old Oldenburg gelding by Gribaldi, so a half-brother of Totilas, with whom Juan Antonio Jiménez celebrated his debut at this show. They won Prix St. George as well as the Inter I.
"Grison has competed very little in his life, and that's why I chose the Small Tour this time, although he already excels at Grand Prix exercises at home, but I wanted to see his reactions without too much pressure."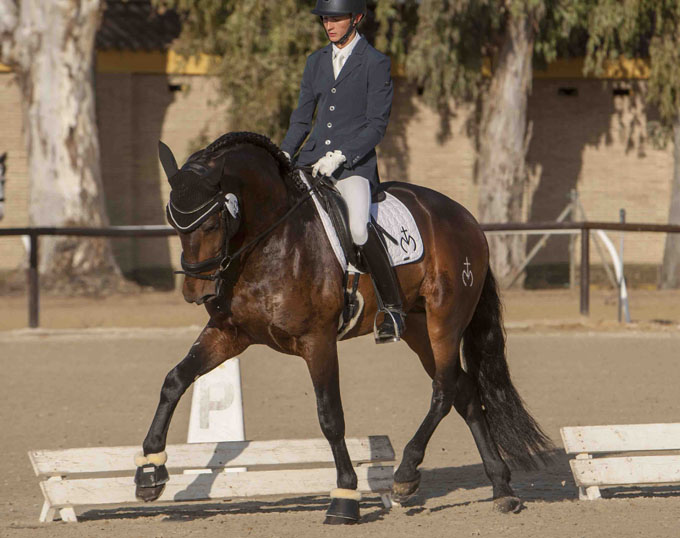 And there was a 3rd horse in Seville: Troyano MOR, a young Purebred Spanish PRE with a magnificent walk. This 6-year-old colt made his international debut together with his rider Alejandro Oliva, a young student and an assistant in Jiménez Cobo´s team. The bay colt Troyano Mor is a son of Orgulloso MOR bred and raised at Las Morerias in Mexico.
This year's top event on Jimenez' calendar is the 2019 European Championship which will take place in Rotterdam, in the Netherlands, from 19 - 25 August 2019.
by Katharina Braren
Related Links
Scores: 2019 CDI Sevilla
Juan Antonio Jimenez and Euclides MOR Conclude 2018 European Summer Competition Tour
Juan Antonio Jimenez Believes Euclides MOR is More Than Mathematics
Juan Antonio Jimenez Partners with Las Morerias to Compete at 2016 Global Dressage Festival
Juan Antonio Jimenez Returns to the Big Time with a Foursome of FEI Stars