2019 CDI-W Wellington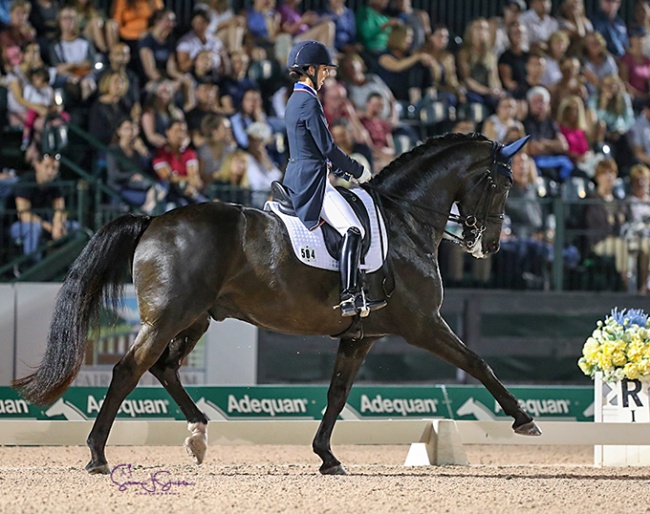 Kasey Perry-Glass (USA) and Goerklintgaards Dublet are on the road to the World Cup Finals in Gothenburg after adding a CDI-W freestyle victory to her tally at the 2019 CDI-W Wellington on Friday 22 February 2019.
Perry's 83% score is turning her into the second highest scoring U.S. pair that is in the running for a Gothenburg ticket. Two North American League riders with the highest average after a minimum of three World Cup qualifiers can go to the 2019 World Cup Finals. Laura Graves is still the high scoring U.S. rider in the freestyle.
Perry-Glass and Goerklintgaards Dublet, a 16-year-old Danish Warmblood gelding by Diamond Hit owned by Diane Perry, earned a score of 83.425% for the win. Their freestyle music from "Lord of the Rings" was composed by Tom Hunt, and the choreography was arranged by fellow World Equestrian Games™ Tryon 2018 teammate, Adrienne Lyle.
"I can kind of tell already in the stables how he is going to be. I can feel his vibes. He was just as fussy and neurotic [today] as he was in Aachen," said Perry-Glass of her partner. Together they placed second in the Freestyle CDIO5* at the 2018 World Equestrian Festival in Aachen. "I kind of already felt that vibe from him, that he was going to perform really well tonight. From beginning in the warm-up, he felt amazing, right with me, and he tends to do that towards the end of shows.
"I was really proud of him," continued Perry-Glass. "I had him a little more put together than I did in the Grand Prix and I just tried to show off his highlights. His piaffe and passage felt really good tonight; his changes felt really good."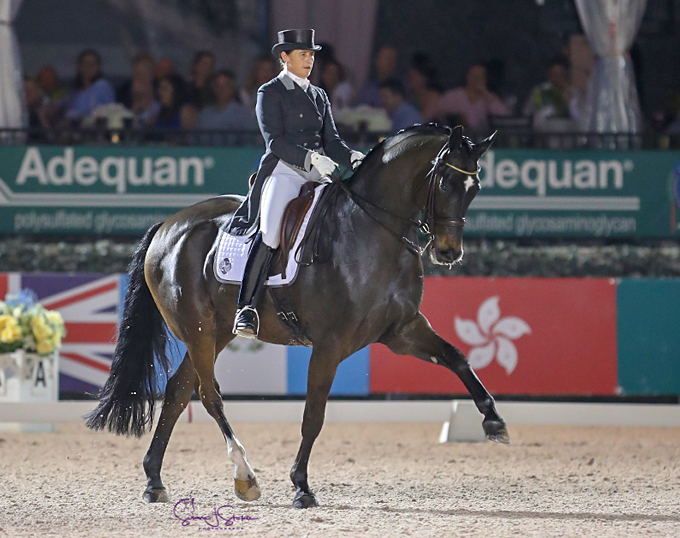 Tinne Vilhelmson Silfven (SWE) and Don Auriello, a 17-year-old Hanoverian gelding by Don Davidoff owned by Lovsta Stuteri, came in second place with a score of 80.950% with their "Good Vibrations" music and choreography by Cees Slings.
"My goal this winter has been to go to Gothenburg for the [FEI Dressage World Cup™] Final," said Silfven. "He felt really, really good tonight; he's felt good all week. He's been eager already in the stable, like, 'I want to go! Hurry up!' He's really been on his toes. Coming out tonight with this atmosphere, already in the warm-up, he was like, 'I'm ready! Can we go?'
"He [Don Auriello] knows exactly when it is, and he just loves it. It's really fun to ride him in the test," continued Silfven. "This freestyle is so difficult. It comes so fast. You really have to be exactly on the spot that you should be with the music. When that comes together, it's such a great feeling to ride because it's like telling a story. You go through all this music, you know exactly what to do, and he does too. You have to hang on and try and enjoy it on the way."
Third place went to Shelly Francis (USA) and Danilo, a 15-year-old Hanoverian gelding by DeNiro owned by Patricia Stempel, who earned a score of 80.050%. The crowd especially loves Francis's freestyle, and she had a strong round of applause following her test, which has a capella music and was created by Marlene Whitaker.
"I think it's just very entertaining with the music for the audience, and I make the movements just click one right after the other," said Francis of her freestyle test. "I knew that I was off of my music just a little bit here and there, but overall he felt quite good. I was trying to keep him just a little softer looking, not quite so active and sharp. I think we did smooth things a little bit, but then I was having to be careful to keep up with my music. The horse likes it, so I think he steps up to the plate. It's fun and I enjoy it."
Clive Halsall, the Judge at C, commented that, "I think we saw three very professional, skillful riders who were very good under pressure. They're chasing the qualification for the World Cup and in a very atmospheric arena. They all proved themselves in this environment. They ride difficult tests and they make it look easy, and that is a great skill. It was wonderful to judge."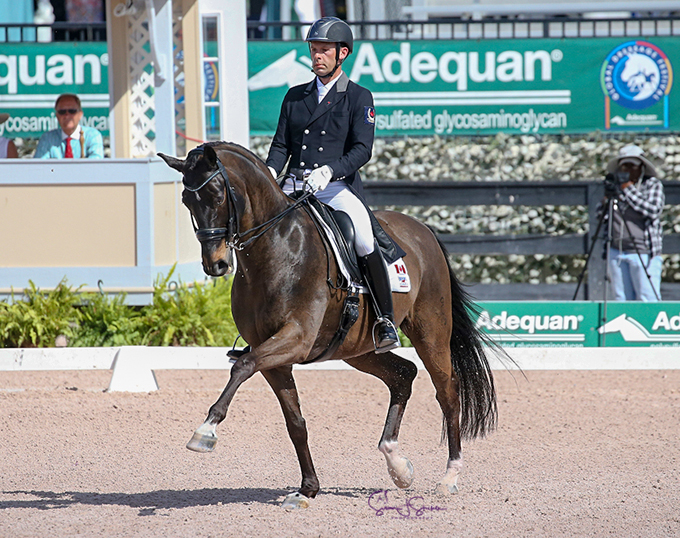 Thomas Baur, Director of Sport of AGDF concluded, "I think we will have another great night next Friday [at AGDF 8]. We have 14 entries, so it will really be a full night. A brief outlook to the CDIO in Week 10, we are expecting six countries to participate in the Nations Cup, which is quite a high number. I'm looking forward to that."
Jaimey Irwin (CAN) and Laurencio, a 12-year-old Oldenburg gelding by Laurentio owned by Tina Irwin, received a score of 73.706% to win the FEI Intermediate I CDI3*, presented by the Wellington Regional Medical Center. Leif Aho (USA) and Classy Sinclair, a 12-year-old Oldenburg by Sir Sinclair owned by Lisa Grossi, came in second place with a score of 71.206%. Third place went to Ariana Chia (CAN) and Fiderflame, her nine-year-old Oldenburg gelding by Fidertanz. The pair rode to a score of 68.912%.
- GDF press release, edited by Eurodressage
- Photos © Sue Stickle
Related Links
Scores: 2019 CDI-W Wellington
Perry-Glass and Jorst Win on Day One of Week Seven at 2019 CDI-W Wellington
Eurodressage coverage of the 2018-2019 World Cup Dressage Show Circuit