2019 CDI Wellington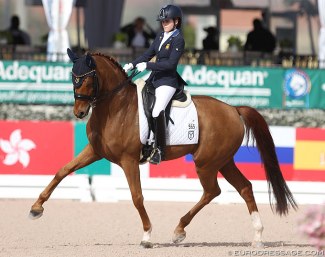 One of the most exciting pairs to watch compete at the 2019 CDI 5* in Wellington was not a Grand Prix rider, but the 17-year old junior rider Natalia Bacariza Danguillecourt on her new mount, Romantico Ymas.
The pair made a winning international debut three weeks ago at the 2019 CDI Wellington Gold Coast Opener on 26 - 27 January 2019 and they scored a hattrick at their second international last weekend at the 5* on 7 - 10 February 2019. The pair produced well earned, whopping marks of 70.101% in the team test, 74.412% in the individual test and 75.625% in the Kur to Music. 
"I'm very happy with the results of this weekend," Natalia told Eurodressage. "We had some difficulties on the first day in the Junior Team test but we were able to fix them for the following two days. My favorite test this weekend was the freestyle, we used Dhannie's freestyle from the European Championships, and I'm very pleased with how it went since it was his first freestyle ever."
The 9-year old Hanoverian gelding Romantico (by Belissimo M out of Rosenrot (by Rubinstein x Alabaster)) is bred by Friederike Rehkamp and was discovered as a youngster by Juan Matute Sr and sold to Yeguada de Ymas in 2016. The long legged chestnut made its international show debut last year at Young Riders level at Ponte de Lima in Portugal under Juan Matute Guimon in June 2018.
"I've been riding Romantico for around two years but only started competing him CDI this year," said Natalia. "He has three very impressive gaits but his trot is the most impressive since he has a lot of expression and looks like a ballerina dancing in the ring."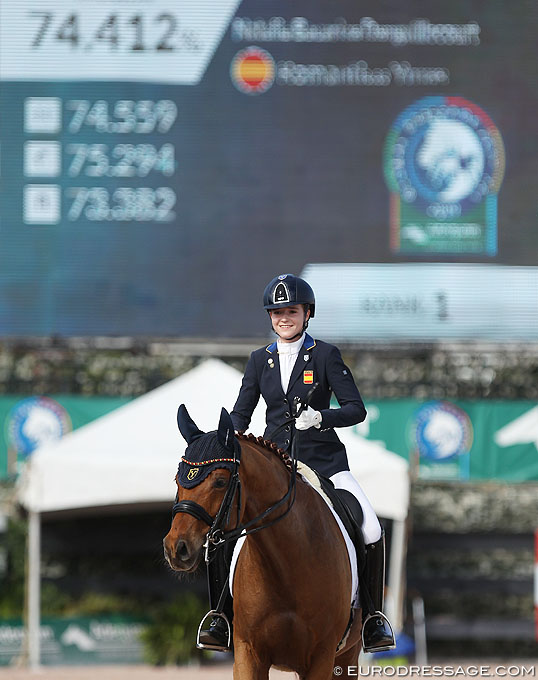 Bacariza Danguillecourt splits her time with her parents Cristina and Javier between Wellington, Florida and Spain and has been training with Juan Matute Sr since she was 11 years old. She first represented Spain at the European Junior Riders Championships in 2016 on Zoef and returned on the team for the Europeans in 2018 with Dhannie to finish 9th in the Kur to Music Finals.
With Romantico, Natalia now has powerhouse horse to ride that could put heavy pressure on the top German, Dutch and Danish junior combinations which usually determine the beating of the drum at the European Championships. 
"Our plans for 2019 are to compete Dhannie, Romantico and Rihanna in the CDI's of Wellington and then continue in Europe to try and quality for the European Championships," she said. "We've started to compete Dhannie in Young Riders in the nationals, but are still not sure what horse we will try to go to the Europeans with. It will depend on the results of this season."
Photos © Astrid Appels
Related Links
Scores: 2019 CDI Wellington
Natalia Bacariza Danguillecourt Takes Over Ride on Matute's Dhannie
Hessel Ferrer, Bacariza Danguillecourt, Abollo Fontela and Martinez del Moral Win 2018 Spanish Youth Riders Championships
Belles, Lemaire, Bacariza, Boucher, Fuentes Win 2018 Florida International Youth Dressage Championships