Italy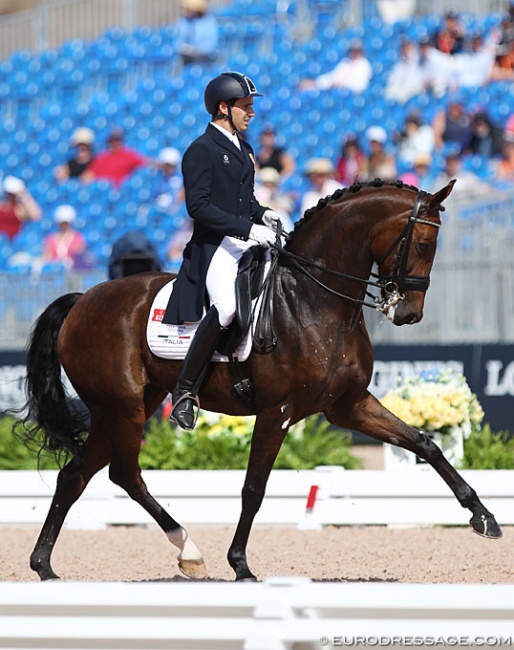 The Italian Equestrian Federation (FISE) has released the Dressage Program for 2019 in which the team selection criteria for the 2019 European Dressage Championships in Rotterdam (20 - 25 August 2019) are set. 
Grand Prix riders will be considered for team selection based on three factors:
the average of the three best results in a GP and GP Special in a CDI or CDIO as of 15 February 2019
the top score in the GP and GPS in a CDI / CDIO in the last 3 months before the nominative entries for the European Championships
the FEI Riders ranking
Only results achieved at CDI's outside of Italy will be taken into account.
FISE has also recommended certain CDI's and national events for riders to attend as preparation shows, to which they will send a technical delegate for observation. For the CDI's they are:
CDI Ornago - 22 - 24 March 2019
CDI Wiener Neustadt - 16 - 22 April 2019
CDI-W Lipica - 23 - 26 May 2019
CDI Fritzens - 28 - 30 June 2019
CDI Nice - 1 - 4 August 2019
Attending these particular CDI's is not mandatory for achieving team selection scores. Riders need to communicate their CDI's of preference and receive approval from the federation.
The federation will also be organizing a series of clinics - one per month as of March. The clinic dates are confirmed, but the clinicians are not.
In September 2018 the FISE board reinstated Cesare Croce as FISE Dressage Director after he was released from jail and temporarily put under house arrest in the Giuseppe Malaspina investigation for financial fraud. Croce is now free, but his part in the case will go to court in June 2019. FISE is partly a government subsidized organisation with financial backing from CONI (Italian Olympic Federation). Each discipline director at FISE decides on the allocation of the funds for his/her discipline.
Seventeen Grand Prix riders are currently being listed for the clinics:
Brenna Roberto
Campanella Anna 
Ciampa Roberta
Iemi Monica
Laus Pia
Mantica Stefano
Maroni Nausicaa
Miloserdova Tatiana
Paoli Norma
Rizzo Silvia
Rustignoli Micol
Sanavio Riccardo
Sangiorgi Piero
Soldi Ester
Tiozzo Leonardo
Truppa Valentina
Zaza Francesco
Valentina Truppa, Italy's long-time number one Grand Prix rider, has put herself back up for team selection after selling her top horse Eremo del Castegno and getting injured in a riding accident. Her last international Grand Prix start dates back to August 2018, when she competed Ranieri at the CDI Nice. 
Russian born Tatiana Miloserdova will not be eligible for Italian team selection in 2019 as she represented Russia at the 2017 European Championships and there needs to be a two-year non-team representation period between a nationality switch. Former eventing rider Francesco Zaza is a new comer to Grand Prix level dressage and has never competed at international GP level so far.
Photo © Astrid Appels
Related Links
Tatiana Miloserdova Declares for Italy
Cesare Croce Released from Prison, Under House Arrest
Cesare Croce Suspended as Italy's Dressage Director After Arrest
Enzo Truppa's Students Not Available for 2017 Italian Team Selection