KWPN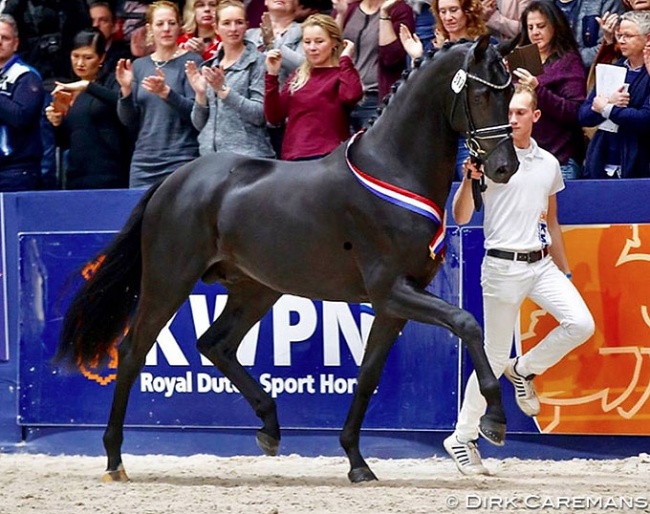 Crowd favourite Le Formidable was also the favourite of the judges and named champion of the 2019 KWPN Stallion Licensing in 's Hertogenbosch, The Netherlands, on Saturday 2 February 2019.
Forty-nine stallions in total have been approved for the mandatory stallion performance testing, before they are KWPN licensed and allowed to breed.
On Friday 33 colts successfully passed the second and third phase of the licensing and were accepted for the stallion performance testing. Four of them were selected for the premium ring.
On Saturday, the KWPN licensing committee, which included Arie Hamoen, Bert Rutten and Reijer van Woudenberg, added 16 more stallions that the lot approved for the performance testing. Three of them were named premium stallion.
There was no doubt that Le Formidable (by Bordeaux x Ferro x De Niro) would grab the title in the champion's ring, and so he did. Bred and owned by Saskia Poel, the black is also listed as co-owned by Karel Gerrits.
"Without disrespecting the other stallions, we can say that Le Formidable was the clear champion. He has so much nobility and elegance, moves with much balance and power from the hindleg. It was a pure joy," said licensing committee chair Bert Rutten. 
Lennox W (by Grand Galaxy Win x Rousseau) was named reserve champion. He is bred by Bas Wilschut.
The third ranked stallion was Lance VOD (by Glamourdale x Davino VOD), bred by Ad van Os and owned by the breeder in partnership with Gert-Jan van Olst.
The slots four to seven in the premium ring were covered by Liverpool TC (by Toto Jr x Gouverneur), Lugano (by Governor x Johnson), Lacrosse RS2 (by Ferdeaux x San Remo), and Louis ter Kwincke (by Easy Game x Damon Hill).
The approved stallions at the 2019 KWPN Licensing are:
premium ring
Le Formidable (by Bordeaux x Ferro)
Lennox W (by Grand Galaxy Win x Rousseau)
Lance VOD (by Glamourdale x Davino VOD) 
Liverpool TC (by Toto Jr x Gouverneur)
Lugano (by Governor x Johnson
Lacrosse RS2 (by Ferdeaux x San remo)
Louis ter Kwincke (by Easy Game x Damon Hill)
also approved are:
Liverpool (by Apache x Ferro)
Livius Utopia (by Bordeaux x Vivaldi)
L'Avenue (by Bordeayx x Connaisseur)
Legend (by Bordeaux x Florencio)
Legend B (by De Niro x Jazz)
Liberty (by Desperado x Jazz)
Leandro (by Don Romantix x Krack C)
Luxor (by Ebony x Charmeur)
Luca Brasi (by El Capone x Sydney)
Lardeaux (by Ferdeaux x Wynton)
Leerava (by Florencio x Negro)
n.n. (by For Romance x Don Schufro)
Lennon (by Glamourdale x Jazz)
Landmark Texel (by Toto Jr x Ferro)
Lord Lorenzo DB (by Gotcha Utopia x Uphill)
Leopard M (by Gotcha Utopia x Jazz)
Quiz Me Quick van de Kempenhoeve (by Governor x Rousseau)
Lloyd (by Governor x Charmeur)
Le Grand Ayden HB (by Grand Galaxy Win x Uphill)
Lotus S (by Grand Galaxy Win x Juventus)
Livingstone  (by Grand Galaxy Win x Uphill)
Lucky L (by Gunner KS x Sir Sinclair)
Lamborghini (by High Five US x Olivi)
Lifestyle (by Hometown x Ampere)
Look a Superstar (by Johnson x Negro)
Le Roi SW (by Morricone x Florencio)
Lest of Lantana (by Sir Donnerhall x Hemmingway)
Linvasion (by Sir Donnerhall x Krack C)
n.n. (by Totilas x De Niro)
Lance (by Zonik x Uphill)
L.A. Zonik L (by Zonik x Goodtiles)
Ladignac (by Zonik x Apache)
n.n. (by Bordeaux x Sir Donnerhall)
Lord Diamond (by Daily Diamond x Scandic)
Lord Vrijenesse (by Ferdeaux x Sandro Hit)
First Date (by Furstenball x Dancier)
Legacy S (by Hennessy x Trento B)
n.n. (by Millennium x Donnerball)
Cum Lade (by Apache x Weltmeyer)
Crosby (by Chippendale x Flemmingh)
All at Once (by Ampere x Gribaldi)
Legend (by Desperado x Ehrentusch)
Photo © Dirk Caremans
Related Links
Friday Harvest at 2019 KWPN Licensing: 33 Colts to the Testing
Thirty-One Colts So Far Selected for Third Phase 2019 KWPN Stallion Licensing
Hamoen to Replace Dorresteijn at 2019 KWPN Stallion Licensing
Fourteen Colts Late Additions to Lot for 2019 KWPN Stallion Licensing
Ninety-Two Colts Accepted on Pre-Selection Days for 2019 KWPN Stallion Licensing
Thirty-Nine Colts Accepted at First Two 2019 KWPN Licensing Pre-Selection Days
Governor, Top Producer for 2019 KWPN Stallion Licensing Pre-Selection Days
Previous Champions
Kremlin MD, Champion of the 2018 KWPN Stallion Licensing
Jameson, Champion of the 2017 KWPN Stallion Licensing 
Igor (aka Indian Rock), Champion of the 2016 KWPN Stallion Licensing 
Handsome O, Champion of the 2015 KWPN Stallion Licensing
Glamourdale, Champion of the 2014 KWPN Stallion Licensing
Fierce S (aka Franklin), Champion of the 2013 KWPN Stallion Licensing
Etoine, Champion of the 2012 KWPN Stallion Licensing
Diebrecht, Champion of the 2011 KWPN Stallion Licensing
Cover Story, Champion of the 2010 KWPN Stallion Licensing
Bordeaux, Champion of the 2009 KWPN Stallion Licensing
Ajong (aka Ampere), Champion of the 2008 KWPN Stallion Licensing
Zagreb (aka Blue Hors Zack), Champion of the 2007 KWPN Stallion Licensing 
Wamberto, Champion of the 2006 KWPN Stallion Licensing
Johnson, Champion of the 2005 KWPN Stallion Licensing
Ustinov and Uptown, 2004 KWPN Stallion Licensing Champions
Tornado, Champion of the 2003 KWPN Stallion Licensing
Symfonie, 2002 KWPN Licensing Champion
First KWPN Select Sale at 2001 KWPN Stallion Licensing
Paddo, 2000 KWPN Stallion Licensing Champion