The Netherlands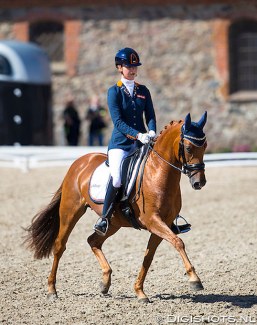 Wonderful Girl, the Dutch team pony at the 2016 European Pony Championships, has made a show come back after 2.5 years rehabilitation due to an injury.
Wonderful Girl is a 12-year old German Riding pony mare, bred by Sonke Rothenberger. She is by Wimbledon out of Deitina (by Dancer Boy).
Under Daphne van Peperstraten Wonderful Girl made her claim to fame in 2016, winning the 2016 Dutch Indoor and Outdoor Pony Championships and the National FEI Pony Cup finals in Etten-Leur. At the 2016 European Pony Championships they won team bronze and finished sixth in the Kur to Music finals.
In October 2016 Wonderful Girl sold to the Baars family as future top pony for Shanna Baars. Unfortunately Baars was never able to make her competition debut on the chestnut mare as the pony suffered an injury soon after the sale.
"Wondi suffered from a tendon injury," Baars told Eurodressage. "We put her in the field to rest until the vet said that we could slowly try to ride her again."
After two years, the pony was fit again and the pair did its first ever competition in Holland on 6 January, scoring 75,5% and 74,23%.
"It felt very familiar to appear in the arena with her," Baars explained. "Of course there were a few small communication errors, but she felt really nice and kept doing her best."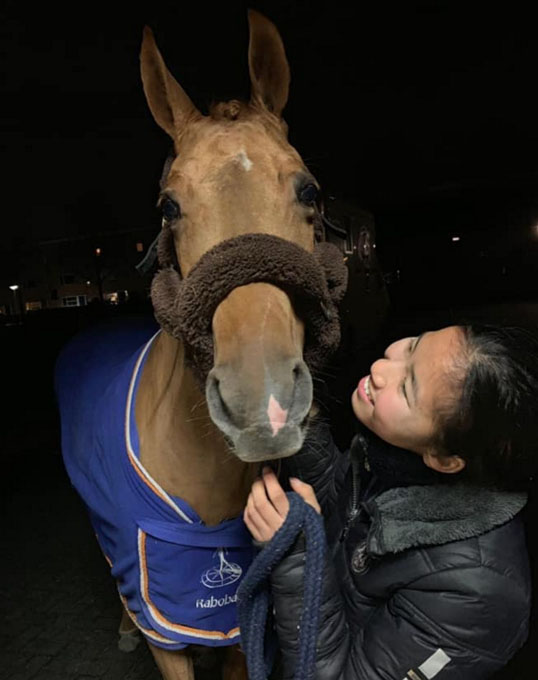 With Wonderful Girl in the field to recover, Baars spent her pony years on schoolmaster Don Camillo du Bois. She unfortunately did not grab a coveted spot on the Dutch pony team for the European Championships despite her parents' efforts having purchased not one, but two confirmed Dutch team ponies. 
"It was a tearful moment," mum Heidi Baars added about the show come back. "After all that worrying Shanna went intot he ring on Wonderful Girl for the very first time. We so looked forward to this and it's nice that she at least can compete her nationally still."
Shanna will turn 17 on 23 December 2019 and is no longer eligible to compete at FEI pony level internationally.
"My plans for this year are focused on horses and especially junior riders," said Shanna. 
Her parents recently acquired the small tour horse Farzana (by Ampere x Florencio) as her junior ride and Shanna also has the 6-year old Indigo (by Apache) in the wings. 
Photo © Astrid Appels
Related Links
Wonderful Girl Sold to Dutch Pony Rider Shanna Baars
Daphne van Peperstraten Renews Title at 2015-2016 KNHS FEI Pony Cup Finals
Daphne van Peperstraten Wins 2016 Dutch Indoor Pony Championships