End of the Year Questions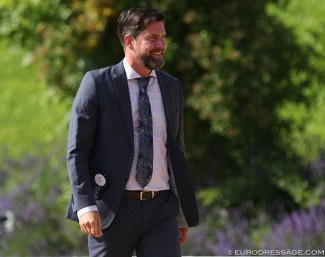 Between Christmas and New Year, Eurodressage used to feature an interview series called "End of the Year Questions". We asked some stand-out dressage figures of 2018 to review their year and share their personal enterprises, observations, endeavours and opinions on life and equestrian sport. This year we changed the format slightly and went for a heart-to-heart with some dressage personalities.
Danish Hans-Christian Matthiesen is president of the International Dressage Officials Club (IDOC) and a 5* dressage judge. From his position as IDOC chair he can help shape the future of the sport. 
In his own words.. 
I describe myself as....dedicated and passionate
Dressage changed me....completely, its more a lifestyle now
When I'm not working as a judge...still working almost fulltime as a veterinary surgeon
My biggest vice is....that I get too nerdy about judging
The last time I was embarrassed was...on behalf of someone else, that behaved disrespectful and arrogant.
The last time I cried was...watching "Free Willy" with my daughter, for the 5th time!
My most treasured possession is...my Moleskine calendar (not my phone)
The best book I've read is..."What I talk about, when I talk about running" by Haruki Murakami
My greatest regret is...every time I start complaining about things, that I can change...here and now.
I would like to be remembered as... someone who tried to make a difference!
Photo © Astrid Appels
Related Links
End of the Year Questions and Answers 2017
End of the Year Questions and Answers 2013
End of the Year Questions and Answers 2012
End of the Year Questions and Answers 2011
End of the Year Questions and Answers 2010
End of the Year Questions and Answers 2009
End of the Year Questions and Answers 2008
End of the Year Questions and Answers 2006