Oldenburg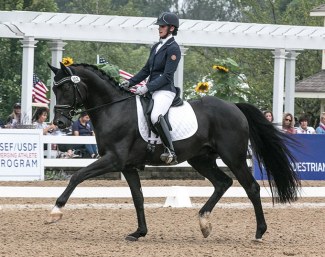 Fifteen stallions have been entered to participate in the 2018 North American Stallion Performance Test, which will take place at two stations, on the east coast in Maryland and on the west coast in California.
Twelve of them are dressage bred, three are show jumpers. The performance test is a 3-day format.
The American Hanoverian Society, Oldenburg Verband, and Hanoverian Verband have worked closely with the German FN to finalize the format for a North American Stallion Performance Test, which was launced in 2017. Participants are usually of the ages of 4 and 5. If a stallion misses a year of the sport test, he would not be able to breed the following year but could attend the next offered sport test.  Stallions age 7 or older must achieve their sport performance requirements though the traditional sport model of upper level competition results.
The 2018 East Coast test takes place at Hilltop Farm in Colora, MD, on 1 - 3 November 2018. The West Coast test is at Pollyrich Farms in Solvang, CA, on 5 - 7 November 2018. 
Entered ffor the 2018 NA Stallion Sport Test are:
Baloujoie (HANN, by Bon Balou x Wonderland)
Centre Pointe (HOLST, by Chambertin x Cassini I)
Daily Show (HANN, by Danciano x Stockholm)
Dante's Diamond (OLD, by Dante Weltino x Rohdiamant)
Davos CF (OLD, by Dante Weltino x Rubinstein)
Debonair MF (HANN, by Doctor Wendell MF x Rotspon)
Fernandel (HANN, by Franziskus x Donnerhall)
Frisantos (HANN, by Franziskus x Espri)
Fürst Romantic (OLD, by For Romance x Sir Donnerhall I)
Jethro Tull G (KWPN, by I'm Special de Muze x Voltaire)
Joyride (KWPN, by Worthy Opponent x Ferro)
Riptide (HOLST, by Riverman x Solid Silver)
Rohmeo (OLD, by Royal Price x Lord Liberty G)
Sole Mio (RHLD, by Stanford x Donnerschwee)
Wild Escort (HANN, by Wild Dance x Escudo II)
Related Links
Dates for 2018 North American Stallion Sport Tests Confirmed
Harvest Wins Inaugural 2017 North American Stallion Sport Test
New North American Stallion Testing Established for 2017
Sonntagskind Wins 2009 U.S. 30-Day Stallion Performance Test