KWPN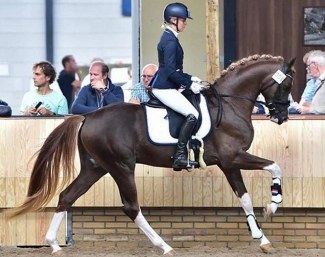 Twenty-seven dressage bred colts will be heading to the 2018 Autumn KWPN Stallion Performance testing, which begins in Ermelo, The Netherlands, on 8 October 2018.
On 17 September a special saddle presentation was organized in Ermelo for performance test candidates who wish to participate in the autumn 50-day testing. The colts were presented by their own riders.
The saddle presentation was meant to give the testing committee an idea of the training level and quality of the colts and to pass on recommendations to the owners of the colts before the start of the autumn testing on 8 October.
Of the 27 presented stallions, 24 of them were approved for the testing at the 2018 KWPN Stallion Licensing last February. One foreign bred colt was shown at the saddle presentation for testing consideration and accepted: the Danish warmblood Svalegaard's Design (by De l'Or x Don Schufro). 
Eight colts who failed to do the spring testing, returned at the saddle presentation. One was accepted: Kjento VOD (by Negro x Jazz). The now 4-year old Jakarta (by Five Star x San Remo) was approved in 2017 but never did the performance test as he was lame in spring. He has now been accepted.
Accepted for the 2018 Autumn KWPN Stallion Performance Test are:
Kityikana (by All at Once x Westpoint)
Kojack (by Arlando x Uphill)
Karaat U.S.A (by Bordeaux x Ferro)
Kaygo (by Capri Sonne Jr x Westpoint)
Kaiser DVB (by De Niro  x Johnson)
Kevin (by Dream Boy x Kennedy)
Kingly Utopia (by Expression x Uphill)
Kameraad (by Eye Catcher x Rousseau)
Knappe Jonge (by Ferguson x Jazz)
Kenzo (by Ferguson x  Vivaldi)
King U.S. (by For Gribaldi x Flemmingh)
Kandour (by For Romance x Uphill)
Kingston JZ (by Toto Jr x Turbo Magic)
Kaliber (by Toto Jr x Johnson)
Kostolany (by TOto Jr x Jazz)
Kontender DSD (by Governor x Bretton Woods)
Kioto (by Governor x Negro)
Kratos de Jeu (by Ekwador x Voice)
Keikovanck PP (y Johnson x Munchhausen)
Kjento VOD (by Negro x Jazz)
nn. (by SAn Amour x Zardin firfod)
Kilian Singapore (by Sir Donnerhall x De Niro)
Kyton (by Ferguson x Ferro)
Fonq (by Furst Fohlenhoff x Lissaro van de Helle)
Woodlander Woodstock (by Wild Child x Florencio)
Svalegaards Design (by De l'Or  x Don Schufro) 
Jakarta (by Five Star x San Remo)
Related Links
Fifty-Three Colts Approved at 2018 KWPN Stallion Licensing
Kremlin MD, Champion of the 2018 KWPN Stallion Licensing
Knock Out, High Scorer of the 2018 KWPN Spring Stallion Performance Testing
Fifteen Stallions Begin 2018 KWPN Spring Stallion Performance Testing