2018 U.S. Dressage Championships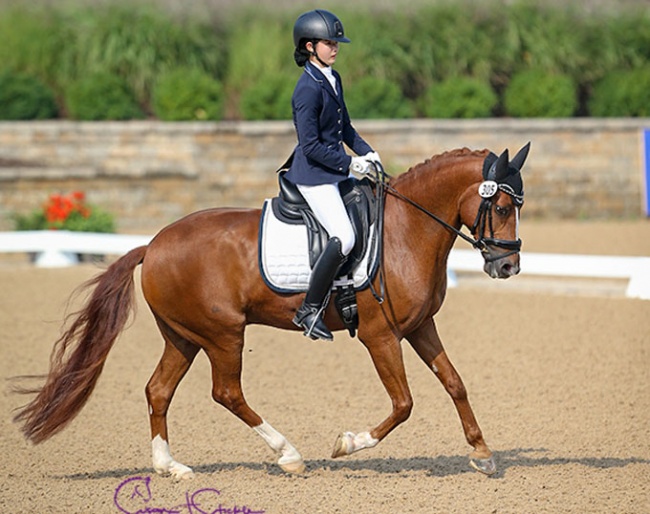 After several exciting days of competition, the festivities at the 2018 U.S. Dressage Festival of Champions concluded on Sunday at the Lamplight Equestrian Center. Miki Yang became the very first U.S. Children's Champion, while Danish born American Charlotte Jorst freewheeled to the Grand Prix title in a senior championship absent of every single A-squad U.S. high performance rider.
Miki Yang Wins First Ever U.S. Children's Championship
Miki Yang and Garden's Sam won the USEF Children Individual Test to take home the win in the U.S. Children Championship. Yang (Los Altos Hills, Calif.) and Four Winds Farm's 11-year-old New Forest Pony gelding had an active, flowing test to score 69.643% and win the title with an overall score of 69.020%. Yang is the daughter of the highly acclaimed U.S. Dressage sponsor and Grand Prix rider Akiko Yamazaki.
"I was not expecting this," said Yang. "I just feel really proud and grateful for everybody who helped me get here, especially my trainer Hillary [Martin] because I would have never been able to do this without her. Also, my family and especially my mom for supporting me. She loves horses as much as I do…Being able to compete with my mom was like a dream come true. It was so special."
Averi Allen (Pleasant Hill, Mo.) and Lady Lilliana, Mary Adams's nine-year-old Friesian Sporthorse mare, were the reserve champions, while Kylee Kment (Palmyra, Neb.) and Manatee, Jami Kment's 15-year-old Thoroughbred gelding, placed third.
On the highlights in their tests:
Yang: "Even though he was tired, getting him more in front of my leg was definitely a highlight, the jump in his canter, and keeping him steadier in the contact throughout all the movements."
Allen: "She can be a little behind the leg so keeping her up and forward was definitely one of the highlights."
Kment: "I think our medium canter was much better, more balanced and we went for it a little more, and I think that is one of the main highlights."
Charlotte Jorst is the 2018 U.S. Grand Prix Champion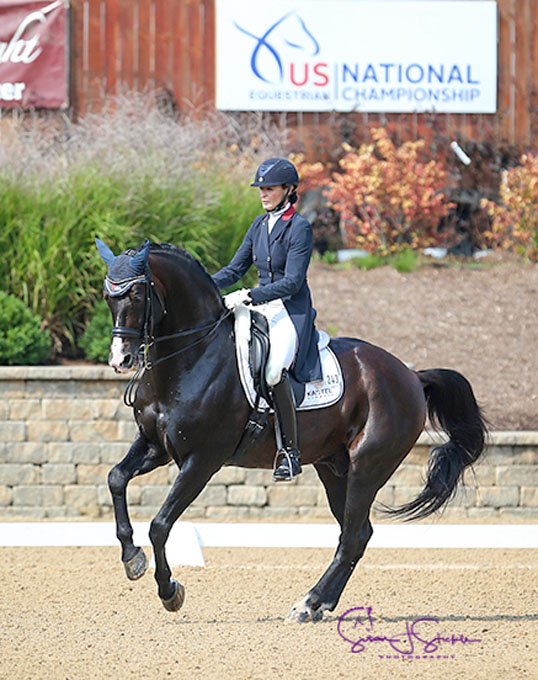 Charlotte Jorst and Nintendo led from start to finish to win the U.S. Grand Prix Championship. Jorst (Reno, Nev.) and the 15-year-old Dutch Warmblood stallion performed an exciting freestyle with difficult movements, such as pirouette into the piaffe, to earn a score of 73.650% and claim the overall title with a score of 70.098%.
"It feels incredible. I remember when I was an adult amateur, when I was trying to [qualify] for the championships … now I'm the winner. I am very happy with that progression. I hope I can continue in that trend," said Jorst.
Nick Wagman (San Diego, Calif.) and Don John, Beverly Gepfer's 10-year-old KWPN gelding, were the reserve champions, and Jennifer Schrader-Williams (Yelma, Wash.) and Millione, Millione Partners LLC's 15-year-old Danish gelding, placed third.
Schrader-Williams earned the Patsy Albers Award as the highest-placing rider in the Grand Prix division who previously represented the U.S. at the North American Youth Championships. The award provides financial support for continuing education and training.
On their freestyle choreography:
Jorst: "I have had nightmares about my twos, and, of course, I blew them probably because I had nightmares. I have a pirouette into the piaffe that I have been looking forward to doing, and I succeeded with that. I think it is so much fun to challenge yourself. Because this freestyle is so difficult, the Grand Prix almost seems easier to me, so, for me, that has been a great jump."
Wagman: "Don John is really new at this level, so we chose to keep the choreography slightly simple to not over face him and build confidence, and that was really a smart idea because he composed himself very nicely this whole season. Now, we'll go home and probably add some more difficult choreography to our program, but I was happy with the results."
Schrader-Williams: "We were able to do more difficult maneuvers in the piaffe-pirouette at the extended walk. His changes get a little exciting at times, so we kept the lines a bit short. I would like to add more degree of difficulty, add double pirouettes for next season, and just keep pushing the envelope."
Photos © Sue Stickle
Related Links
Scores: 2018 U.S. Dressage Championships
Boehning, Blitz, Harrison, Jorst Rule Day Two of 2018 U.S. Dressage Championships
Jones, Blitz, Harrison In the Lead as 2018 U.S. Dressage Championships Kick Off
Boehning and Jones Win First Titles at 2018 U.S. Dressage Championships
Asher, Blitz, Harrison Score the Title at 2018 U.S. Dressage Championships