2018 U.S. Dressage Championships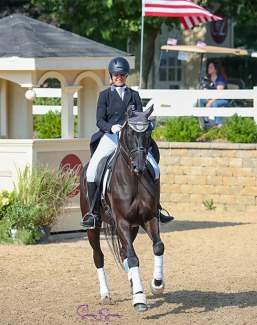 Young rider Callie Jones, small tour rider Heather Blitz and Under 25 rider Codi Harrison have taken a provisional lead in the 2018 U.S. Dressage Championships as the Festival of Champions kicked off at Lamplight equestrian centre in Wayne, ILL, on Wednesday 22 August 2018.
Callie Jones Tops First Young Rider Round
Callie Jones and Don Philippo claimed top honors in the FEI Yong Rider Team Test with a score of 72.255%. Jones (Henderson, Ky.) and her 10-year-old Hanoverian gelding had impressive trot work and a smooth flow to lead the USEF Young Rider Dressage National Championship. Veronica West (Marina del Rey, Calif.) and Nobleman, her 19-year-old Hanoverian gelding, place second and Nicole Scarpino (Mims, Fla.) and Lambada 224, her 11-year-old Hanoverian mare, placed third.
On the highlights of their tests:
Jones: "I was very happy with my test today. He was really reliable, as always. The trot work I thought was excellent; I was super happy with that. He did get a little fired up in the canter work, so I just had to remind myself to stay relaxed and stay calm and give him the confidence that it's okay. Hopefully on Friday we can get that a little more relaxed but, overall, I was super happy with my ride."
West: "Overall, I was really happy with my ride today. The trot work started off really well, but we had a little bobble early on, a little spook, but we recovered well. I think some highlights in the test were definitely our three and four tempi changes and some of our extended work." Scarpino: "I was happy with how well she stayed with me and listened to me and didn't really question anything I asked her to do. I was really happy with the canter work. The energy was good; she was just on it. The trot work needs a little more self-carriage, and I could clean up a few spots, but overall, it was just a solid test for her and I was really happy with it."
Jones on her summer as part of the 2018 Dressage European Young Rider Tour, which is linked to the Discover Dressage™ USEF/USDF Emerging Athlete Program:
Jones: "Going to Europe was a huge step for us. It really boosted my confidence because the riding over there is just top notch; you see that they're not afraid to take risks, and they're human and they make mistakes too, so that really encouraged me to take risks and not to be afraid to work outside the box. That [experience] really helped prepare me for [Adequan FEI North American Youth Championships presented by Gotham North] and this weekend.
Blitz and Quatero Wins Prix St Georges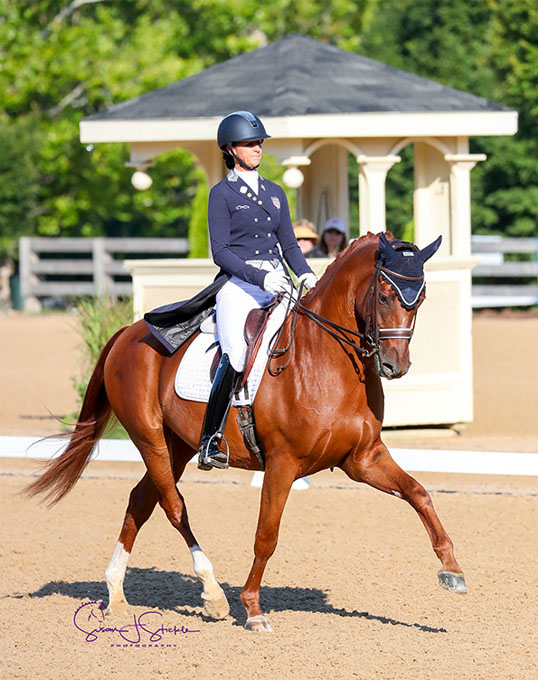 Heather Blitz and Praestemarkens Quatero won the FEI Prix St. Georges Test with a score of 72.853% to kick off the first day of competition at the 2018 U.S. Dressage Festival of Champions. Blitz (Wellington, Fla.) and her nine-year-old Dutch Warmblood gelding performed a lovely test to take the early lead in the USEF Intermediaire I Dressage National Championship. Jennifer Baumert (Wellington, Fla.) and Handsome, Betsy Juliano LLC's 13-year-old Hanoverian gelding, placed second and Nora Batchelder (Williston, Fla.) and Faro SQF, her 10-year-old Hanoverian gelding, placed third
On what it feels like to get an invite to the U.S. Dressage Festival of Champions:
Blitz: "This is probably my fifth or sixth time at Lamplight, and I hate to miss it because it is such a nice place to show. It is always run so well and has great footing. As a competitor, it is a really great experience, let alone to be anywhere in the top 15 in the country to come and compete; it is an honor. It is something I can't miss and I do whatever I can to make something like this."
Baumert: "It is an honor and thrill to get the invite. This venue is really special. This is the first venue I ever showed Handsome at three years ago, so it is neat to have that perspective and see how far he has come. It is great to be here amongst so many super riders and horses and know you belong."
Batchelder: "This is a beautiful venue; getting the invite is the best feeling. Showing up and just watching horses in the warm up and [knowing] that we get to be among these great horses and riders is great."
On preparations ahead of the U.S. Dressage Festival of Champions:
Blitz: "The last time I showed him was in March, and since then, I have been doing a lot of preparation and work for the Grand Prix. This [championship invite] came about and I made the decision [to come]. I was a little concerned if he was going to overthink in the ring and if he was going be different since it has been since March. There were a few unknowns – if he would go in the ring and try to passage and do ones [tempi changes], but he listened to me really explicitly so I was super pleased with that."
Harrison in the Lead in Under 25 Division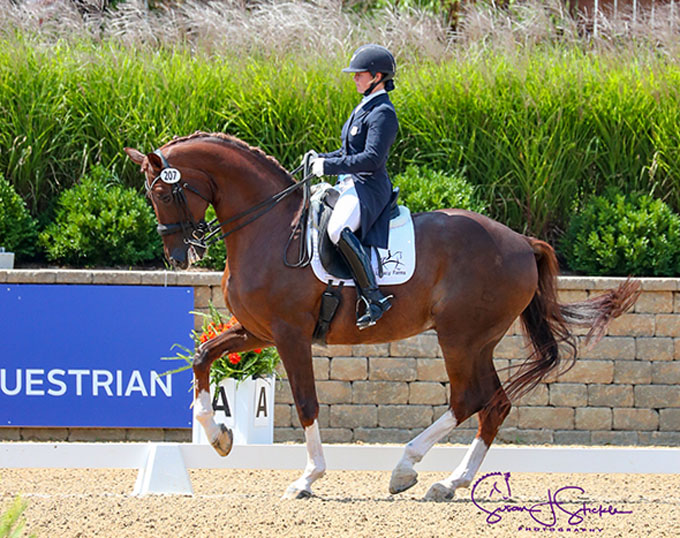 Following the Intermediate II Test Codi Harrison (Loxahatchee, Fla.) and Katholt's Bossco, her 11-year-old Danish Warmblood gelding, lead in the USEF Young Adult 'Brentina Cup' Dressage National Championship presented by Dressage Today with a score of 71.941%.
"I was really happy with his piaffe dressage work, the best it has felt in the ring. He was Prix St. Georges when I got him so it has been fun to learn and grow with him because I never have ridden the Grand Prix, and he's never done it," said Harrison.
Molly Paris (Charlotte, N.C.) and Countess, her 16-year-old Danish mare, follow in second and Discover Dressage US Equestrian/United States Dressage Federation Emerging Athlete Program member Kerrigan Gluch (Wellington, Fla.) and HGF Brio, Hampton Green Farm's 13-year-old Andalusian stallion, placed third.
On the highlights of their test:
Paris: "Her extended trots have come so far from last year. She is strong enough to carry herself, so that is great to feel underneath me. That was a highpoint."
Gluch: "I would say the connection I gained with him. I can't ask anything more movement wise from him. He did everything I asked of him."
On the strategy moving forward:
Harrison: "I hope to have the same energy I had today. He sometimes gets a bit behind me in the ring, so I hope it is the same feeling tomorrow. A little more improvement in the connection and really using the corners to set him up."
Photos © Sue Stickle
Related Link
Scores: 2018 U.S. Dressage Championships