France
The French Equestrian Federation dropped a major bomb on Wednesday morning 22 August 2018 by announcing that they will not be sending a team to the 2018 World Equestrian Games in Tryon, U.S.A. 
Twenty days ago the French Federation sent in the nominative entries for WEG, but less than three weeks later it has decided not to send anyone at all.
The official statement of the FFE read: "The FFE has set as goal to honorably rank at the 2018 WEG in dressage and to try to achieve qualification for the next Olympic Games in Tokyo in 2020 (editors note: the top 6 teams qualify for Tokyo). The minimum score to achieve by the team has been set at 70%. After Pierre Volla and Badinda Altena's withdrawal, the strongest French pair at international shows, and as noth a single combination in the running for team selection has achieved 70% in a Grand Prix test the past three months, it has been decided in agreement with the FFE board and the technical dressage team and after informing the concerned athletes, not to participate at the WEG in September."
The statement concluded with: "The goal at the moment is to continue making progress with the pairs in international tests en route to the 2019 European Championships in Rotterdam and to obtain qualification for the Tokyo Olympics there."
No More "End of the Ranking"
According to FFE Dressage Technical Director Emmanuelle Schramm the standard of the 70% was announced to the riders already back in January and the FFE's main sport director Sophie Dubourg reconfirmed this in an interview with Grand Prix Replay at the beginning of July:  "The goal is to quality the team, which has to achieve at least 70% to finish in the six first plaes at WEG, or in the top 8 at the 2019 European Championships. We have a good supply of horses, which still lack experience and a few experienced combinations at this level," said Dubourg.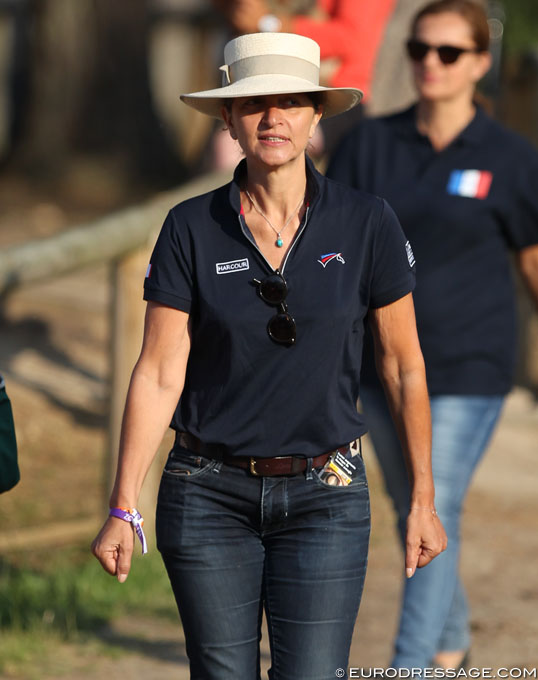 When Eurodressage asked Schramm if this was a matter of saving money for the FFE, with their preference to aim for a more easy Olympic team qualification at the 2019 Europeans in Rotterdam, she replied: "Not a problem of money but a problem of level . We don't want to send a team under 70 %. It was clearly announced to the riders in January. Without Pierre Volla, this team average become impossible."
Schramm stressed that, "the aim was clearly announced in January and also the consequences. The riders did their best. It's not against them, but on the contrary, we don't want any more to be at the end of the ranking. We have to be better."
"We have discussed so much the past few days. It almost made me ill, but this is not just my decision. The federation had set an objective," team trainer Jan Bemelmans told Eurodressage. "The past few years we always had one pair who could help lift the others, like Karen Tebar. I was super positive going to WEG, but I was unable to convince Pierre to go. We had our team chances calculated and with Pierre we were expected to finish 12th and without 13th. The president of the federation doesn't want that."
Bemelmans explained that France has no chance for Olympic qualification in Tryon, while all other French teams in the other discplines have. The federation decided not to send any individual riders, either, as  none of them are expected to reach the freestyle finals.
Volla Makes Castle Crumble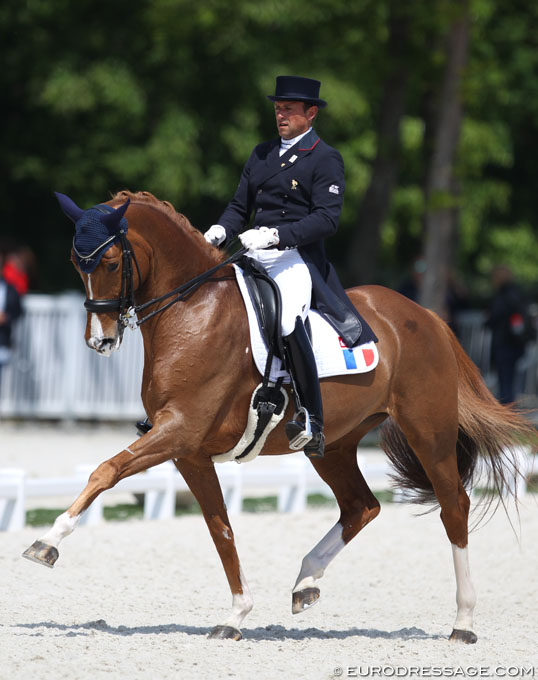 Nominatively entered for WEG and in the running for French team selection were Pierre Volla (Badinde Altena), Morgan Barbançon Mestre (Sir Donnerhall II), Marie-Emilie Bretenoux (Quartz of Jazz), Anne Sophie Serre (Vistoso de Massa), Arnaud Serre (Ultrablue de Massa), Alexandre Ayache (Zo What), Barbara Clement Klinger (Dirbini) and Bertrand Liegard (Star Wars).
Although he is the sole rider who achieved a 70%+ score in an international Grand Prix over the past three months, Volla still decided to withdraw from WEG team contention nonetheless, citing financial reasons. Volla announced his decision to the federation last week and this prompted the FFE to decide not to send any rider at all. 
Volla took to Facebook to explain his decision , adding that "I do not expect to receive any judgments on my choice." He stated that "this decision is more than difficult (...) It is not one for health reasons, nor sportive that have prompted me to make this decision. The dream for WEG is big and present for all of us, but it is the hard, financial reality  of top sport which pushes us to take certain roads. (...) For the past few months I have been looking for financial backing to keep this sublime mare, but in France there isn't a person ready to invest in a dressage horse like "La Bomba" (i.e. Badinda). Without support, without maecenas or sponsors, top sport is very complicated." Volla added that until he has found a sponsor for his horse, "the risk of taking her there (WEG) is too big for my mare."
French Riders Feel Deceived
A quick look at the most recent Grand Prix results of the French team candidates show that Bretenoux scored 69.826 in Hickstead, 68.978 in Rotterdam and 67.500% in Compiègne. Barbançon got 69.304% in Crozet, retired in Deauville, but then got 72.355% in the consolation, 67.761% in Rotterdam and 69.000% in Compiègne. Anne Sophie Serre earned 69.326% in Crozet, 67.022% in Hickstead, 68.565% in Rotterdam and 68.413% in Compiègne. Clement Klinger got 68.391% in Deauville, 68.174% in Rotterdam and 68.261% in Rotterdam. Bertrand Liegard scored 68.283% in Hickstead and 67.196 in Compiegne. Arnaud Serre got 69.087 in Hickstead, but this was his only show in 2018. Ayache got 69.543 in Hickstead), his first show since April 2018.
"We had an unrealistic goal and no scoring goal," Marie-Emilie Bretenoux told Eurodressage. "Last night, I learned that there was no team and no individual, I was destroyed. Today, I asked why they did not send two individuals.  "Because you have to get into the top 15" (was the reply."
Anne Sophie and Arnaud Serre are very upset about this decision and called it "a pill hard to swallow". In an interview with Grand Prix Replay, Anne Sophie Serre said that "this is a total deception. For me for sure, but also for the entire team that has helped me this year, to start with the breeder and owner of my horse (the Massa family). This season they have made an enormous financial investment. We travelled almost 10,000 kilometers to fulfil all the mandatory, difficult passages. (...) This is a great pity because we all have need to show ourselves, to feel supported by the federation and to see our work rewarded. I'm talking about everyone's progress, not just my own.What is the future of dressage in France? This is now the question we ask." Serre added that the FFE also seems to be entirely against the idea of sending one or two individuals to Tryon.
The Dutch based Morgan Barbançon Mestre, who won the 2018 French Grand Prix Championships in Vierzon, said "I am very disappointed after all the work and commitment my team and myself did, but sadly due to certain circumstances and one of the horses of the team being sold, the FFE came to the decision of not sending a team to the WEG, we have to accept their decision."
Even former French team rider and highest scoring French rider in recent years, Karen Tebar, was surprised about the decision. Her horses are back in training but were not in the running for WEG. Still she stayed in close contact with her national federation. She told Eurodressage: "I was also quite surprised and the other riders were too. It's such a pity!!"
Bemelmans Wants to Look to the Future, Tokyo Ultimate Goal
At the end of July team trainer Jan Bemelmans was still very optimistic about France's WEG team potential. He stated in an interview with L'Eperon right after the CDIO Hickstead that, "we  have the luxury to have ten combinations aroun 70% and that doesn't make my task easy. I would love to send two teams to Tryon and I wouldn't know which one is the better one."
Eurodressage interviewed Jan Bemelmans today and he clearly expressed regret about missing out on Tryon, but there was also realism about the future.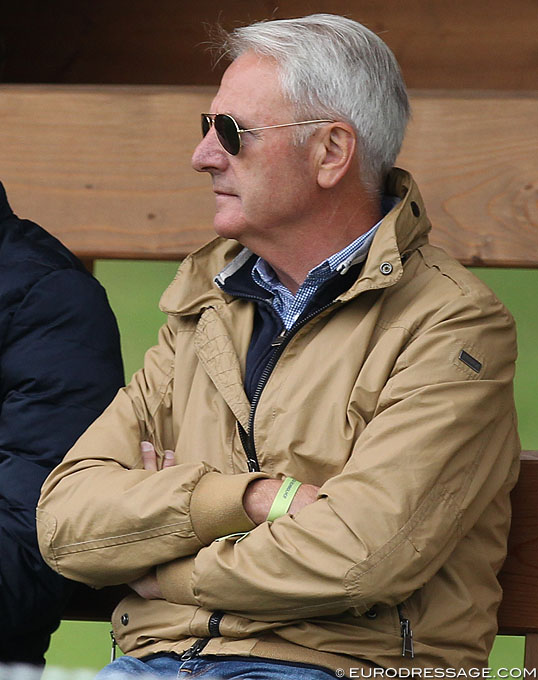 "It's normal that the reactions are against our decision," he said. "It's like with soccer: if you are a champion, everything is great, but when you are not, it's always the fault of the trainer or the federation. We have put in so much work this season. I'm also disappointed. This sport is my life. I want to win and I can loose too. I have been team trainer of France for the past six years and we made it to the Olympics. We are making progress. Now I have the choice of 10 horses, not two or three like in the past. Of course I'm not giving up, but it's still not the way I want to have it. I want more top stars."
Bemelmans wants to focus fully on achieving Olympic qualification in Rotterdam next year. 
"We can't just see Tryon as another competition, expenses fully paid by the federation, as if it's a holiday," said Bemelmans critically. "Of course it is not our intention to 'punish' the riders by not letting them go. They can't say that they didn't get much money from the federation. The federation has helped them everywhere: there is a lot of prize money to be won at national shows, we started out with one clinic per month but because of the great success we doubled those.  They get supervision at all international shows, the vet is for free, etc. They should also see it from the perspective that this is a big investment into their own future and career."
Bemelmans believes the mentality in France has to change a bit more from an individualist perspective to a team view. "Of course I am right on a few points, and the riders certainly are right too on several points," said Jan. "But we have to continue to talk to each other and we have to stick together more, as a team, and not have one rider talking bad about the other behind their backs. Sure in other countries there is rivalry too, but look at Britain and Germany, they always step out at shows as a united front. France needs to do that too!"
Text and Photos © Astrid Appels - No reproduction allowed
Related Links
Morgan Barbançon Mestre Wins 2018 French Grand Prix Championship
2018 French JO/JEM Squad Expanded with Five New Horses
French JO/JEM Squad Horses for 2018 Announced
French Team for 2018 CDIO Hickstead Announced
Quartz of Jazz Submitted to French Elite JO/JEM Squad
French Grand Prix Squad Attends First Team Training Session of 2018
2018 French Dressage Trainers Seminar in Lamotte-Beuvron