KWPN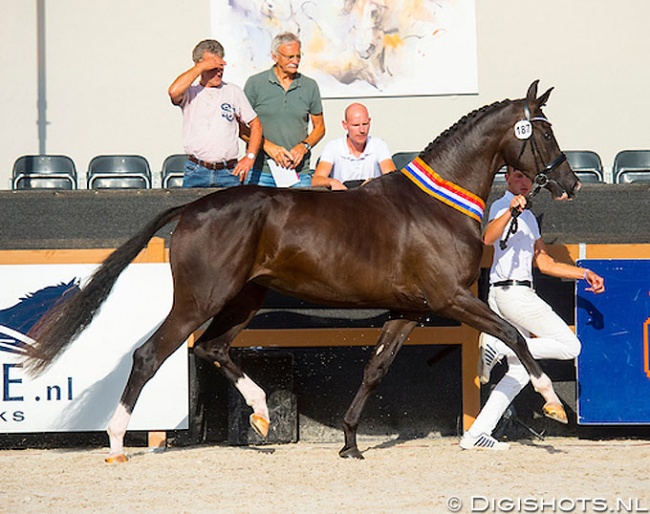 Kiss Me Set (by Fellini x Florencio) has been named the KWPN Mare Champion of 2018 at the KWPN Championships in Ermelo, the Netherlands, on Friday 17 August 2018. 
Thirteen mares were invited into the champion's ring to battle it out for the title of KWPN Mare Champion 2018. Judge Marian Dorresteijn commented that "all judges together agreed that we saw a very nice crop of 3-year old dressage mares. Today we were able to pick 13 highlights out of a quality crop."
Kiss Me Set is by Fellini out of Call Me Set (by Florencio) and bred and owned by Ad Pertijs. The mare was praised for her beautifully shaped neck, light head-neck connection, and her spectacular trot.
"I only breed with one dressage mare, the Florencio studbook mare and to breed such horses then. I'm super proud," said Pertijs. "I had hoped for a top five place, but this is beyond believe. The icing on the cake."
Kiss me Set's even nicer model made her the champion. Kavira (by Franklin out of Davira (by Sorento) was the reserve champion. She is bred by P Janssen and owned by Nice Witte in partnership with Leida and Tim Collins. This mare was praised for her self carriage in trot, her relaxed disposition and balance in her natural movements.
Kardinale Utopia (by Toto Jr out of former KWPN Mare champion Wiona Utopia (by San Remo) finished third. Bred by Seth Boschman and owned by RS2 Dressage, this mare stood out with her looks and nice topline. She showed much elasticity in trot and did not require speed to show optimal gaits. 
Results - 2018 KWPN Mare Championships
1. Kiss Me Set (by Fellini x Florencio)
2. Kavira (by Franklin x Sorento)
3. Kardinale Utopia (by Toto Jr x San Remo)
4. Koco Linda (by Glamourdale x Tuschinski)
5. Katniss (by Galaxie x Charmeur)
6. Kalluzia (by Governor x Uphill)
7. Kwintina (by Vivaldi x Ferro)
8. Kensie Ballerina (by Governor x Krack C)
9. Kir Royaal O (by Desperado x Hemmingway)
10. Karabel (by Ebony x Westpoint)
11. Kalani SW (by Grand Galaxy Win x Florencio)
12. Kashmyra (by Gaudi x Florencio)
13. Kato (by Ferdinand x Houston)
Photo © Digishots
Related Links
Jatilinda Named 2017 KWPN Mare Champion
Iveniz Texel Named 2016 KWPN Mare Champion
Heliana VOD Named 2015 KWPN Mare Champion
Gamante D Named 2014 KWPN Mare Champion
Flieka Wins 2013 KWPN Mare Championship
Eskara de Jeu Wins 2012 KWPN Mare Championship
D.Obertje Proclaimed 2011 KWPN Mare Champion of the Year
Crisjena Wins 2010 KWPN Mare Championship
Brooklyn Wins 2009 KWPN Mare Championship