France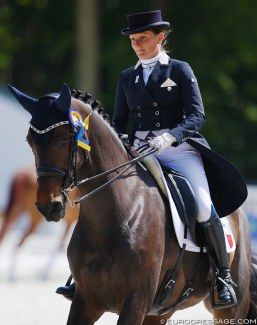 The French Equestrian Federation (FFE) has announced five new additions to the JO/JEM squad for 2018 at the French Championships in Vierzon.
The French Federation does not work with a tradition A and B-squad for Grand Prix, but team potential horses are sorted in a JO/JEM group, indicating that they have team selection potential for the Olympic Games/World Equestrian Games. 
The owners of the JO/JEM listed horses get extra support from the federation for the training and competing of their horses by France's elite Grand Prix riders, so that they will not be prompted to sell the horse.
The five new additions to the JO/JEM  are:
Vistoso de Massa - owned by Sylvain Massa, ridden by Anne-Sophie Serre
Dickens - owned and ridden by Virginie Gauthier
Dirbini - owned and ridden by Barbara Clément-Klinger 
Sir Donnerhall II - owned and ridden by Morgan Barbançon
Star Wars - owned and ridden by Bertrand Liegard
They join After You (Ludovic Henry), Badinda Altena (Pierre Volla), Don Luis (Karen Tebar), Quartz of Jazz (Marie-Emilie Bretenoux), and Ultrablue de Massa (Arnaud Serre).
Related Links
Quartz of Jazz Submitted to French Elite JO/JEM Squad
French JO/JEM Squad Horses for 2018 Announced