2018 Nordic International Sales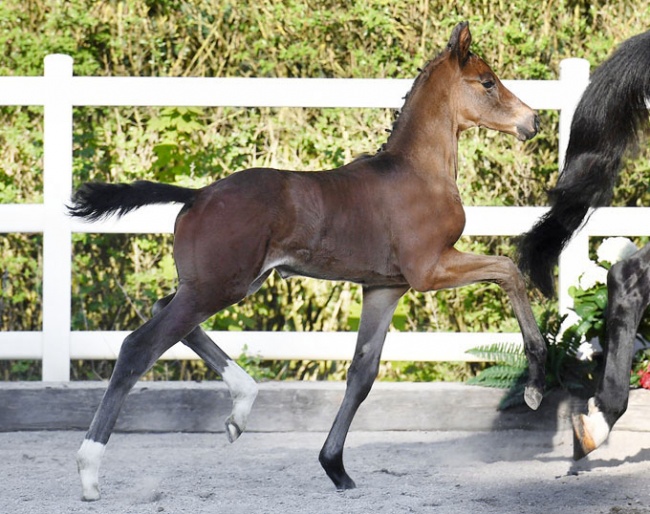 For the second, consecutive year the Equitour Aalborg will be staging the Nordic International Sales, an auction of elite dressage foals. Are you looking for a top quality dressage foal, than don't miss the Nordic International Sales at the 2018 CDIO/CSIO Uggerhalne, Denmark, on Saturday 26 May 2018. 
The auction is organized by some of Denmark's most experienced experts in the field of horse dealing. They have hand picked a collection of twenty elite foals across several breeders' associations. This auction will provide a rare opportunity to acquire foals of exceptional class.
Foals of Exceptional Class
The collection of twenty top quality dressage foals contains too many highlights to list them all.
Demanding dressage aficionados can pay particular attention to Faretti II (by Frankin x Don Frederic), who is the full sister to the Danish Filly Foal Champion of 2017 and who was the price highlight of the inaugural Nordic International Sales in 2017, selling for 150,000 euro.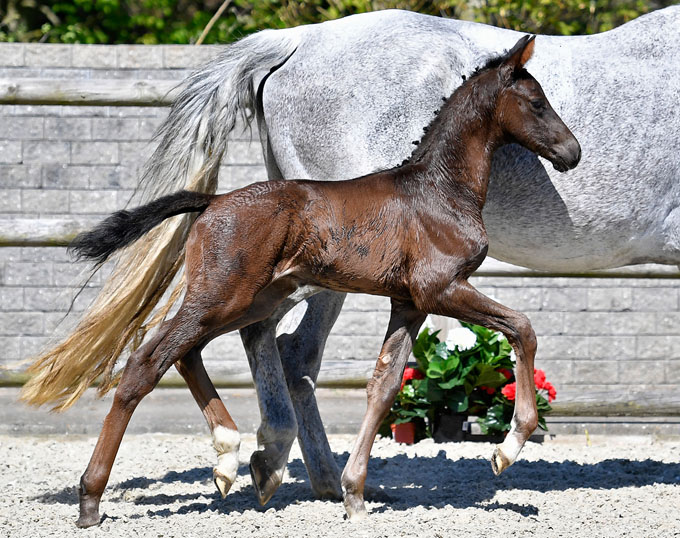 Danish warmblood colt Bjørnmose's Fontino (by Franlin x Rubinero) as well as the stunning Oldenburg bred chestnut colt HP Vegas Gold (by Vitalis x Damon Hill) are clear stallion prospects.  HP Vegas Gold is a noble, long-legged and very well-balanced foal displaying three very good gaits with good freedom of elbow and good self-carriage.
The jet black filly Fellini (by Franklin x Sezuan) has an extraordinary pedigree. She represents nothing less than six World Championship gold medals as her dam sire Sezuan and grand dam Fiontini are the only triple world champions in history. Fellini is a feminine, elegant and light-footed filly foal with three outstanding gaits defined by rhythm, suppleness, freedom of elbow, balance and hindleg action in a league of its own.
The bright bay Danish warmblood filly Fontana Lightfoot (by Franlkin x Michellino) comes from a very established Danish dam line. She is a very strong mover and displays extreme suppleness which results in three outstanding gaits that express lightness and balance and not least unlimited future potential.
The unnamed Westfalian colt by Franklin x Belstaff stands out because is a masculine foal with very good type and great expression. He moves with excellent action and freedom in the shoulder.
Streamed Live, Bid on the Phone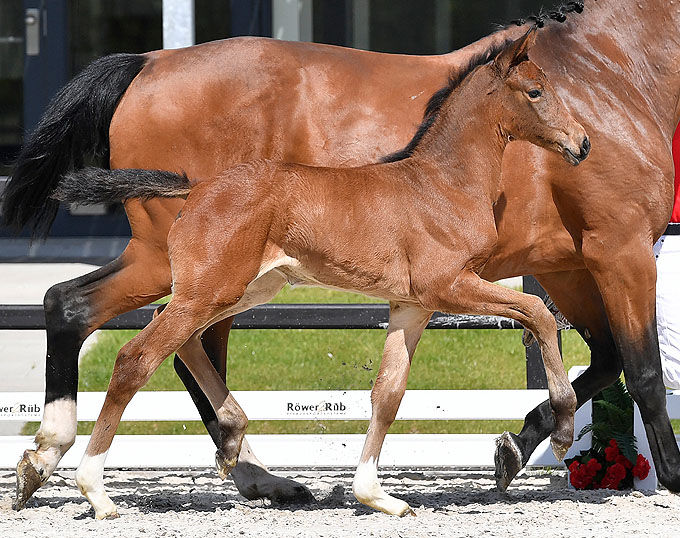 The 2018 Nordic International Sales are sponsored by Stutteri EVO.  The auction is streamed live on Zibrasport.dk, so everyone can see the auction in front of the computer if one is unable to come to Vodskkov and experience the auction.
You also have the opportunity to bid on the auction by telephone. The auction committee is ready to help and call you when the foal you want is up for auction.
A large part of the good atmosphere is created by our VIP guests. It is possible for our best customers and guests to enjoy a refreshment before the auction and get close to the arena during the auction to enjoy the beautiful foal and bid.
Should you be interested in buying foals, contact the auction at auction@varmblod.dk for further information or get in touch directly with Louise Ringbo at lrb@varmblod.dk (Tel +45 61679193).
Discover the 2018 Nordic International Sales' collection at www.nordicinternationalsales.dk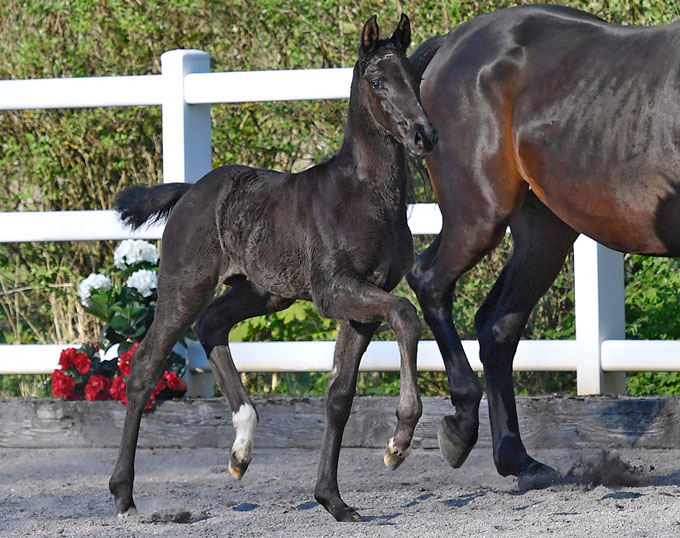 Fellini (by Franklin x Sezuan)