2018 CDIO Wellington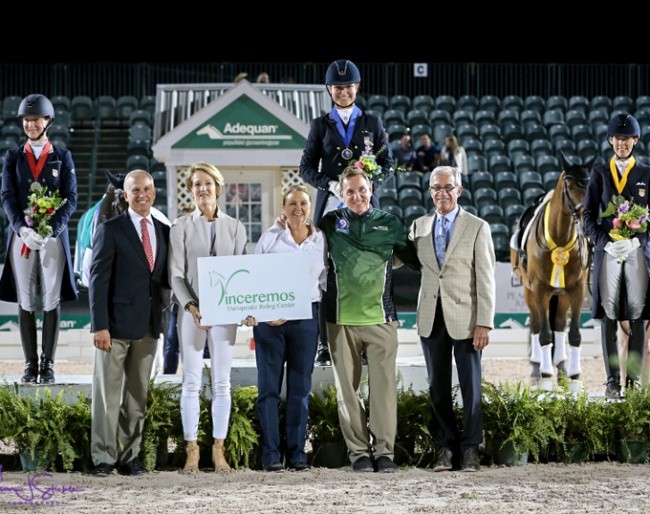 Every single one of the top four combinations in the FEI Nations Cup Grand Prix Freestyle CDIO3* posted a personal best at the 2018 CDIO Wellington on Friday 30 March 2018. But it was the last rider down the center line during "Friday Night Stars" under the floodlights that took the gold medal: home rider Adrienne Lyle produced a breathtaking test on Elizabeth 'Betsy' Juliano's 11-year-old stallion, Salvino, in the 12th and final week of the 2018 Global Dressage Festival in Wellington, Florida.
They scored 81.75% to take the gold — the first time Lyle has ever surpassed the 80% mark. She led an all-female, all-American podium, flanked by Sabine Schut-Kery (silver with 78.145% on Sanceo) and Olivia LaGoy-Weltz (bronze on Lonoir with 77.385%).
"Everyone dreams of that 80% and I'm so proud of the feeling he gave me in there," said Lyle, from Idaho, who was riding to a freestyle put together for her former top horse, Wizard, while she creates a new one with Terry Gallo. "I'm so blessed to have him. He's getting a lot stronger and I can keep the power and the uphill balance — and I have the most amazing coach in the world in Debbie McDonald. This was just a wonderful night.
"The new freestyle will have a higher degree of difficulty; we've been using this new FEI system, and it will have a significantly higher degree of difficulty. We're also using powerful and empowering music to showcase his power and gracefulness."
The silver medalist Sabine Schut-Kery has exploded onto the grand prix scene with the stunning Sanceo — another stallion, this one a 12-year-old by San Remo belonging to Alice Womble. This was the duo's second freestyle at the level and they smashed their previous score by more than 4%.
"We're just starting out this year and I couldn't be any more pleased or more happy," said the German-born rider. "I'm so happy coming here and riding tonight under the lights and pulling off that score. He's really talented in the piaffe and passage."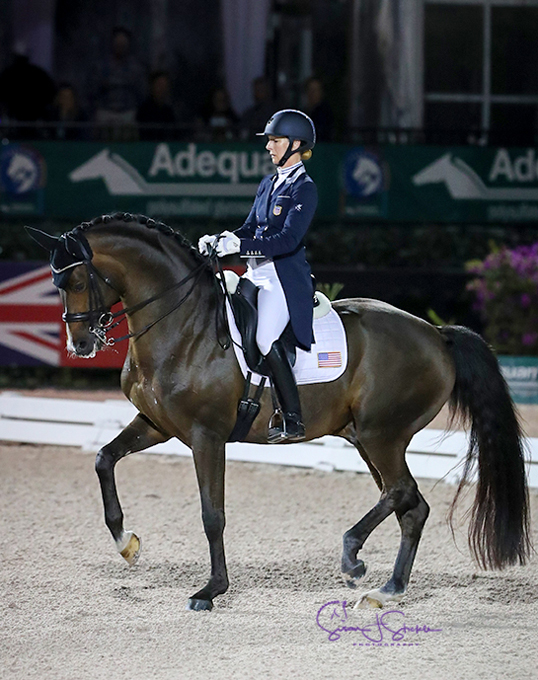 Of her score, she added: "You do your best, but you never know what the judges are thinking and the score is always a surprise! I'm just hoping now to be in the top eight to go to Europe and get him stronger and more experienced."
Olivia La-Goy Weltz, the bronze medal winner, rode her horse Lonoir in this same Nations Cup freestyle competition at AGDF last year but had a tough round and scored 68.8%. This year they had no such issues, upping their score by around 9%.
"He was very wild last year," said La-Goy Weltz of her own 14-year-old son of De Noir. "We were epically airborne for most of the test and I wanted to curl up in a paper bag and have a glass of wine afterwards. Tonight I was really happy with Lono. This week I've pushed for a bit more and yesterday it didn't quite go to plan, but tonight it did. He's a hot strong tamale and there's so much in there; it's just a question of me getting the recipe right — every single time."
Judge at C, Gary Rockwell, was impressed with the quality he saw: "This is exciting," he said. "I've not seen Sanceo since the Pan Ams, and I've never seen him do a grand prix — he's amazing and definitely going in the right direction. I've never seen Olivia's horse so engaged and then Adrienne just knocked me out — it's all positive for this year."
Pablo Gomez Molina Wins Inter I Kur and Small Tour High Scorer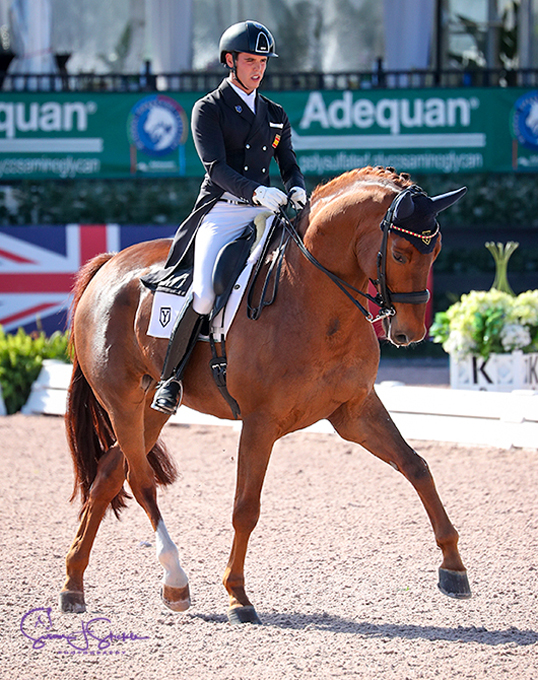 The three chestnut horses who carried their riders to the podium in the Intermediate I Freestyle CDIO3* looked remarkably similar; in particular the top two, who were both sired by Furst Piccolo. Emerging with the gold medal — and undefeated in all three of his tests this week — was the 24-year-old Spaniard Pablo Gomez Molina on the Yeguada de Ymas's Furst Fiorano.
"We've had this horse just over a year and his first CDI was the Nations Cup here in 2017," said Gomez Molina, who was riding the flashy 11-year-old for his employers and scored 72.325%. "We know each other pretty well now and with each show we're improving more and more. He's a really big horse and we have some trouble keeping him high in the frame, but I've been working with my trainer Juan Matute and in the past three months that's been going really well."
The plan for the whole Yeguada de Ymas team is to decamp to Europe at the end of April.
"I have two horses I hope to do under-25s with this season, but that's a big step up from small tour and we want to make sure we are ready," added Gomez Molina. "If we are, then that's what we'll do. Fiorano is really flashy in the extended trot and nice in the tempis, too, but we had a little mistake today. The whole team has been working a lot and competing a lot in this festival — for the past four years. It's amazing to win gold."
Kelly Layne picked up the silver medal on her own Furst Piccolo son, the 12-year-old Furst Amante, with 70.275%. Her Australian compatriot Nicholas Fyffe scooped bronze to add to team bronze earlier in the week — the nation's first ever dressage Nations Cup medals.
Layne said: "We call Furst Amante 'The Bouncing Ball' as he's got springs in his feet, which is really an incredible feeling. He has amazing suspension and cadence, which is really fun for me to ride. I've been riding him for two years, and it's not always been easy, so I was very happy he was with me in the test. I had two little blonde moments — I think I was a little heat affected — and I wondered where my music was going. But I think Amante quite enjoyed it."
Fyffe, who rode Hitchcock into bronze, is giving the 14-year-old His Highness gelding competitive miles before his owner Louise Cote takes over.
"I actually didn't realize I was in a medal position today and that the small tour classes were awarded them too, so to come out with a second medal, I am really thrilled," said Fyffe, who scored 68.425%. "Hitchcock isn't young, but he's inexperienced. He used to feel like the lion from Wizard of Oz — no courage — but he's developing it, and it's been a really fun process with him."
Matute Guimon Bests Under 25 Division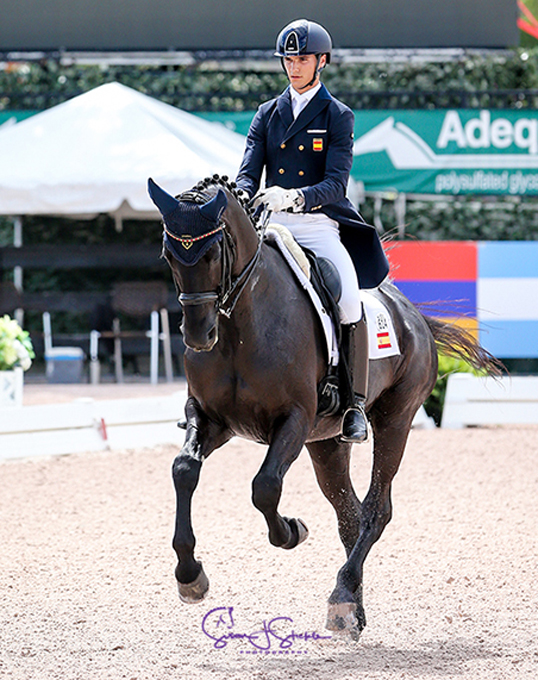 Individual medals were awarded in the under-25 Grand Prix Freestyle CDIO, presented by Diamante Farms, with gold — for the third time this week — being hung around the neck of Spain's 20-year-old charm bomb Juan Matute Guimon. He was unassailable on his father Juan Matute's 15-year-old Don Diego, riding a very bold test to a score of 75.458%. It was the 20-year-old rider's final CDI test of the 25 he has ridden at this year's AGDF. His freestyle ended with two-time changes into one-times and a final halt, close to the judge at C, Portugal's Carlos Lopes (who awarded a meaty 78.75%, and the pair's highest score).
"The highlight of any freestyle is that the rider gets to choose lines that best fit the horse and show off your creativity," said Matute Guimon, who will fly to Europe next month for a tilt at a place on the Spanish World Equestrian Games team. "I'm really happy with the way the season wrapped up. And I know I shouldn't talk in a test, but I said to Don Diego, 'Come on buddy, here we go'. And I was thinking that it was my last center line in Wellington until I come back next year.
"With any championship format when you're competing three days in a row, horses get tired," he added. "But Don Diego and I know each other very well and that experience really helps as he knew exactly what I was asking for. He has taught me everything since I was a junior rider back in 2012."
Last to go in the class, Kerrigan Gluch (USA), pulled off her best performance to date with new partner Bolero CXLVIII, a former ride of Spanish Olympian Jose Daniel Martin Dockx. She scored 70.833% — the pair's first plus-70% — to clinch the silver medal on Hampton Green Farm's 14-year-old PRE stallion.
"The horse is very new to me still," said Gluch, 21, who was riding to an old freestyle originally made by Marlene Whitaker for 'Danny' Dockx and his Rio Olympics horse, Grandioso. "I've only been competing Bolero for two months and this was our second freestyle. He's so honest; he never says no, which makes riding any test that much more enjoyable — and his heart is really good and you don't always find that."
The bronze went to Spain's Rodrigo Encinas Fuentes, who piloted his trainer Cesar Parra's 16-year-old Obelisk gelding Van The Man. This was only the rider's third ever freestyle. He was riding to a soundtrack put together for the horse by Parra, which — appropriately — has paso doble in it.
"It was made for the horse, which helps a lot," said Encinas Fuentes, 22, who is hoping to compete in Europe this summer. "Sometimes it's difficult as it was made for Cesar rather than me, but I love riding to it; it makes me feel great."
Kasey Perry Scores Second Win
Rio Olympic team bronze medalist Kasey Perry-Glass continued her stellar comeback with Goerklintgaards Dublet, after giving Diane Perry's 15-year-old Diamond Hit gelding an eight-month break. They made it two wins from two starts this week by taking the Grand Prix Freestyle 3* with an emphatic 76.125% — the unanimous winner from all five judges in a field of 15 riders.
Adrienne Lyle (USA) filled second on the inexperienced Horizon (74.2%), while the Dominican Republic's Yvonne Losos De Muñiz finished third on Foco Loco with 73.8%. However, she turned the yellow sash into a blue one when she rode Kathy Priest's Fredensdals Zig Zag to the top spot in the Intermediate I CDI1*, scoring 70.441%. Only Losos De Muñiz and second-placed Nora Batchelder (USA) broke the 70% barrier in this class of 13.
Text by Alice Collins (GDF press release) - Photos © Sue Stickle
Related Links
Scores 2018 CDIO Wellington
All-Female U.S. Team Seals Victory in 2018 CDIO Wellington Nations Cup
Team USA in Control, Spain Victorious in U25 at 2018 CDIO Wellington
Taylor and Ansgar Take First Win at Last Show of 2018 Wellington Show Season
Winning Come Back for Kasey Perry and Gorklintgaards Dublet
Long Awaited Come Back for Perry's Dublet at End of 2018 Wellington Season