2018 CDIO Wellington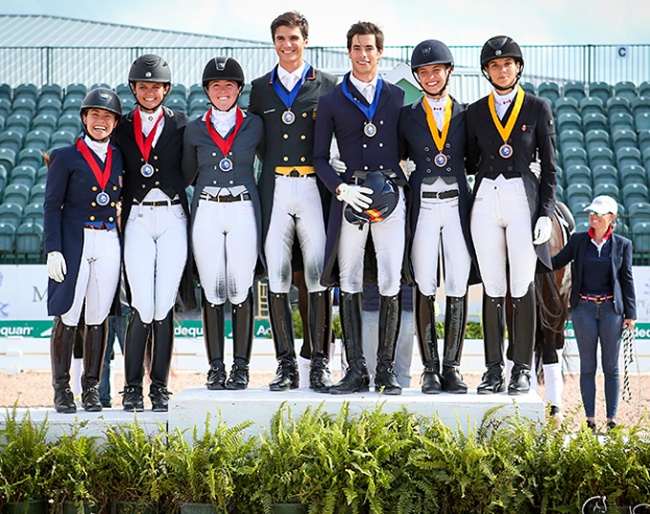 Young riders came to the fore as the tussle for the under-25 Nations Cup team title unfolded in the Intermediate II CDIOU25, presented by Diamante Farms. The team result is decided solely on the results from the under-25 inter II class, and it was Spain's young talent that shone brightest, with Juan Matute Guimon and Rodrigo Encinas Fuentes filling the top two spots individually to clinch the team gold. The USA's team picked up silver, while Canada finished in bronze position.
The under-25 Nations Cup class was a highlight in a packed second day of the 12th and final week of the 2018 Global Dressage Festival (GDF) at Palm Beach International Equestrian Center (PBIEC) in Wellington, Florida. The 2018 circuit concludes on Saturday, March 31.
Juan Matute Guimon (ESP) casts off jetlag to top the under-25 intermediate II on Don Diego Ymas and seal the gold medal for his nation. Matute Guimon finished at the top of the class with 72.294% aboard his father Juan Matute's Don Frederico gelding, Don Diego, who was stepping back from grand prix level, where he has mostly been competing this summer. Matute Guimon and the 15-year-old black gelding are seven on the FEI youth world dressage rankings.
"It's always exciting to be part of a team," said the 20-year-old, who was suffering from a touch of jet lag after having returned from a weekend at the FEI sports forum in Lausanne, Switzerland, just the previous day. "It was a great opportunity to try to improve on last year's results in the Nations Cup as unfortunately we didn't have a great week here last year, so I wanted to change that. Today our test was quite good; there were some things that can be improved, but over all it was pretty clean and with a good, competitive attitude, which I think was the highlight."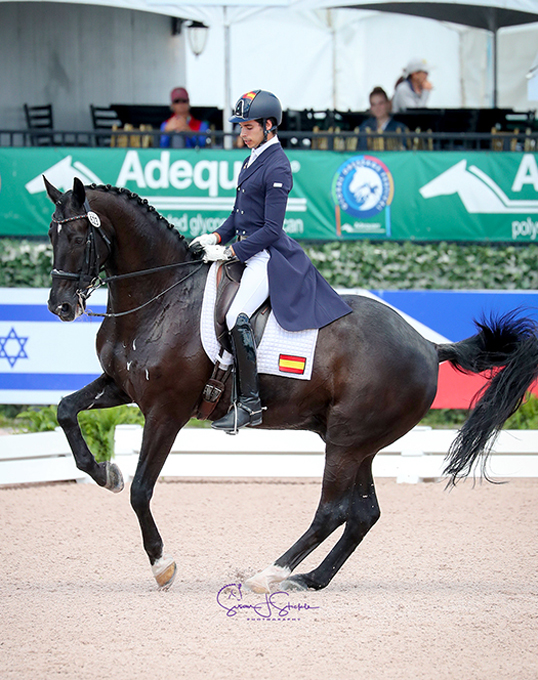 His team mate Encinas Fuentes, who finished second individually with 68.294% on Cesar Parra's 16-year-old former grand prix horse Van The Man, added: "I've just tried to keep up the progress we made two weeks ago [at the Florida International Youth Dressage Championships, where the pair topped the under-25 division] and get better and better. We aren't making mistakes so often now and we're more consolidated. It means a lot to me to be on this team, to be with my friend Juan — two young guys from Madrid making a team on the other side of the world. It's one of the biggest things of my career and makes me feel proud of all the work that I do."
The USA team's Molly Paris logged the highest score for her nation, 66.706%, riding her own 16-year-old Danish warmblood, Countess.
"These girls are like family," said Paris of her silver medal-winning team-mates Kerrigan Gluch and Natalie Pai. "We've known each other since juniors and we've been through everything together. My mare tries so very hard for me; she's super talented and I really can't ask for more. We just ran out of a little bit of steam at the end today; hopefully we can find a little more tomorrow [in the under-25 grand prix, which is an individual contest] and get a better score."
The top scorer for the Canadian bronze medal team was Naima Moreira Laliberté — who has also risen up the ranks with her team-mate Laurence Blais Tetreault. Moreira Laliberté finished third individually on her own I Do Kiss, a 12-year-old stallion by French Kiss.
"We did teams together in juniors and young riders — and now we're back!" said Moreira Laliberté. "We're finally moving up to u-25 and it's a difficult step, but we're taking it. I was quite happy with my test today — it was a huge improvement since my first CDI. We've worked hard since January and I'm happy to see that all the work I've put in at home is showing in the test. I had a little mistake where he walked in the pirouette, which was costly, but hope I can improve that for tomorrow."
Team USA in Control at the Halfway Mark of Nations Cup Contest
The senior Nations Cup team competition is at the half-way mark overnight, with the USA currently in the lead. Unlike some other legs of this worldwide seven-leg competition, the AGDF teams can be made up of big tour, small tour, or a mixture of big and small tour combinations. In order to level the playing field, 1.5% is added to each grand prix score, with the small tour results remaining unaltered. Teams consist of three or four riders, with the best three scores from day one and the best three from day two determining the final results.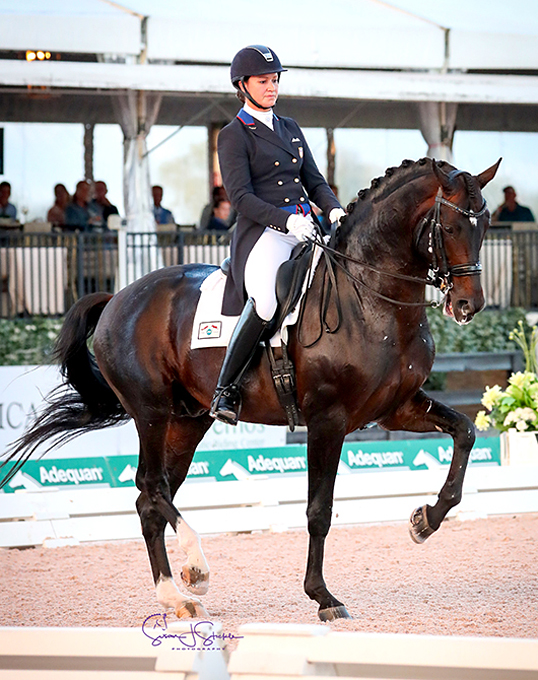 Adrienne Lyle and Salvino boost team USA into an overnight lead in the Nations Cup contest. Spearheading the American team's charge with the contest's highest score, Adrienne Lyle and Salvino topped the CDIO grand prix class with 76.478%. A fault-free performance from Elizabeth 'Betsy' Juliano's beautiful Sandro Hit stallion Salvino — another coming from last draw — was met with wild cheers from the crowd. Lyle's efforts were bolstered by her team-mates: Sabine Schut-Kery's newcomer to the scene, Alice Womble's Sanceo, produced a superb 73.109%, having only contested his first CDI grand prix two months ago. He is another stallion — this one by San Remo. He has scored over 72% in all five of his international starts this year. Just behind her, on 72.804%, Olivia LaGoy-Weltz produced the nation's third counting score for the day riding Lonoir.
Team Canada — also fielding all big tour combinations — sit second overnight, with the star performance coming from Brittany Fraser and All In, who came tantalizingly close to 70%, with 69.804%. Jill Irving (Degas 12) and Megan Lane (Caravella) provided the day's two other counting scores.
The third placed team overnight, Australia's top scorer came in the form of Kelly Layne and her small tour partner Furst Amante. They scored 69.353% to finish second over all to Spain's Pablo Gomez Molina — yet another rider to top a class from last to go. Riding the Yeguada de Ymas's expressive 11-year-old chestnut gelding by Furst Piccolo, Gomez Molina scored 69.912%. T
he fourth team in the mix, Spain, is fielding all small tour combinations. The Nations Cup competition concludes on Thursday after the intermediate I and grand prix special classes.
Second Win for Melissa Taylor on Ansgar
In the FEI Intermediate I CDI3*, it was Melissa Taylor (USA) and Nicole Polaski's 13-year-old gelding Ansgar who replicated their prix st georges form from the previous day to take the blue ribbon. From last draw, they scored a personal best of 70.784%. She was joined on the podium by the same two riders as in the PSG, but reversed: Canadian Brittany Fraser was second on Soccer City, while Nora Batchelder (USA) and Fifi MLW dropped a place to third.
Text by Alice Collins (GDF press release) - Photos © Sue Stickle
Related Links
Scores 2018 CDIO Wellington
Taylor and Ansgar Take First Win at Last Show of 2018 Wellington Show Season
Winning Come Back for Kasey Perry and Gorklintgaards Dublet
Long Awaited Come Back for Perry's Dublet at End of 2018 Wellington Season