Germany
German Grand Prix rider Matthias Bouten has decided to pack up shop and move to Meggle Stable in Wasserburg, Germany, where he has been hired as head rider. He will begin his job there on 1 May 2018.
This is Bouten's third, big move after he garnered his first fame as an assistant trainer at Isabell Werth's yard in Rheinberg. He then took up the job as trainer at the Baumgurtel's Freiberger Hof, but left in the summer of 2014 to go independent. He and his life partner Vicent Arroyo moved to Stable Giesen in Sonsbeck, Germany. He got the ride on several of Marianne Jerich's FEI level horses, but that collaboration ended in 2016. The CDI Munich in May 2016 was Matthias' last international competition.
Since then, Bouten has been working independently riding and competing clients' horses, including some for Ferienhof Stucker.
He has now received an offer to became head rider at Toni and Marina Meggle's yard as they were without a top trainer. That position was previously held by Markus Gribbe, Stefan Peter, Dieter Laugks and Hendrik Lochthowe. The latter was headhunted by new millionaire dressage investor Ralph Westhoff in October 2017.
Since then, Wibke Bruns got the ride on several Meggle horses and Markus Gribbe briefly helped out at Meggle in December, but the stable needed a long-term, experienced Grand Prix rider in house to move further and the choice in Bouten has been made.
Bouten will be working at Meggle and partner Vicent Arroyo is moving to a nearby barn, so they can move their business south and some of the clients' horses can be retained.
Rumours were running rife already last week that Bouten was moving to Meggle, but today he confirmed the news to Eurodressage.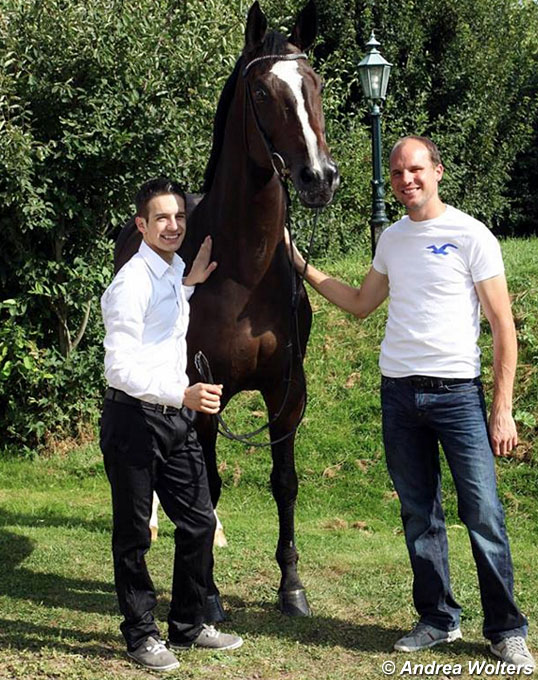 "We just came back from Munich today. We were there to finally sign the contract. We are sure now we can start there," Bouten told Eurodressage. "It had to put everything in order with the owners and organize stuff. It's a big move. We gave up a lot things here, because we were building up our own yard and it was going quite well."
Bouten felt that it was a unique opportunity not to be missed, so he could take his career to the next level.
"It was a big chance for us and that is why we made the decision," said Matthias. "Maybe it's a big chance for me to go one step forward in my international career. To have someone sponsor me and to push a little bit more with good horses. And that's why we made the decision to take the chance and the opportunity to try and maybe develop something more with the Meggle family together. We are looking forward to it."
Photos © Petra Kerschbaum - Andrea Wolters
Related Links
What's Happening: March 2017 - Part 1
Ferienhof Stucker Horses to Matthias Bouten
Matthias Bouten Loses Ride on Jerich Horses
Matthias Bouten Making it to the Big Time at the 2015 CDI-W Brno
Bouten Out, Hermes In at Freiberger Hof
Hendrik Lochthowe Leaves Meggle for Westhoff's Gestut Riedmuhle
Dieter Laugks to Leave Meggle Stables
Dieter Laugks to Ride Meggle Horses
Wibke Bruns Takes On Ride on Meggle Horses
Stefan Peter, In House Trainer at Meggle Dressage Stable