2018 New Zealand Dressage Championships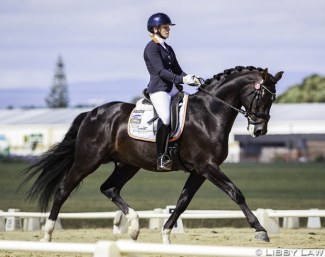 The 4-year old Fanfare MH, the 5-year old Aroha MH, and the 6-year old HP Fresco became the winners of the 2018 New Zealand Young Horse Championships which were held at the National Dressage Championships at Manfeild Park in Fielding, New Zealand, on 15 - 17 February 2018. 
With only three horses competing in each division, the competition was not particularly tough. For instance, only one of the four 4-year olds that competed at the 2017 Nationals returned in the 5-year old division this year. The exact situation happened with the 5-year old division. Only one horse that did the 5-year olds in 2017, returned for the 2018 Championships.
In the 4-year old division Hannah Burden steered Judith Matthews' Hanoverian mare Fanfare MH (by Furstenball x Dancier x Weltmeyer) to victory after winning both rounds with scores of 81.20 and 76.20 points. Aboard Matthews' Georgia MH (by Gymnastik Star x Riverdance) she also captured the reserve title. 
In the 5-year old age category, Burden felt a bit more competition from Kellie Hamlett. Burden topped the board twice for the title on Matthews' Hanoveriann Aroha MH (by Anamour x Weltliebe) with 75.80 and 75.00 points, but had Hamlett on Astek Geronimo very closely on her heels. Astek Geronimo scored 74.40 and 74.80 points.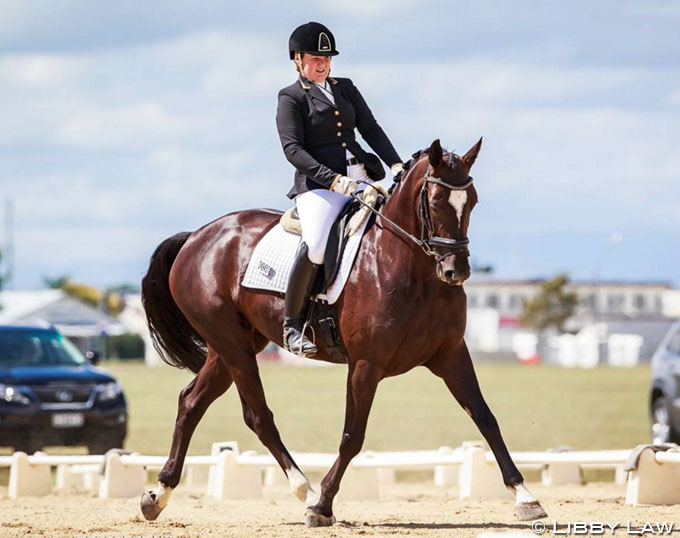 After winning the 2017 Nationals in the 5-year old division Holly Leach and the Australian bred HP Fresco (by Fackeltanz x Lander x Richmeed Medallion) were a league of their own in the 6-year old division this year. In the first round the pair struggled to build up a lead with its 71.40% earned score, but in the second round they jumped well ahead with 80.00 points for the title. 
HP Fresco, Champion of Champions
The winners of each age class were invited to compete against each other in the Elite Equine Young Dressge Horse Final on Saturday 17 February 2018. The judges named HP Fresco the champion of champions. 
Matthews Hanoverians, which continues to dominate the New Zealand dressage horse breeding scene, received the Glenvar Trophy as the breeder of the best scoring New Zealand bred young horse, the 4-year old Fanfare MH.
Photos © Libby Law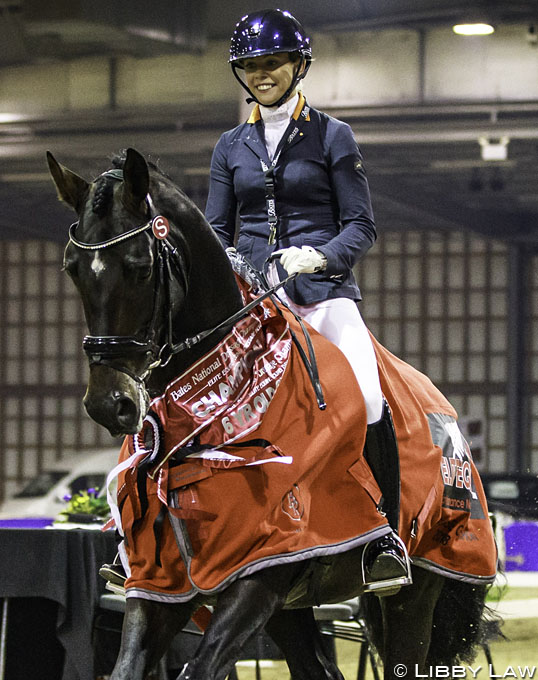 Results - 2018 New Zealand Young Horse Championships
4-year olds 
1. Fanfare MH - Hannah Burden -  81.20 - 76.20 --- 157.40
2. Georgia MH -  Hannah Burden - 79.40 - 73.00 --- 152.40
3. Windermere Zephora W - Melissa Galloway- 79.80 -  71.20 --- 151.00
5-year olds 
1. Aroha MH -  Hannah Burden - 75.80 - 75.00 --- 150.80
2. Astek Geronimo - Kellie Hamlett - 74.40 - 74.80 --- 149.20
3. RM Suzie Q - Debbie Barke -  70.80 - 73.60 --- 144.40
6-year olds
1. HP Fresco Holly Leach - 71.40 - 80.00 --- 151.40
Donnerstar CDS Ellen Mitchell - 68.80 - 74.20 --- 143.00
KP Dexter Diane Wallace - 68.00 - 69.80 --- 137.80
Related Links
Stoneylea Welt Princess, HP Fresco, River Park Luciana Win 2017 New Zealand Young Horse Championships
Sartorial Hit SW, Glamorgan By Design, Leo Donna Win 2016 New Zealand Young Horse Championships
New Zealand Judges on Young Dressage Horse Training Trip in Pursuit of Knowledge