Italy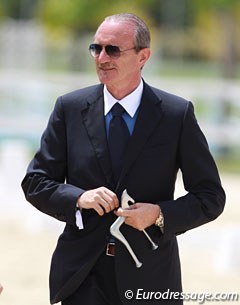 The Italian Equestrian Federation (FISE) has announced newly appointed members to the Italian dressage officials committee as well as officials in other technical roles. 
With the election of a new FISE president (Marco di Paola) in January 2017, several new appointments were awaiting. The turn-around began with Cesare Croce taking up the position of coordinator/manager for Italian Dressage  in March 2017. 
At the board meeting on 15 January 2018 the latest set of committee members and technical delegates were appointed.
Cesare Croce remains the dressage manager  and national team selector.
Enzo Truppa has been appointed head co-ordinator of the Italian Dressage Show Officials Committee and he is assisted by Croce, national (para) dressage judge Alessandra Zanot, and eventing rider and para judge Katherine Ferguson Lucheschi. This committee helps with the appointment of judges to national competitions as well as the education of the judges.
FISE also has a national dressage development committee which is headed by Massimo Petaccia, flanked by Claudia Polimeni, Paolo Bellocchi and Massimo Buzzi. They have to bring dressage to regions in Italy where the discipline is not yet popular, by organizing meetings and clinics.
Photo © Astrid Appels
Related Links
Cesare Croce Appointed New Italian Dressage Co-ordinator
FISE Drops Lawsuit Against Enzo Truppa and Reaches Settlement
Roberto Brenna Receives One-Month Suspension for Unsportsmanlike Behaviour
Arturi and Cirocchi One Month Suspended for Prohibited Substance Violation in 2016