German Dressage News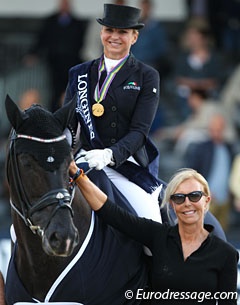 After a five year collaboration Dorothee Schneider and Gestut Peterhof have decided to part ways. Schneider will loose the ride on triple World Champion Sezuan.
"Dorothee Schneider produced outstanding training at our Gestut Peterhof," said Peterhof owner Arlette Jasper-Kohl. "However it is also clear that the far drive beween her own business and our yard takes up much time, as well as her participation to shows.
Schneider used to drive to Peterhof four times a week, a distance of almost 200 kilometers between her stable St. Stephan in Framersheim, Germany, and Peterhof in Perl-Borg, Germany.
At the end of November the collaboration will officially end. Schneider rode Sezuan (by Zack x Don Schufro) to the triple World Champion's title and briefly campaigned Peterhof's Silvano at international Grand Prix level. Schneider was supposed to ride former World Champion Donna Unique as well but the mare never recovered to high performance show fitness.
"We are now going to look at the options for Sezuan's further path privately," said Schneider. "It is not easy to say goodbye to Gestut Peterhof and Sezuan, but I am grateful for our collaboration and our mutual trust."
Schneider was supposed to compete Sezuan in the 2017 Nurnberger Burgpokal qualifiers, but although entered he was withdrawn last minute from the qualifier in Munich in May with the announcement that he would not be competing in them this year. The pair still ended up competing at small tour level at the local show in Linslerhof in July, the national shows in Munster in August and the CDI Darmstadt in September.
Photo © Astrid Appels
Related Links
Sezuan Withdrawn from 2017 Nurnberger Burgpokal Qualification
Sezuan Makes it a Triple, Wins 7-year old Title at 2016 World Young Horse Championships
Rumour Control: Gestut Peterhof Not For Sale
Dorothee Schneider to Ride Peterhof Horses, Including Donna Unique
Gestut Peterhof to Serve as German WEG Training Camp
Ulla Salzgeber Leaves Gestut Peterhof 
Sezuan Sold to Patrik Kittel's Sponsor Arlette Jasper-Kohl