Swedish Dressage News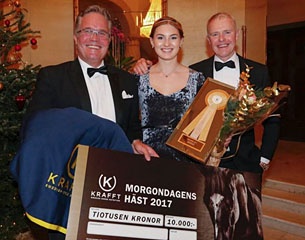 Dressage riders had to take a step back at the 2017 Swedish Riders Gala, the annual Oscars for Swedish equestrian sport. Hosted at the Grand Hotell in Stockholm on 29 November 2017, the Swedish Riders Gala became a huge celebration for show jumping.
The most important award, that of Rider of the Year, went to show jumper Peder Fredericson who won individual gold on home turf at the 2017 European Jumping Championships in Gothenburg. 
The only dressage rider who became a recipient of an award was Under 25 Grand Prix rider Cecilia Bergakra Berglund who won the 2017 Comet of the Year award. The 16-year old has been competing in the pony, young rider and Under 25 division! She is currently ranked 8th on the FEI Young Riders Ranking with Duschesse.
One dressage horse got highest honour, Patrik Hannell's 8-year old stallion Quatermain (by Quaterback x Wilawander xx), bred by Anette Holst. The chestnut was named "Tomorrow"s Horse"
Patrik Kittel's "Fighter of the Year" award went to 23-year old para dressage rider Felicia Grimmenhag, who lost both her legs getting hit by a car six years ago. Grimmenhag was fifth at the 2017 European Para Dressage Championships on Tarot E.
Related Links
Cecilia Bergakra Berglund Nominated for 2017 Comet of the Year Award
2016 Swedish Riders Gala To Relocate and To be Hosted in 2017
Lord, Dolk, Kyrklund Honoured at 2017 Swedish Riders Gala
Kristoffersson, Kittel, Haward, Etzner, Dan Brown and Don Auriello Honoured at 2015 Swedish Riders Gala
Aldenfalk, Strolchi, Darcia VH Honoured at 2014 Swedish Riders' Gala
Marina Mattsson Honoured at 2013 Swedish Riders' Gala
Lette and Hagman Award Recipients at 2012 Swedish Riders' Gala
Cecilia Dorselius Nominated to Become 2011 Comet of the Year
Kittel, Telde, Hofmann Honoured at 2010 Swedish Riders' Gala
Bergstrom Kallstrom, Comet of the Year at the 2009 Swedish Riders' Gala