Oldenburg Breeding News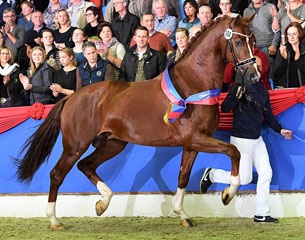 The Dutch warmblood bred stallion Ibiza (by Desperado x Jazz x Contango) became the Oldenburg main premium winner at the 2017 Oldenburg Stallion Licensing in Vechta, Germany, on Saturday 18 November 2016.
Five stallions were in the running for the 2017 Main Premium title (Ibiza, For Dance, De Niro Gold, Bonds and Feinrich), which is awarded to the best Oldenburg licensed 4-year old of the moment. As neither Bonds nor Feinrich showed up for the in hand presentation in Vechta, they were no longer in the running for the title.
The deciding factors for the main premium are not only the stallion's achievements in sport but also the result of his performance test and, even more importantly, the quality of his first foal crop.
The main premium for dressage went to the 4-year old KWPN bred and Oldenburg licensed Ibiza (by Desperado x Jazz x Contango). The chestnut is bred by Luc Boogert. 
He was licensed at the 2015 Oldenburg Stallion licensing in Vechta, presented by Dutch horse dealers Ad Valk and Eugene Reesink, and sold at auction for 170,000 euro. The horse was apparently bought back by Ad Valk and Reesink, who then sold Ibiza privately to German Vasco Janke a few hours later.
 Ibiza did his 14-day Stallion Suitability Test in Adelheidsdorf in the spring of 2016 and scored a total of 8.0. At the 2017 German Stallion Sport Test in Munster, Ibiza got 8.7 for trot, 9 for canter, 8.8 for walk, 7.8 for rideability and 8.8 for general impression (total 8.73 points). He has also been approved for Hanoverian breeding, but is not licensed with its own KWPN society.
Placing second in the main premium ring was the Rhinelander stallion For Dance (by For Romance x Rubiloh x Ehrentusch), bred and owned by Gerd Sosath. He scored 7.85 in his 14-day suitability test in 2016 and did his sport test in Verden in 2017
Placing third in the main premium ring was De Niro Gold (by De Niro x Florencio x Rubinstein). Bred by Monika Quarz and owned by Sprehe in partnership with Kötter-Gribbe, De Niro Gold did his 14-day test in Neustadt/Dosse and scored 7.75 points. He did his sport test in Munster in February 2017.
Photo © Kiki Beelitz
Related Links
Morricone Wins 2016 Oldenburg Main Premium Title 
Fursten-Look Named 2015 Oldenburg Hauptpremium Winner
Grey Flanell Wins 2014 Oldenburg Main Premium 
Destano, 2011 Oldenburg Hauptpremium Winner
Althengst Parade and Hauptpremium Winners End 2003 Oldenburg Stallion Licensing